×
remind me tomorrow
remind me next week
never remind me
Subscribe to the ANN Newsletter • Wake up every Sunday to a curated list of ANN's most interesting posts of the week.
read more
Inside Kyoto Animation's Biggest Festival
by Kim Morrissy,

Kyoto Animation is one of the most recognizable TV anime studios—and not without reason, as their productions are remarkably polished. Their "moe" aesthetic and attention to lifelike detail is maintained so consistently across their works that it's tempting to see Kyoto Animation as a homogeneous entity. As with any anime studio however, Kyoto Animation is comprised of many individual creators and artists, each with a distinct style and vision. Kyoto Animation's third fan appreciation event was all about showcasing the unique talents of their staff members.
This once-every-two-years tradition first began in 2013 on a relatively small scale. It's officially called the Kyoto Animation and Do Fan Appreciation Event (the "Do" references KyoAni's subsidiary studio in Osaka, called Animation DO), and the focus is on celebrating the growth of the studio over the years. In the first year, the event was limited to a few stage events and a small-scale key animation exhibit. This time, however, over 3,000 pieces of key animation, storyboards, and background artwork were on display. There was even a nifty "Studio Zone" inside the venue, where fans could watch the studio employees as they worked.

This may come as a surprise to anime fans that see Kyoto Animation's work on a completely different level from the rest of the industry, but the staff uses the same tools as most other Japanese anime studios. They draw the key animation on paper by hand, they use RETAS Studio for digital coloring, and they use Adobe AfterEffects for compositing. (You can see the software in a documentary here.) The staff members inside the Studio Zone were very happy to answer questions from the fans about their work in an effort to make their entire process seem more approachable.
Outside the Studio Zone, you could see plenty of the production materials from KyoAni shows on display. The key animation exhibit was split into an OP/ED Zone and a main exhibit zone. This is where the individual qualities of KyoAni artists particularly shine. Although it may be hard to tell the difference between one key animator's drawings and another, the art style in the storyboards can wildly differ depending on the artist.
For example, Naoko Yamada's (Tamako Market, A Silent Voice) storyboards tend to have a lot of blank space to emphasize the distance between objects. Her characters tend to have round faces, with special attention shown in their eyes and gestures. Taichi Ishidate's (Beyond the Boundary) storyboards, on the other hand, tend to be heavily detailed, depicting the exact blueprint of each shot. It's really nice to be able to compare every recent KyoAni work and their different approaches to animation and storyboarding.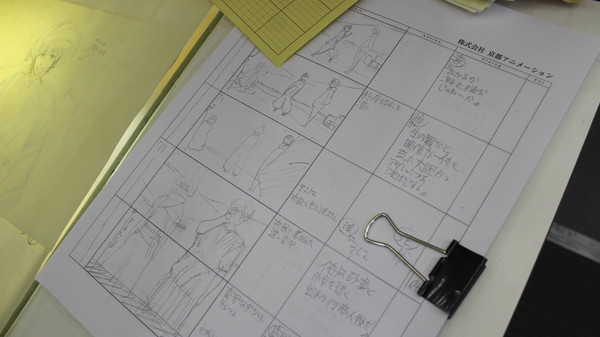 The picture above was taken from an animator's desk inside the main hall. Yes, they even have desks for you to take photos of. One neat detail is that they even include the pencils and materials an animator would use. The materials have been strewn about in a very naturalistic way, as if the animator had left their seat while in the middle of working on a cut.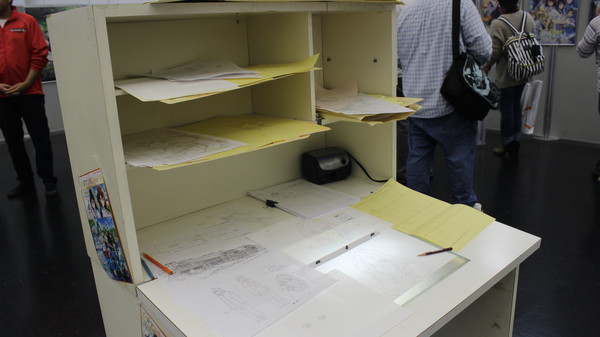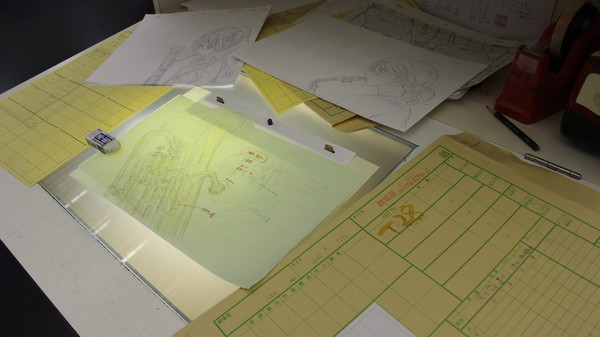 Moving on, the main hall had other things for fans to interact with. For example, some of the backgrounds from KyoAni shows were blown up to a large enough size for people to stand in front of them and pretend they're part of the scene. There were also cutout stands of the characters from most recent KyoAni works, which you can pose and take photos with.


Each KyoAni work also had their own small booth, which gave a brief overview of the anime and some comments from a chief staff member. The messages themselves were generally pretty typical—the creators shared their retrospective thoughts on the anime, what challenges they faced, and so on—but it was nice to see them thank the fans so sincerely for watching their work. As in previous years, there was also a "message corner" in the key animation exhibit hall, where the staff left cute pictures and messages for the fans to look at.

Naoko Yamada's message from 2015: "A hearty welcome to you all! Please take your time and enjoy."
Fans who pre-ordered their ticket before a certain date were able to apply for a lottery to see their favorite creators in person. The festival hosted stage events and autograph sessions throughout the weekend. I attended the stage events, mostly to check for newsworthy announcements. Nothing new was announced, but the creators did talk about what they were currently working on and their thought process behind making anime, which made these stage events worthwhile in their own right.
For example, in the "Talk Stage of Directors," Tatsuya Ishihara (The Melancholy of Haruhi Suzumiya, Love, Chunibyo & Other Delusions) spoke at length about his approach to directing. In anime, there are often two types of directors: kantoku, who oversee the entire project as a whole, and enshutsu, who supervise specific units or episodes. Ishihara has had experience in both types of directing, and he mentioned that he gets so obsessive about details that he'll focus on everything, even things that even kantoku don't get too involved with like the anime's packaging.
There was also some insight into the upcoming Violet Evergarden anime. There was a "Making Of" stage event where key members of the staff explained that the city backdrop shown in the trailers was made entirely in 3D. They were so thorough in their efforts to clearly envision a lifelike town that that they didn't even use all the models they made. A similar philosophy was taken with the character designs, which are noticeably more complex than most anime character designs. Although KyoAni veteran Taichi Ishidate is the overall series director, he's working alongside Haruka Fujita for her debut directorial role. I get the impression that Violet Evergarden is a proud statement of Fujita's ambition as a director.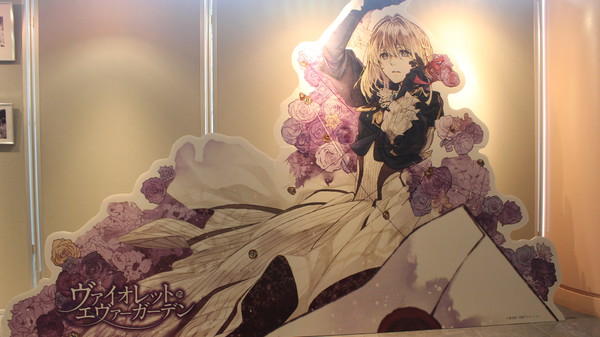 Although the author of the original light novels wasn't able to attend this event, she did leave a message at the KyoAni book corner. Kana Akatsuki is apparently a big film buff who gets her ideas for stories by going to the cinema. She even submitted her story to KyoAni's yearly light novel competition because she imagined her story in visual form and thought it would be nice if KyoAni animated it. It's hard to imagine that she'll be dissatisfied by the final product.
Finally, let's talk about KyoAni's mascot animal, the cute and cuddly Baja. Baja was only invented this year, but he already has his own anime, called Baja's Studio. This short anime was screened at regular intervals over the weekend. People who bought a premium ticket to the event got a Blu-ray of the anime bundled in with their purchase, although you could also buy a Blu-ray at the event itself, and it will also probably be available at the KyoAni shop at a later date. I absolutely died of cuteness watching Baja's Studio, and I hope that it'll be accessible for English speakers to watch somewhere down the line.

In sum, Kyoto Animation and Do's third fan appreciation event was a lot of fun and absolutely worthwhile for any fan of the studio. The theme of the event is "This is What We Are Now!" and it really is quite humbling to see how far the studio has come in recent years. Developing their own IPs has helped give the studio the financial security and creative freedom to pursue their animation craft to new heights. It will be exciting to see where Kyoto Animation heads in the future.
---
discuss this in the forum (3 posts)
|