×
remind me tomorrow
remind me next week
never remind me
Subscribe to the ANN Newsletter • Wake up every Sunday to a curated list of ANN's most interesting posts of the week.
read more
Convention Report: Princess Principal at Anime NYC
by Rai Kelly,

Princess Principal is an anime about cute girls being spies in a fictional, steampunk version of Victorian London, an original project that came seemingly out of nowhere. While it wasn't highly anticipated going into the summer season, it accrued popularity with fans and plenty of critical praise over the course of its run. Thanks to this success, Princess Principal was a key attraction at the inaugural Anime NYC. The director of the series, Masaki Tachibana, appeared at several events, including a screening where they showed the first episode.

Watching the first episode a second time was certainly worth it, after becoming more familiar with the show's non-sequential storytelling through the rest of its run. Now that the episode made more sense in hindsight, it became even more enjoyable. With the theater's loud speakers, the unique jazz music and the prominent sound effects added to the show's steampunk ambiance. In his final comments, Director Tachibana explained that he and his team sought to add many secrets and mysteries into the anime, and I definitely noticed many new things the second time around.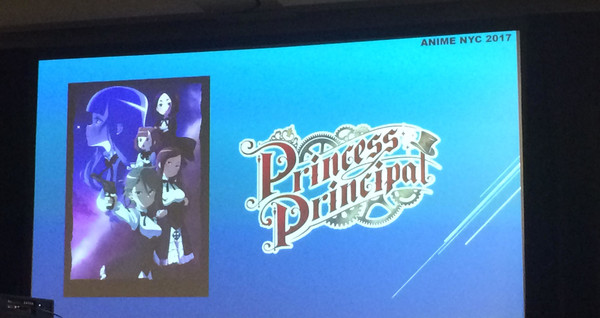 After the episode, Director Tachibana took some questions from the crowd. Here are some highlights:
Why did you decide to have the opening's lyrics in English instead of Japanese?
We wanted something much more fitting for the theme, so we thought of things like Agent 007 and figured we should do something other than Japanese.
In the first episode, there is a scene in the hospital where Ange is using a needle on someone to knock them out. On the other side of the room, there is someone staring at this. What happens to her?
(laughs) I think she's okay. She is probably thinking something more along the lines of "Whoa, the nurses here are very rough with their subjects." But don't worry, I don't think she was going to be silenced or anything.
I noticed Ange's last name, Le Carré, is the same as the famous spy author John Le Carre. I was wondering how he influenced your work.
The name came from Ichirō Ōkouchi who was in charge of that research. He said we might as well have names that are meaningful, and that when you're dealing with spies, you have to reference Le Carre.
Where did the name "Princess Principal" come from?
We thought "Principal" might be a good word to use because it kind of rhymes with "Princess." The word "Principal" also does have many meanings, and some actually match up with the anime, so if you go through the show, I think you might see the meanings of the title "Principal."
How was it different to work with the newer studio Studio 3Hz (who created Flip Flappers and Celestial Method) compared to the older, bigger studios you've worked with?
I knew Yuichiro Matsuka from other works I have done with him. In that sense, I was able to help with many things, and it was a very good partnership.
If there is a second season, what direction would you like the story to take?
There were some mysteries left at the end of the series. I would like to aim the story more towards those.
What was your involvement with creating the upcoming Ange figure?
We had the designer of the figure come in with a prototype and we went over some details and the specifications of what we should put on the figure. We also went over what specific colors to use.

After the last question, Director Tachibana made a statement to the crowd: "Princess Principal is an anime we wanted you to watch over and over again. So we included several mysteries in there all over the place. If you watch it several times, you might spot some of the answers to those mysteries. Thank you for watching Princess Principal."
Later that day, Director Tachibana had a more personalized panel. He spoke about his career as a director and answered more questions from fans. Of course, many Princess Principal fans were there to ask Director Tachibana more questions about the series. Here were some highlights:
Was it important to get the feel of London in the anime?
The feel of London actually came from my honeymoon. I saw a lot of historical sites and buildings in London. A lot of the backgrounds you see came from that trip. Our researcher also provided us with lots of photos of 19th-century London.
Do you want to go back to London?
If I have time on my hands, I would like to take a vacation there.
Where did you come up with the concept of cavorite?
Okouchi-san and I were discussing what kind of advantage the main character should have. We decided that we wanted to give her some kind of steampunk item. Our aforementioned researcher mentioned that the novel The First Men On The Moon by H.G. Wells involves the discovery of a material called cavorite. It has kind of become a staple in the steampunk community.
You have also worked on movies in the past. Do you prefer to work on movies or TV anime?
Most of the time, movies get more funds, so in that sense, you are more able to brush up on things. On the other hand, with a TV anime, the schedule is tighter and you might not always be able to perfect everything. In that sense, I would like to work on a movie.

Once again, Director Tachibana thanked the fans for everything. He said that if the fans want to see a second season, they need to show their support. Many fans lined up at Tachibana's autograph sessions over the weekend, and much of the special Princess Principal merchandise sold out. Overall, Anime NYC was a great place to be a Princess Principal fan this year.
---
discuss this in the forum (10 posts)
|