Interview: Yasuhiro Irie
by Manu G.,

Yasuhiro Irie, the director of Fullmetal Alchemist: Brotherhood's, visited Spain during this year's Barcelona Manga Fair. He was invited by Wacom to spend some time at their booth drawing and meeting with fans. During one of his breaks, he talked with us about his Kickstarter campaign, Halloween Pajama in Seattle (which is in its final days!), as well as his thoughts on the anime industry.

How was it taking part in such a famous series like Fullmetal Alchemist: Brotherhood as director?
The first Fullmetal Alchemist anime came out in 2003 and became a huge hit. Then I got the offer to direct the next series that would coincide with the end of the manga series. At that point, I already knew how famous Fullmetal Alchemist was. However, that didn't influence or affect me in the way I was going to make the series, so it really didn't prompt me to do anything different from what I've always done.
There wasn't any kind of pressure?
There wasn't pressure for me, but I was just approaching it the same way as I usually do for any other title that I direct. I was more concerned about what would best suit this title in animation.
How was the creative process for Fullmetal Alchemist: Brotherhood? Do you feel a lack of creative freedom when it comes to adapt an existing manga?
For the production of Brotherhood, the original author, Arakawa-sensei, did attend first meetings, and of course she also checked the storyboards and the scripts at that time, but she was too busy because of the magazine serialization schedule, so she and the editor just attended the meetings for the first episodes. They were there to sort of check and see what kind of direction the production was heading and what kind of approach we were taking. Instead of saying that there wasn't much creative freedom, I'd rather say the standard was basically just the manga. That was sort of like the Bible for the whole thing; all the meetings and the whole process was about figuring out how best to convert the manga into anime.
Brotherhood is one of the few long-running anime productions we've seen in recent years. Do you think it would have been more difficult to make the series that way nowadays?
I think now it would be difficult to have a series than runs for over a year. Even if the original manga is a huge hit, it would still be very difficult to have it air on TV for more than one year continuously. I think the process would be more like making one cour first to see if the anime becomes a hit. Then if it does, they would think about extending production further.
Why is this happening?
In the 2000s, the business model was such that you would sell the DVDs and get revenue that way. However, in the current situation, you can't expect the DVDs and Blu-rays to sell well, especially if it's a long series, so I think that sorts of contribute to the situation.

You've taken your most recent project, Halloween Pajama in Seattle, to Kickstarter, which is a really different way of financing anime from the conventional industry methods.
Through the years, I've been creating all these commercially viable works through the sponsorship of companies. However, I've kind of realized there are certain aspects of anime that cannot be achieved through those commercial means, so that's part of the reason why I took my project to Kickstarter, so I could carry out some of the goals I wasn't able to achieve otherwise.
What are those goals?
Normally, there are many companies involved in those commercially viable products. From the video to the music to the voice acting, all these different aspects are managed during production. Of course these companies want to reap benefits through those products because they're investing for business reasons; that's what makes them commercial products. So they have all these requests or demands on the production so the end product will sell well. However, that doesn't always get along well with the anime content itself. Some of the works don't fit well with that kind of commercialism. Normally you would work to achieve that goal and make the companies happy so they can make profits, but this time I was looking for a way to animate works that normally wouldn't be produced because they doesn't fit with that business model.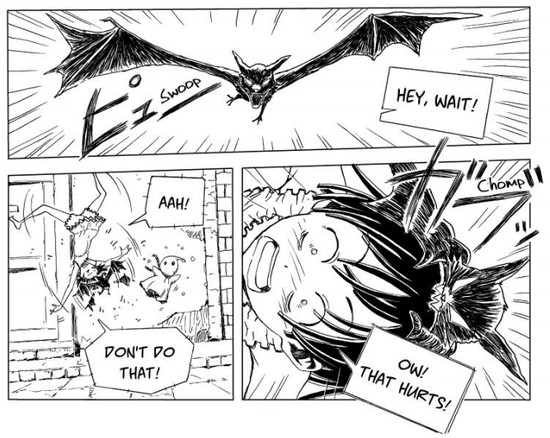 Besides that, when you think about the story and character and other aspects of this, I think do I want to do this now or in two months? Should I have this coincide with the Halloween season? Basically, I'm thinking about what to do when. I want to have complete control over those aspects. For instance, if you want to have something published on Kindle, you have to talk with the sponsoring companies and ask them if it's possible. Maybe in that group of sponsors there is a publisher, so you ask the publisher if you can publish through them, but normally it takes a long time to get permission and sometimes it ends up not being allowed at all. Or maybe you have some kind of idea that you want to animate, and you could have that done in three days. However, even if you complete it, you have to ask for permission for release, and just attaining that permission can take weeks.
Sometimes I feel kind of frustrated about waiting for permission to do what I want to do, so I just figured out it would be so much better if I did it by myself. And I only could do that if I gathered all the funding by myself. So that's the reason why I thought about taking my project to crowdfunding.
How important do you think crowdfunding will be for the future of anime?
I'm not sure if crowdfunding itself will be the future of anime production or not. However, I feel that it's getting us to a turning point where if somebody wants to make something on their own terms, then that person will probably have to work by themselves to really get the funding to go ahead and do it.
As long as you receive funding from somebody else, like commercial investors, to make anime, they will normally have an idea already of what the anime should be like. So you can't necessarily make what you want to make. If you have a project that you really want to make, then you really have to make it yourself so nobody can stop you or divert you from what you want to do.
It reminds me of Little Witch Academia. Can crowdfunding be a starting point for bigger productions as in that case?
First of all, let me say that Little Witch Academia wasn't started through crowdfunding. Little Witch Academia was first made with funding from Japan. We have a system for creating original animation through the government, and it was originally made as a twenty-five minute film. Then the sequel was crowdfunded, so it's kind of a special case. Of course, the crowdfunding campaign for Little Witch Academia managed to gather a lot of money, and then they were able to create the sequel and in the end expand into a TV series.
However, I do believe that they probably had other options apart from going to crowdfunding. I don't know all the details about it, but since this was Studio Trigger, they could have just gone to investors and asked for funding, and they could probably have managed to gather enough funding for that sequel. Or maybe they couldn't, I don't know. But I will say that it might be sort of an exceptional case, so you shouldn't take that project as a role model for other crowdfunding efforts.
But I also do feel that it was an important case because projects like Little Witch Academia or the movie In This Corner of the World are prime examples of artists who really preferred to fund and produce the projects themselves. So these two cases make it really clear that the audience is out there for their work.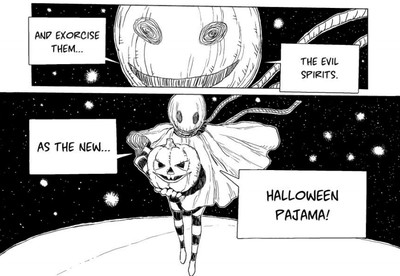 Do you have a Plan B in case the crowdfunding for Halloween Pajama does not succeed?
In the case that the goal amount is not achieved, the next step will be selling the Halloween Pajama manga on Kindle. I already have it in English, Italian, and Japanese, so by putting it on Amazon, I should be able to reach a wider audience so people will get to know Halloween Pajama that way. Actually, the manga is offered as a reward in the crowdfunding campaign, where you can download it as a digital manga. I've always been thinking that I wanted to sell Halloween Pajama on Amazon, it just turned out that the crowdfunding campaign came first, but it was always in my mind to make the manga available on Amazon so that audiences worldwide could read it.
At this point, I'm not thinking about bringing the idea to any production or sponsoring company even if the crowdfunding doesn't succeed, because if I do that, it's going to be the same way it has always been. The story or the characters will have to be altered so the sponsoring companies will be happy. So about my Plan B, putting out the manga is part of it. If the crowdfunding is successful, then I will be dedicating the entire next year to the anime's production. But if the crowdfunding doesn't succeed, I will have this year open, so I was thinking I could draw more manga chapters of Halloween Pajama.
Do you plan to come back to regular anime production in the future?
Actually, I will be directing a new TV series for broadcast in 2020. We're working on the scripts right now; it's an original project. I'm suggesting some ideas to the sponsor companies, working on a musical atmosphere for the show, and hopefully we'll go ahead with it. The scriptwriter, the sponsoring company, and I are having meetings together to decide on the content. It will be fun, so please look forward to it! So on the one hand, I have something like Halloween Pajama, where I have 100% control over the content, and on the other hand, I'll still be working with other groups of people and companies to make something together that will satisfy all parties.
Thanks to Hiromi Hasegawa for her translation during the interview.
---
discuss this in the forum (11 posts)
|