Interview with Okamoto's at Sakura-Con 2018
by Lynzee Loveridge,

OKAMOTO'S is the Japanese punk-rock band we've all been sleeping on. The quartet, made of New York-born lead singer Shō, guitarist Koki, the dapper-dressed bassist Hama, and drummer Reiji sat down at a scarcely-filled panel room at SakuraCon on Friday. The turnout was weak, but is hardly an indicator of the band's creative and impressive musical chops.
The group of four middle school friends take musical cues from American acts like The Ramones. Like the formative punk rock band, all the members stylize themselves as an "Okamoto" despite none of the members actually bearing the surname. The group has also started to make some pushes for recognition within the West. The group is the youngest Japanese male act to perform at SXSW in Texas and Hama landed himself an endorsement deal with Fender in the U.S., a first for Japanese bassists.
The band officially debuted in 2009 and followed it up with an onslaught of live performances before making their way to Texas' SXSW event in 2010. The group has seven albums under their belt, but anime fans will know them best as the group behind the Naruto Shippūden ending theme "Yokubō o Sakebe!!!" and Durarara!!×2 Shō's opening theme "HEADHUNT".
The band sat down for a Q&A with their panel host and audience members on Friday. Shō answered most of the questions in English and divulged about the group's failed attempt to record in New York and how the band stays true to itself even when working within the constrictions of an anime theme song.
Q: Have you performed at anime events in Japan?
Shō: We did. One in Osaka...there are a few I think, and Anime Boston.
Q: What are some memories or funny stories from your last visits to the U.S.?
Shō: Last time we came to Seattle we were still teenagers and we went to this museum, called like Music Experience? [Note: Shō is referencing Museum of Pop Culture (MoPOP), formerly The Experience Music Project] It has a lot of guitars and basses coming out like statues. It was pretty amazing. They had records and instruments [belonging to] Jimi Hendrix. That was really something!
Q: Hama, you are the first Japanese bassist to receive an endorsement deal with Fender in the U.S. How did that happen?
Hama: I've always loved Fender since I was in middle school. After we debuted, I mentioned how much I liked these products. Someone in America heard that I like them, and it was just about the time Fender was talking about having foreign endorsement deals. So I was kinda chosen as one of these representatives.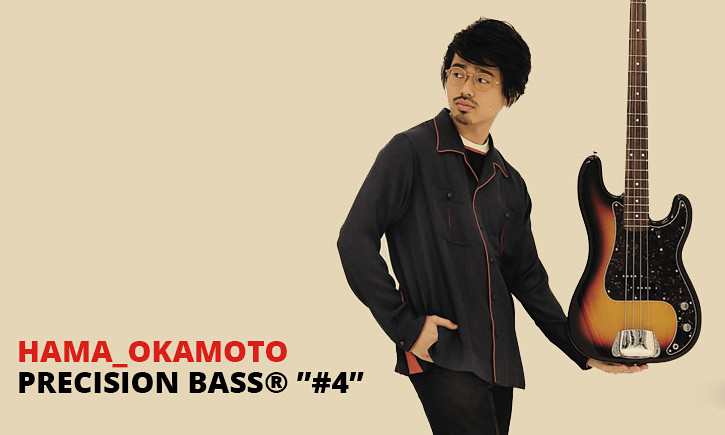 The Japan-exclusive Hama Okamoto Precision Bass 4 Color Sunburst
Q: Have you been to Fender in the U.S. and why is it your favorite?
Hama: I chose Fender because it has a good, high standard that I like. I did visit them once about three years ago and I also participated in an instrument version of an anime convention called NAMM Show.
Q: Is it different writing a song for an anime versus any other song? Do you change the lyrics depending on the anime?
Shō: We do. Well, I mean, not really. There's a story in each anime and if it's an opening song, you pay attention to that. You cant just ignore the story, so we do change how to write songs. But we are "us," so we don't really change ourselves. We try to mix the elements of the stories and character to us. It's a collaboration, it's really fun.
For Durarara!!×2 Shō we wrote the lyrics really based on the story. There's a character, that ghost rider [Celty Sturluson], so we wrote lyrics like "there's no head".

Your new album is titled No More Music. Can you tell us the meaning behind the album title and the concept and style for it?
Shō The concept isn't based on the title. We wanted to make something new. "No More Music," it means something. In this era you've got so many ways to listen to music. You can just go on the internet or YouTube or download it from somewhere. You don't even have to go to a CD shop to listen to music. Some people pay for it, and some people don't and it's all about technology. The new technology came out, then the new way to listen to music came out. You can't stop that, and we're not trying to stop it, but still we pay for music. We love records, we love buying CDs, but we do use downloads, too.
We thought about a lot of things in this era. There's a lot of music that came and is coming out and we thought we'd put a little bit of humor in the title.
Q: What was it like recording your album in New York for the first time?
Shō: It was different and it was a great experience, but we didn't actually use the songs we recorded in New York on the album...so we failed (laughs).
We used this old studio that John Lennon was using. It was wonderful, but our visions for the music was too concentrated, so it was a different sound than what we wanted. We are planning to do something with those recordings, somehow.
Q: What are your overall feelings about America and are their any plans for a North American tour?
A: We have a good impression [of America]. Unfortunately, the only member that can speak English is Shō, so that's kind of a tough one. We haven't had any tours since 2010, so we'd like to again some day.
Q: What was the inspiration for "Beautiful Days" [Gintama opening theme]?
Shō: The song doesn't necessarily match that season of the anime, but because the opening sequence was so great, we really thought it matched our song really well. We were also grateful that it got good reception.
Q: What advantages has it had for you guys working together for so long?
Koki: One of the good things about that is that we know each other likes and music preferences. When we're collaborating and talking together, it speeds things up and we never have any big issues.
Q: What contemporary musicians do you really admire? Shō We like R&D and The Garden from L.A.
Q: What are your favorite instrument models?
Hama: I like the Fender Stratocaster 1959.
Koki: I like the 1963 Fender Strata
Reiji: I like the Fender 1964 Strata.
Shō: We all really like 1960s guitars.
Q: Which bassists do you admire in the industry? How was your NAMM Show experience?
Hama: Part of the reason I started bass was because of Jack Bruce from Cream. He's one that really comes to mind. As for NAMM Show, there was a guy who was playing in the area all by himself really loud and no one was stopping to watch him. So, I stopped and watched him for like five minutes and it turned out he was Billy Sheehan!
---
discuss this in the forum (3 posts)
|