×
remind me tomorrow
remind me next week
never remind me
Subscribe to the ANN Newsletter • Wake up every Sunday to a curated list of ANN's most interesting posts of the week.
read more
Catching Up With Free!
by Caitlin Moore,

Free! started life humbly, as a 30-second TV advertisement consisting of four muscular young men cavorting around a pool in jackets and skintight swimsuits. It captured the imaginations of female fans all over the world… along with a whole lot of complaining from certain segments of Kyoto Animation's fanbase, but the positive reaction was overwhelming. The first season - known as Free! - Iwatobi Swim Club - debuted in the summer of 2013. Now, Free! is a bonafide phenomenon, with two TV series, four movies, a light novel, and a truly staggering amount of merchandise. It's not hard to see why - the boys are heartfelt and sincere as well as beautiful and muscular, brought to life with Kyoto Animation's famously fluid and expressive animation.

A third series has just arrived, subtitled Dive to the Future, to its eternally thirsty audience's delight. If you're a curious newcomer but afraid to dive right in, we're here to help you get your toes wet first with a sum-up of the first two seasons, plus the Take Your Marks film. Although the prequel movie, High Speed! does factor into the most recent season, we're still waiting on an official English release from Funimation - so here's everything we do know for now.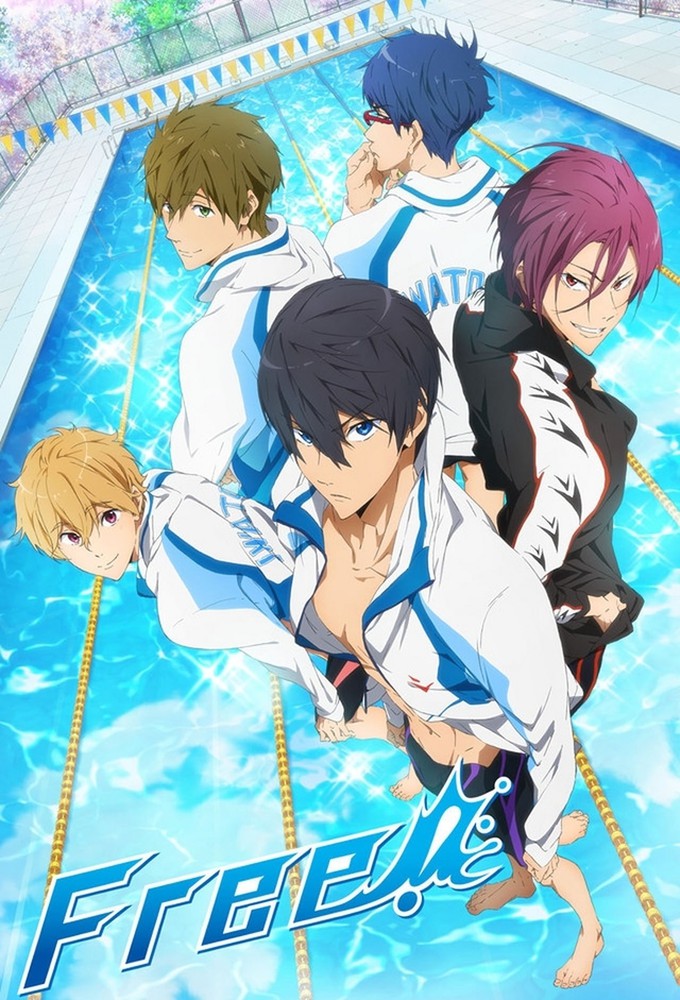 Season One: Free! - Iwatobi Swim Club-
High school second-year Haruka Nanase loves water. It embraces him, understands him, accepts him. He spends most of his time at home in the bath wearing his swimsuit and counts the days until the weather is warm enough to swim in the ocean. He used to swim competitively in elementary school, but when his friend and rival Rin Matsuoka moved to Australia to try to make his way to the global stage, he lost his verve for it. Now he quietly counts the days from when he can leave behind the label of "prodigy" and swim for himself as an ordinary person.
His second year of high school starts with a series of shocks to the system: hyperactive Nagisa Hazuki, who used to swim with him and his best friend, the gentle-natured Makoto Tachibana, has started as a first year at his school. Through him, they learn that the swim club they used to race at is being torn down. When they go to visit their former club, they run into Rin, but he's different: instead of cheerfully competitive, he's brimming with anger, and throws the trophy they won together as children down at their feet.
They are approached by Rin's younger sister Gou, a first year at their school, who reveals that he's attending Samezuka Academy, a boys' boarding school with a prestigious swim team. They decide to form a swim team at their own school, and recruit their homeroom teacher as their sponsor. Now they just need two things: a clean pool and a fourth member. For the latter, Nagisa sets out to recruit Rei Ryuugazaki, largely because he has a feminine name like them. Meanwhile, Gou finds out that Rin is not a member of the Samezuka swim team, and Makoto discovers that Haru quit swimming competitively when Rin became distraught after losing a race against him.
Rei is reluctant to join their team, since he finds it ugly, unlike pole vaulting, and is obsessed with beauty and maximizing results through perfect form. He decides to join them after seeing Haru swim, but doesn't know how to swim himself. His teammates try to help him find a swimming style that works for him, but he just sinks… until he discovers the butterfly stroke. While the butterfly is generally considered the most difficult swimming stroke, he does it easily, and the swim team is complete.
After a training camp during which Rei almost gets everyone killed and Makoto reveals his deep fear of the ocean, the boys prepare for their swim tournament. Meanwhile at Samezuka, Rin reveals his reason for being so competitive: his father once wanted to be an Olympic swimmer, but after settling down and getting a job as a fisherman, he drowned in a typhoon. Rin decided to adopt his dream, but losing to Haru gave him a complex. For the tournament, he will only swim freestyle to ensure he ends up competing against Haru.
Haru and Rin compete, and Rin just barely pulls ahead. He gloats that he will never swim against Haru again, much to Haru's depression. None of the other Iwatobi swimmers qualify for the next round, but manage to qualify in the relay, though Haru was reluctant to participate. Their victory as a team reminds Haru of the joy of competing, and they qualify for regionals.
Rei confronts Rin, who explains why he quit swimming and how he struggled after Haru beat him in middle school. He felt like he had lost his ability to swim like he once did and despaired of ever reaching the Olympics, so he quit instead. Now, having seen Iwatobi swim together, he remembers why he loved swimming relay… but returns to school only to find he's been taken off the relay team for being too distracted by Iwatobi.
The day of regionals, the shock of being taken off the relay team causes Rin to fail to place in his 100m race. He threatens to quit and runs off, but Haru, having heard what happened to him in Australia, pursues him. Rin tries to pick a fight with him but, seeing "For the team" written in the sand, admits how he wants to swim with his friends again. Rei offers Rin his place in the relay and, though the teams comes in first, they are disqualified for the change in the roster. It doesn't matter - Rin's passion for swimming has come back in full force, and he vows to compete for Samezuka with his whole heart.

It's a new school year, and the Iwatobi swim club returns with an identical roster after a disastrous attempt to recruit new members. Some things have changed elsewhere, however - the Iwatobi Swim Club has been rebuilt, and Rin has recovered from his depression and is now captain at Samezuka. He hopes to make it to the national swim tournament in order to be scouted for college, but when he asks Haru and Makoto what they plan to do after they graduate, neither has an answer. Samezuka's swim team also has a new member - Sosuke Yamazaki, an old friend of Rin's, claiming he wanted to spend some time in his hometown after being scouted for college sports. This sets up the ongoing theme of the season: what the future holds for the graduating third years.
Their old coach, Goro Sasabe wants to host a swim festival to attract new members, and asks the Iwatobi High School and Samezuka Academy teams to compete in a relay. Rin and Haru are finally comfortable together again and their old rivalry is back to the point where they inspire each other instead of resent each other, but one person isn't happy about the state of their relationship; Sosuke tells Haru not to distract Rin from his goals. After a close race, the Iwatobi High School team wins.
Sosuke seems to believe that Rin's interest in competing in the relay is a distraction from his goal of getting scouted, but Rin insists he can do both. Sosuke, who has never cared for the relay, asks to be able to be on the competition team in order to understand it, and even races Rin for the privilege. Rin decides to change the relay selection process for Samezuka by taking into consideration which members want to be part of a team rather than just who is fastest.
As prefecturals approach, Makoto asks Haru to race him in the freestyle - in all their years of friendship, the two have never seriously raced, and it's weighing on him as graduation approaches. Haru wins by a hair and though Makoto claims to be relieved, he seems unsettled about what the future holds.
At the prefectural tournament, Haru just barely manages to beat Rin at the freestyle race, but Samezuka comes out ahead in the relay. Even though they qualify as well and he's approached by college scouts, the loss demoralizes Haru. He recovers after Rei tells him to be his true free self and creates a training regimen to improve their times by the fraction of a second they need to beat Samezuka. Meanwhile, Rin asks Sosuke why he's been asking strange, but Sosuke cannot answer.
Makoto, meanwhile, is struggling with being the only third year not to be approached by a scout. He has little sense of his own goals or desires outside of helping Haru interact with the rest of the world. Coach Sasabe recruits him to temporarily teach a children's swim class and, after helping a boy who was afraid to put his face in the water, realizes he has a passion for teaching. The boy's older brother, a former classmate named Kisumi, reveals that Sosuke has a serious shoulder injury and by continuing to race, he is jeopardizing his future swimming.
Haru, too, is struggling with the pressure of his future as regionals get underway. He breaks down in the middle of his race, stopping in the middle and standing in the pool. He feels like he's being pigeonholed into swimming in college, and wants to be free to choose his own future. Sosuke's future, on the other hand, has been cut off - he was lying about being scouted, and confesses to Rin that he overtrained in hopes of competing against him again in the future. He barely finishes his leg of the relay, but the match ends with a showdown between Haru and Rin, with Iwatobi just barely coming out ahead.
Nationals are coming, and Haru hasn't recovered from his mid-race breakdown. Sosuke tells him to keep developing, so Rin will stay inspired to compete. When Makoto tells him he's planning to go to a university in Tokyo to study teaching, Haru grows resentful that his best friend would abandon him and the two fight. Rin tries to stop his self-imposed exile by taking him to Sydney, where they visit his former host family and visit the pool where Olympic athletes train. Rin tells him he plans to move back to Australia to train for the Olympics, an Haru realizes just how wide the world of professional swimming is.
Haru and Rin return to Iwatobi just in time to prepare for nationals. Nagisa and Rei prepare for the third-years to graduate and leave them behind, and Haru assures them they will stay connected. Nationals passes in a flash, ending with Iwatobi coming first in their heat. The team places sixth overall and, overwhelmed at placing so well after two years together and the end of their journey together, the boys of the Iwatobi High School swim team hold each other and weep. Rin appoints Aiichiro, a second-year who has looked up to him since he first arrived, as the captain of the Samezuka team. As the final ending theme plays, a montage flashes by, showing Rin, Makoto, and Haru training and attending school, looking toward their futures.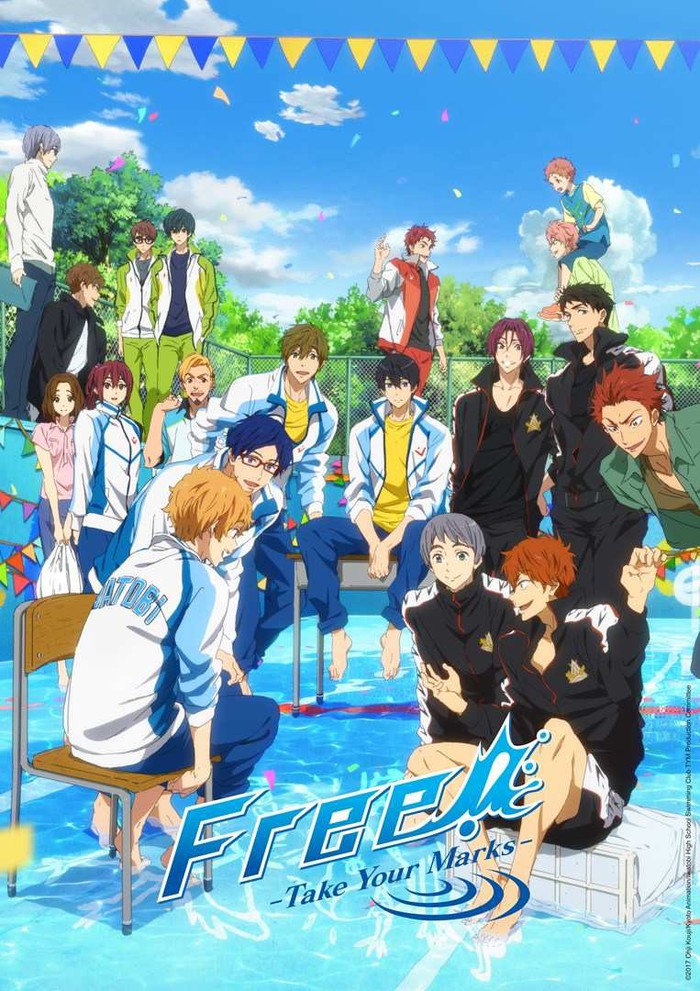 Free! -Take Your Marks-
Although marketed as a movie, Free! -Take Your Marks- is more like four separate OAV episodes strung together, designed to build excitement for the third season and introduce new characters. The vignettes are lightweight and inconsequential, but a pleasant way to check in with these beloved characters again.
The first segment sees Haru and Makoto apartment-hunting in Tokyo again. Although Makoto found an apartment months ago, Haru is struggling to find a place that fits his criteria of a roomy bathtub and a grill he can cook mackerel on. Their old friend Kisumi - rather, Makoto's friend, since Haru never really cared for him - and his uncle. When they finally find a place, conveniently located right by a public pool, the camera lingers on his new neighbor, a silver-haired boy who will doubtless be important in the coming season.
In the next episode, Aiichiro and Momotaro from the Samezuka swim team want to get Rin an appropriate goodbye present. When Momotaro conveniently wins a lottery, they whisk Rin and Sosuke off to a hot springs. There, they meet a swim team from another school, including a couple characters who look to be significant. The antics are fun, but the real breakout star is Matsuoka family's fat cat.
Nagisa, Rei, and Gou bring Makoto and Haru back to film an Arabian nights-style promo, similar to the series' first ending theme song. They travel out to the sand dunes - a nod to the sand dunes in Tottori, the prefecture where the town Iwatobi is based on is situated - but Nagisa is anxious about the future of the swim club without the graduates.
The final segment is a series of comedic misunderstandings, as the Samezuka team hopes to throw a goodbye party for Rin. Gou's roundabout questions make him think she's dating Momotaro, and he challenges Momotaro to a race for his little sister's virginity. The setup is a bit awkward, but the segment finally offers up the male nudity that made the series famous after an hour and a half of them being fully clothed.
Free! may be best known for its nudity, but to pretend that is its only appeal would be doing the series a disservice. There's an appealing hyperreal element to it, as its characters' personalities and situations are exaggerated and simplified to make them less threatening or challenging to young viewers, but still relatable. The second season, with its focus on the anxiety that comes from confronting the future, resonates particularly strongly.
What is this future that the swimmers of Iwatobi will be diving into? Getting back to business as usual will be impossible, with Haru and Makoto in distant Tokyo and Rin in even more distant Sydney. But the more things change, the more they stay the same, and the early promotional materials promise a new crop of muscular, half-clothed men who have past ties to Haruka from middle school. The college circuit will doubtless bring new challenges for Makoto and Haru, and after their success at nationals, Nagisa and Rei have a whole new crop of kouhai to train up.
Whether you've been following Free! since its origins as a PV or are a curious newcomer, the entire series so far (save the film) is available streaming on Crunchyroll (and you can find the English dub on Funimation). Come right in - the water's fine!
---
discuss this in the forum (15 posts)
|
this article has been modified since it was originally posted; see change history