Otakon 2018: Fan Q&A With Food Wars Producer Yuji Matsukura
by Kyle Cardine,

Food Wars fans came in droves to J.C. Staff producer Yuji Matsukura's panel at Otakon this year in Washington, DC. Matsukura is a legendary producer, with 120 titles under his belt. From A Certain Magical Index to Azumanga Daioh to Slayers to DanMachi, the odds you've seen something Matsukara produced are pretty astronomical. With Food Wars' latest season ending just a couple of months ago, fans of Shokugeki no Soma and other J.C. Staff works were able to ask Matsukura some questions about the Food Wars franchise, as well as questions about past and future J.C. Staff titles in an open fan forum..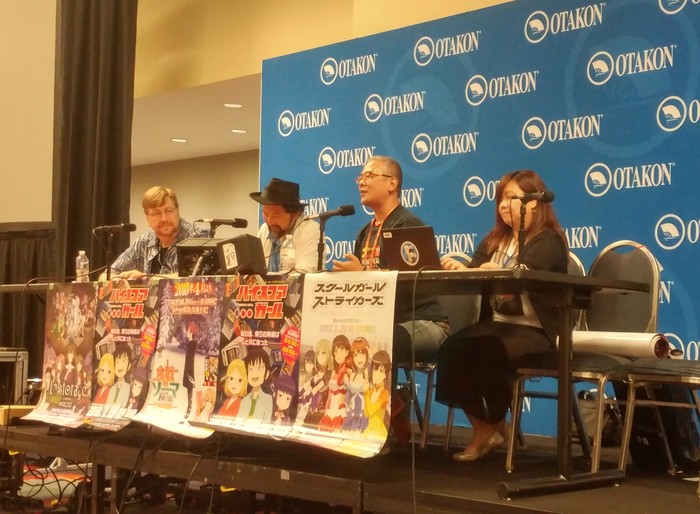 Q: Are you currently working on a fourth season of Shokugeki?
MATSUKURA: Shokugeki no Soma still has the manga going, so there is plenty of stock of stories to animate. We just need the time for that. The more fan support there is, the quicker we can get back to working on Food Wars.
How much time or research was spent about cooking for Shokugeki? I know a lot comes from the manga, but also in terms of the animation I was wondering if you had to do additional research.
In the early days, we actually tried cooking the stuff and tried to film it on our own. But eventually the bars got raised and it got more difficult on the elaborate dishes. We resorted to looking at reference photos and videos. The director, Yoshitomo Tonetani, is also a pretty good cook, so we discuss a lot with him. Back in season one, a woman producer from Warner Bros. said she would replicate every single dish, but after that we gave up.
I really like Honey and Clover. I was wondering, what creative freedoms do you have when translating an episode from the source material or manga?
One bit of freedom that we really exercised for Honey and Clover specifically was the music. A lot of the songs were our efforts. My effort was spent, and upon reading the manga there would be images of what kind of songs and singers which would pop into my mind. Negotiating those collaborations was my job. I was very happy with the result getting to elaborate with Spitz, Suga Shikao and prominent musicians in Japan. Once a year I bring out the final episode and put myself into tears. I wish everyone can watch Honey and Clover.
My question is about the industry. How does an animator know when they're ready to start animating TV shows in the industry and how would they get their first job?
There are no formal criteria for when an animator is ready. You have to be ready to love to draw and animate. You also have to have an attitude fitting of a professional. Are you an aspiring animator? [Yes] I see. Animation is the kind of skill where the more you draw the better you get, so just keep on drawing and I hope you become a professional.

First, please bring more Prison School.
[laughs] I want to make more, but the director is very busy and that's a constraint.
Around 2006, the quality of animation changed seemed to change, like I think of Haruhi and Gurren Lagann. I was curious from J.C. Staff's and your perspective how adapting to the new requirements for the quality of animation has driven challenges and how have you overcome them?
For me, the big milestone was K-ON. My attitude towards character design really changed at that point. For me, up till then, character design meant that each animator had to strictly follow the character designs and the character sheets. With K-ON, that changed, and it was really up to each animator to freely interpret the character designs and put that into the individual episodes. That's a complicated issue, but I think it really depends on the title whether the character designs should be strictly followed or up to interpretation. Personally I don't think Gurren Lagann was such a milestone in that respect.
I was hoping you settle a debate between my friends who are Food Wars cosplayers. Soma's wig - at least, many of the Soma wigs they sell for cosplay online - it's depicted sometimes as not being red all the way through but maybe having purple instead of a shadow. We're wondering: is this just an anime hair thing? Is it supposed to be purple? Is it a shadow? We just chose red because it was simple. I need the answer so someone can be right.
[laughs] I believe it's not a purple streak. It's the color of the shadow on his hair.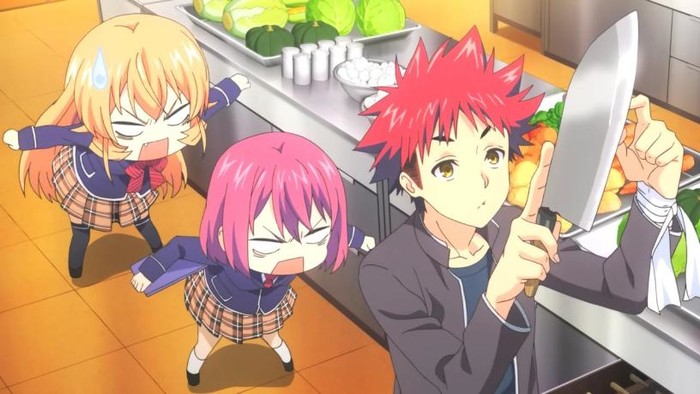 I couldn't help but notice the first couple shows on your clip reel, like Utena and Kare Kano, were directed by behemoths in the industry. What was it like working with people like Anno and Ikuhara?
Everything was an inspiration. Everyday was also suffering. [laughs] Despite that, I think we had fun working on Utena. I don't retain any memory of what it was like working on Karekano. It's totally escaped my memory. I was still young back then, so I persevered and I think we did a good job.
How long ago was Kare Kano?
20 years ago. I was working on Utena and Karekano when I was 26.
You've produced a lot of shows. Which has constituted your individual style as a producer? What makes it a show that you made as opposed to something someone else made? Which of your shows that you produced think best reflects this style?
I would like to think that my style is no style, so that no style is my style. As seen in the trailer, I like to work on any and every genre. So far I think I've worked on 120 titles. That's a lot, so I think I might be the producer that has worked on the most number of titles, maybe in the world. It'd be true. But I do have my favorites. Utena is one of my favorites. Honey and Clover and Aoi Hana as well. I love all the beautiful artwork. But I put my effort in all my titles.
Was it you who thought of the singing dog in Excel Saga?
That brings back memories but that was Shinichi Watanabe's idea.
Will there be a continuation of DanMachi?
We're working on it, but the theatrical feature comes first.
Concerning One Punch Man, I saw the release date was to be announced. I wanted you to clarify when it would come out and if you could tell us anything at all about it.
The only thing I can say is that it's in production and that we're working on it. Note: J.C. Staff would announce a day after this panel details on One Punch Man's second season.

Is there an official Shokugeki no Soma cookbook coming out soon?
If that is a request, that needs to go to Shueisha. I think they should work on something and bring it out.
I came here from Japan. I love Shokugeki no Soma, but my favorite is Nodame Cantabile. We can watch [Cantabile] on Netflix or Crunchyroll, but we also want a DVD or available source. How can you make that happen?
It's really up to the label and we have to talk to them about a rerelease.
I've been watching The Disastrous Life of Saiki K a lot. I'm wondering if you have a friend like Nendo who never gives up no matter what.
It would be a difficult world to live in if everyone were like Nendo. Like "oh, let's go eat ramen" all the time. Hopefully not too many.
For Index Season 3, is there any way for us to know how many episodes or seasons it will be?
Unfortunately we can't disclose that yet. Please look forward to it.
Are there any manga you'd like to work on?
There are plenty, but I can't say that here because they will be stolen from me.
There is a growing demand for retro gaming in the US. Is the same happening in Japan? Can we look forward to more shows like Hi Score Girl?
I think there is some, but not as hot as the American retro game scene. I think it's only old folks like me. I wish we had a chance to bring the excitement of the games from the 90s to young people today. Personally I need levers and buttons. I can't play video games on a smartphone.
Who is your favorite character from Food Wars and why?
I like Nikumi.
Are there any plans for a movie version of Food Wars down the line?
Not presently. It depends on fan support and you guys.

There's some discussion as to which order to watch Railgun or Index. As someone who hasn't watched either, what is your recommended order?
Index, railgun, index, railgun. Please go with that order.
After the questions, Matsukura showed another short reel of anime he's currently worked on, including Planet With, Angels of Death, and A Certain Magical Index III. He thanked the crowd for joining and handed out posters from Food Wars, Hi Score Girl, and Schoolgirl Strikers Animation Channel.
---
discuss this in the forum (4 posts)
|