×
remind me tomorrow
remind me next week
never remind me
Subscribe to the ANN Newsletter • Wake up every Sunday to a curated list of ANN's most interesting posts of the week.
read more
Premiere Report: Sword Art Online: Alicization
by Zac Bertschy,

On September 15th, fans lined up around the corner at the Montalban Theater in Hollywood for a glimpse of this fall's hotly-anticipated Sword Art Online: Alicization, which covers the wild fourth arc of Reki Kawahara's internationally-bestselling light novel series. Kirito and Asuna are no strangers to the neighborhood; just last spring, Aniplex of America hosted a gala premiere for Sword Art Online the Movie: Ordinal Scale right around the corner at Grauman's Egyptian Theater, with cosplayers and exclusive merchandise in tow; the third season's premiere at the Montalban was similarly crowded with festivities (and fans!).

It became immediately clear why the line was so long; ticketholders were handed a pile of freebies as they streamed through the gates, including a clear file and a shikishi signed by Alicization director Manabu Ono. A merchandise pop-up shop greeted fans upstairs with a couple exclusives that sold out pretty quickly; Aniplex kept the shop open for 2 hours prior to the screening and for another full hour afterward. Standees of the Alicization cast, including a grown-up Alice and Eugeo, stood watch in the lobby beneath a galaxy of Sword Art Online posters.

Aniplex kept a healthy preshow running before the premiere as the theater filled up; trivia and a whole host of Sword Art Online spinoff commercials kept the audience entertained until Aniplex of America's reliably charming host Anthony Foronda lept up on stage to introduce the double-length premiere episode, announcing that several members of the show's dub cast – including Bryce Papenbrook and Michelle Ruff – were in attendance that evening.

The episode launched with a little more voice actor action, as two of the show's Japanese cast – Yoshitsugu Matsuoka, the voice of Kirito, and SAO newcomer Nobunaga Shimazaki as his season premiere sidekick, Eugeo, provided a special message before the show. The two enthused about their time recording the premiere, reflected on their biggest moment (which for both of them was a climactic moment involving Alice) and then without further ado introduced the first episode of Sword Art Online: Alicization.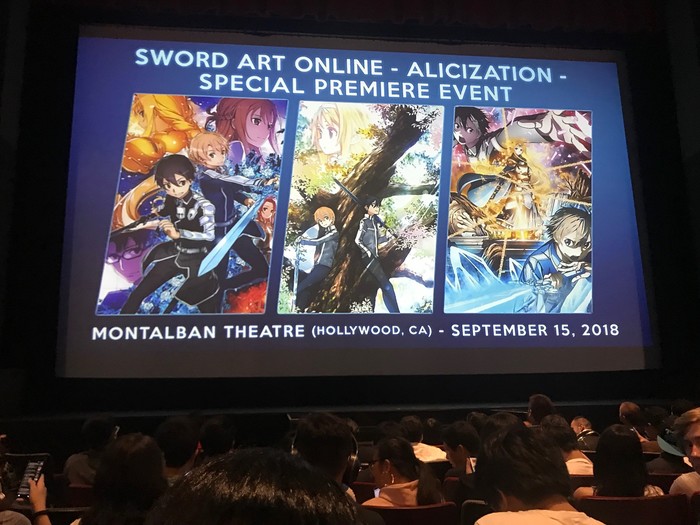 It's immediately clear why they chose to produce this first episode as a twofer, since fans who haven't read the novels would likely be taken pretty off-guard by the first 20 minutes of this episode. Kirito wakes up in the middle of an afternoon nap in a pastoral world unknown to us, looking no older than about 10, dozing off in the middle of some menial labor with his pal, the earnest but timid blonde Eugeo, who's whacking away at an enormous (and fortified) tree with a hefty axe. It becomes clear that the boys are on a sidequest, and a particularly Sisyphean one at that – tasked with chopping it down, they check the tree's ancient status with an in-game menu screen, which lets them know how many more decades they'd have to spend to make a dent in its steely hide. All this is interrupted by the diminutive but feisty Alice, another unfamiliar face to us, who has arrived for their lunch break with a savory pastry buffet in tow; it's immediately clear these three kids are an inseparable crew.

Alice's delicious lunch withers quickly in the heat, which gives Kirito an idea – snag some ice from the local ice dragon cave of myth and legend, which Eugeo reminds the crew is a little too close to the End Mountains, a ring of frosty peaks that buffers the citizens of this seemingly-idyllic world from the Dark Territory, a place every man, woman and child is forbidden to enter. Details about the world slowly come into view; Alice and Eugeo talk at length about the unbreakable rules of this world and how they're enforced by fearsome dragon-riding Integrity Knights from Centoria, the capitol city. They find the ice cave, but it isn't quite what they expected; not only is the legendary beast dead, the kids quickly find themselves on the wrong path, face-to-face with the snarled, crimson wasteland of the Dark Territory. In the skies overhead, an Integrity Knight in gleaming white armor clashes with another dragon-riding warrior clad in black, who falls like a stone after an overwhelming blast knocks him to the ground. Alice, ever empathetic, reaches out to the fallen enemy, forgetting her list of taboos – Kirito and Eugeo warn her, but it's too late, and before you know it, she trips and lands pinkie-first on red soil. A giant floating administrator head appears in the sky, takes note of Alice's infraction, and it's just a matter of time until she's hauled away by an Integrity Knight, carrying out some literal draconian enforcement, dangling the poor girl from a chain hanging off the bottom of his dragon, while Kirito helplessly screams after her from the ground. It's a traumatic moment, and then – suddenly – black.

Kirito wakes up on a table in a lab, obviously just having dropped out of a simulation, a single tear running down his cheek. Title Card: UNDERWORLD.
All that mysterious context is shelved in the next episode (this double-length premiere, like most double-length premieres, can be easily bifurcated) as we rejoin regular ol' Kirito, Asuna and all of their fun-loving Sword Art Online buddies in the middle of an explosive Gun Gale Online battle with a crack team of player killers who seem to have the edge on our heroes, right before making a mysterious retreat. This is where the story really starts to take shape; a concerned Shino, smelling something off about today's encounter, meets with Kirito and Asuna, where Kirito reveals he's been working on a new experimental full-dive technology with an enigmatic company named Rath. Rath thinks they've figured out how to scan the human soul by taking measure of the light that exists in the tubes that connect your brain cells – as Kirito explains – and they're attempting some Full Dive shenanigans based on this revelation. On the walk home, Kirito tells Asuna he's going to America to explore the potential of full-dive technology, and that he'd like her to come with him – a tender moment cut short by the shocking conclusion of the episode, which I won't spoil here.

The audience absolutely ate it up – it was a pretty rowdy crowd to begin with, but it's clear the wait for this third season was a long one, and the premiere really went out of its way to make them happy, with big dramatic entrances for fan-favorite characters. Personally, I've only casually absorbed the franchise over the years – just the first two seasons of the anime, up through Sword Art Online II and a little bit of GGO – and this premiere entertained me plenty, with propulsive pacing and a bunch of fun twists and turns, which is what I've come to expect from this show over the years. The episode itself was absolutely up to A-1 Pictures' usual SAO standard – gorgeous backgrounds, some beautiful little character animation moments, explosive battles and then maybe a few wonky TV anime moments that don't really distract from the whole. We didn't get opening or closing credit sequences, just a credit scroll at the end – after that it was good night, with fans streaming out into the street with shikishis in tow.

Sword Art Online: Alicization premieres this fall; you can check out our interview with the cast and staff right here.
---
discuss this in the forum (2 posts)
|
this article has been modified since it was originally posted; see change history