Holiday Gift Guide 2018

Figures

by Lynzee Loveridge,
Figures
Lively Lillie Figma (Pokemon Sun/Moon)

An invigorated Lillie is ready to leave Alola and come home with you. She's bringing all of her best accessories: her Cosmog "Nebby", a backpack, Poke Doll of Clefairy, Sun Flute, Moon Flute, and Poke Ball in case she encounters anymore creatures while on the go. Part of Good Smile's figma line-up, this Lillie is posable and comes with three different expressive face plates: happy, really happy, and angry.
Retail Price: US$50
Publisher: Good Smile Company
Shopping Link: Ami Ami
Lala Satalin Deviluke 1/6 Complete Figure (To Love-Ru Darkness)

The original naughty alien bride is all suited up for her honeymoon. This 1/6-scale figure recreates the bridal lingerie art from an earlier To Love-Ru Darkness art book. This version fits better in your office than the life-size versions but is sure to attract just as much attention.
Retail Price: US$110
Publisher: Max Factory
Shopping Link: Ami Ami
Asuna (Undine Ver.) 1/7 Complete Figure (Sword Art Online the Movie: Ordinal Scale)

There are a lot of Asuna figures out there but this Undine variant from the anime film is striking. Her face says "don't even try it" and her hair and sword give a sense of movement. You wouldn't want to find yourself on the other side of Asuna's blade, that's for sure. Add this battle ready maiden to your figure line-up to add some oomph.
Retail Price: US$132
Publisher: Emontoys
Shopping Link: Ami Ami
Zero Two S.H. Figuarts (DARLING in the FRANXX)

The anime darling of 2018 is suited up and ready to protect her beloved as a fully posable figure. Zero Two's suit can change for piloting mode if you want, hood and all. When the fight is done the pieces click back into place in time to give Ichigo a good smack.
Retail Price: US$42
Publisher: Bandai
Shopping Link: Ami Ami
Sakura Kinomoto Tomoeda Junior High Uniform Ver. Nendoroid (Cardcaptor Sakura: Clear Card)

Sakura has plenty of gorgeous battle costumes but don't overlook her junior high school uniform. The crisp colors look fresh and you can pair her with one of three expressions: cheerful expression, a charming smile, or a flustered expression. I can hear Sakura's "hoe~" already!
Retail Price: US$35
Publisher: Good Smile Company
Shopping Link: Ami Ami
Ruler Variable Action Heroes DX (Fate/Apocrypha)

The highlight of this figure is its Noble Phantasm. Ruler's Luminosite Eternelle is a battle flag in the anime series. Not the most impressive weapon when rendered in 3D, so MegaHouse added wire inside to make it just as posable as the character herself. Ruler also comes with six different expressions and her sword can be unsheathed creating even a larger variety of battle stances.
Retail Price: US$151
Publisher: MegaHouse
Shopping Link: Ami Ami
Toru Amuro 1/8 Complete Figure (Detective Conan)

The biggest anime man on campus is Toru Amuro, the co-star in the latest Detective Conan film Zero's Executioner. Amuro's popularity has helped sell out magazines and he's even got his own spin-off manga. This 1/8-scale figure shows of Toru's cool side as he stands holding a leather jacket on his shoulder and adjusts his hair fringe.
Retail Price: US$95
Publisher: TMS Entertainment
Shopping Link: Ami Ami
Super Saiyan Gotenks S.H. Figuarts (Dragon Ball Z)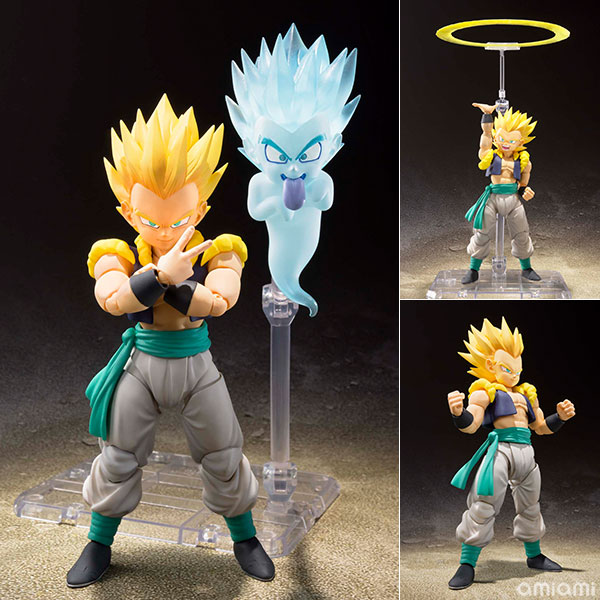 I hope those invading aliens are ready for a Galactic Donut because Gotenks is ready to serve it up. The figure comes ready with the special attack effect and his ghost version to follow up with a Super Ghost Kamikaze Attack. Buu - and any other foe for that matter - isn't likely to forget Gotenk's unique attack names or attitude.
Retail Price: US$47
Publisher: Bandai
Shopping Link: Ami Ami
Shu Tsukiyama Super Action Statue (Tokyo Ghoul)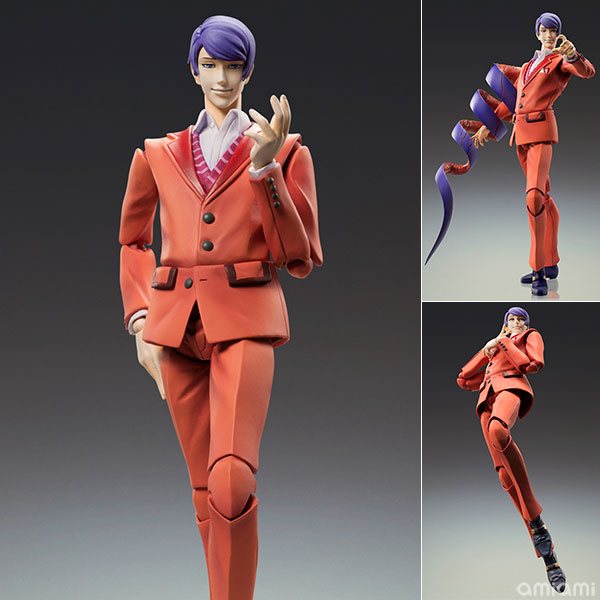 A villain you love to hate, gourmet ghoul Shu Tsukiyama is recreated in this posable figure down to the smallest detail. His stark red suit, swirling kagune, and mask are all here for the discerning collector. This is figure is, how do you say, "tres bien"!
Retail Price: US$55
Publisher: Medicos Entertainment
Shopping Link: Ami Ami
Tamashii Buddies (Various)

Great stocking stuffers, Tamashii Buddies add a bit of fun to work space without the clutter. Bluefin has a variety of characters from fan-favorite series like Attack on Titan, Dragon Ball Z, Sailor Moon, and MegaMan. Each comes with their own little backdrop to stand against and, in the case of the Sailor Guardians, its the same that appears at the end of their transformation sequence.
Retail Price: US$12
Publisher: Bandai
Shopping Link: Bluefin
Bruno Bucciarati Figure Gallery 2 (JoJo's Bizarre Adventure Golden Wind)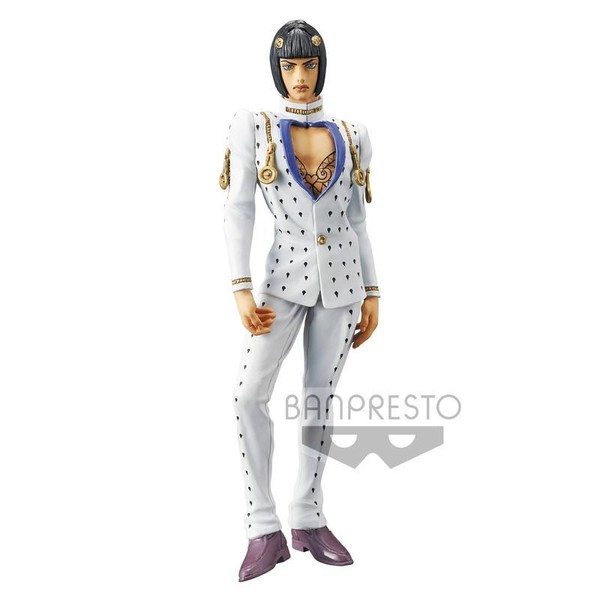 Figures of the future Gang-stars are just starting to roll out. These Figure Gallery figures from Banpresto are lottery prizes (thus the lower cost) but still retain a surprising amount of detail. Bruno Bucciarati is shown here with his unique hair part, all of his intricate zippers, and painted reverse teardrop fabric pattern.
Retail Price: US$16.50
Publisher: Banpresto
Shopping Link: Tokyo Otaku Mode
Izuku Midoriya/Shoto Todoroki DXF Figures (My Hero Academia)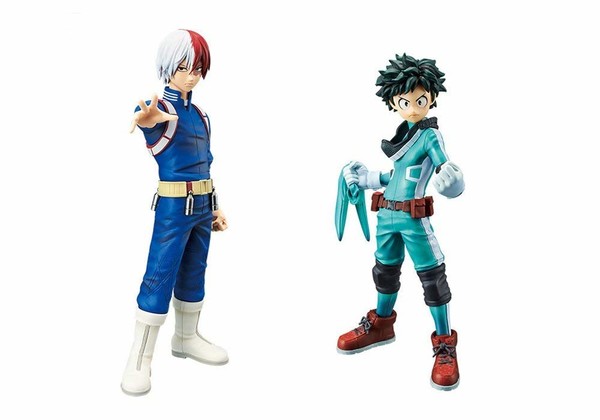 These six inch figures of heroes Deku and Todoroki still pack a fun punch. Deku is shown in his hero uniform created lovingly by his mom with the mask held in a clenched fist. Todoroki is shown with his hand extended out ready to freeze whatever villain is dumb enough to step too close.
Retail Price: US$12.50 each/US$28.50 for both
Publisher: Banpresto
Shopping Link: Tokyo Otaku Mode
Nanachi 1/6 Scale Figure (Made in Abyss)

Nanachi didn't show up until the last third of Made in Abyss but she still captured the hearts of viewers with her determination. The rabbit-like girl us shown floating happily (as she deserves) above a crescent of greenery and flowers. Her ears almost look soft here, you can't help but want to give her a hug.
Retail Price: US$118
Publisher: Toy's Work
Shopping Link: Tokyo Otaku Mode
Super Sonico Hestia Ver.1/7th Scale Figure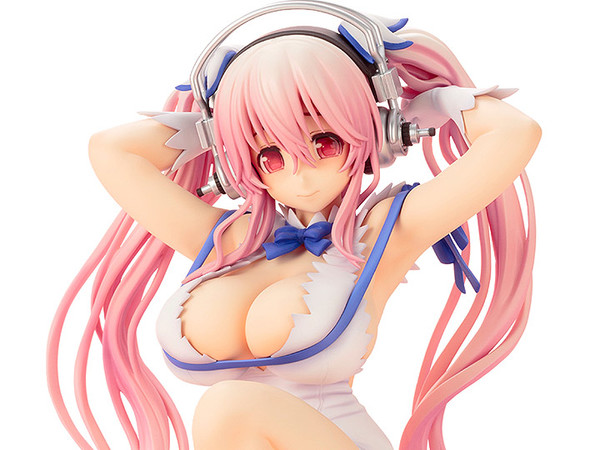 It's the cross-over you didn't know you wanted. Nitroplus' buxom mascot meets Is It Wrong to Pick Up Girls in a Dungeon's pint-sized goddess Hestia. Sonico is wearing Hestia's white dress and the infamous string and has tied up her hair into pink twin tails. The figure is based on an illustration drawn by Santa Tsuji for Sonico's 10th anniversary. The figure comes with a bromide illustration card featuring the original illustration.
Retail Price: US$210
Publisher: GENCO
Shopping Link: Tokyo Otaku Mode
Red Hood Ikemen Statue (DC Comics)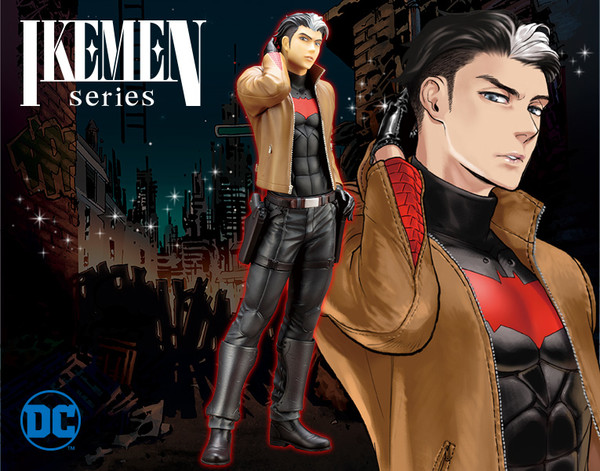 Kotobukiya's Ikemen line is giving DC Comic heroes a handsome anime makeover. The first was Nightwing aka Dick Grayson and the line has grown to include more Robin variations. Jason Todd, or Red Hood, joins the line-up with a side-shave, tight pants, and a mask. The figure can be purchased with a bonus part (not that) that adds his domino mask.
Retail Price: US$78
Publisher: Kotobukiya
Shopping Link: Tokyo Otaku Mode
Edward Elric Limited Edition Ver. ArtFX J (Fullmetal Alchemist: Brotherhood)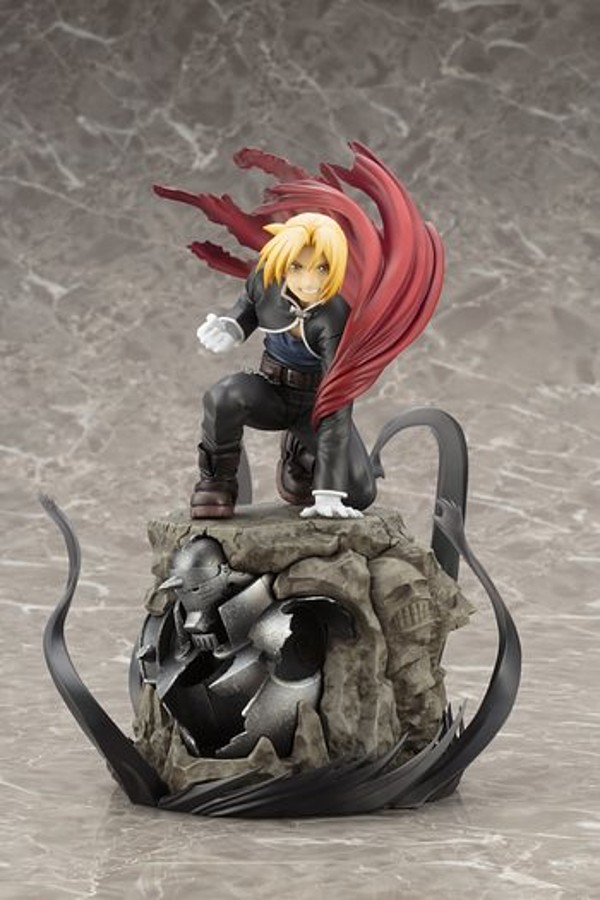 This figure is an exclusive to TOM which means that Fullmetal Alchemist fans are going to want to snatch it up to get the extra goodies. First, this figure comes with a base not available anywhere else. Edward is shown atop a stone swirling with dark tendrils. His brother is broken and encased within while horrific faces carved in stone look on. Also included are interchangeable "transmuting hands" and an alternate face for Ed.
Retail Price: US$168
Publisher: Kotobukiya
Shopping Link: Tokyo Otaku Mode
Mumei Black Swimmer Ver. 1/8 Scale Figure (Fate/Extella)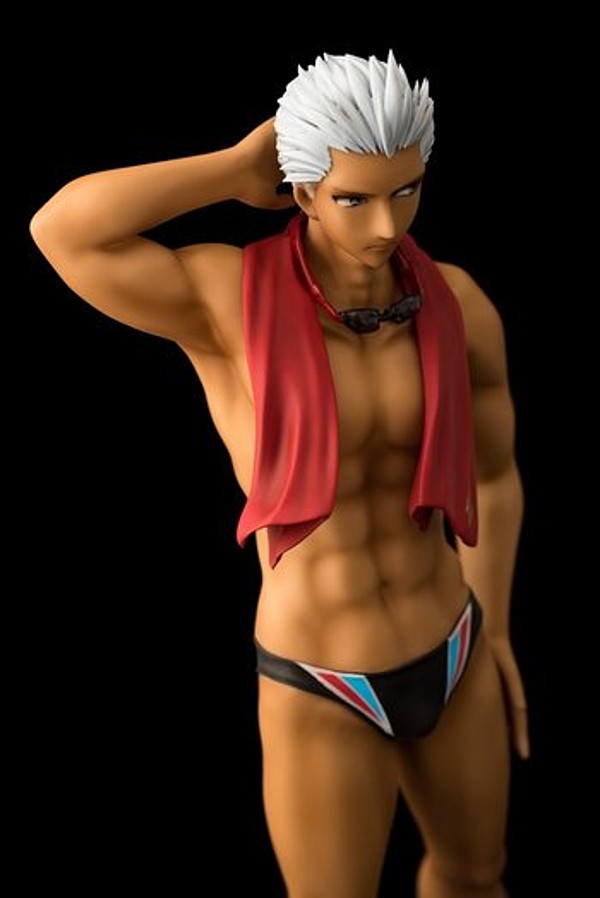 If you're looking for a different kind of eye candy, Mumei's speedo is sure to please. He kind of looks like a very attractive lifeguard, standing ready with towel in hand to rescue any poor swimmers caught in the riptide. Don't worry! He knows CPR!
Retail Price: US$113
Publisher: Aoshima
Shopping Link: Tokyo Otaku Mode
McCree: Classic Skin Edition Nendoroid (Overwatch)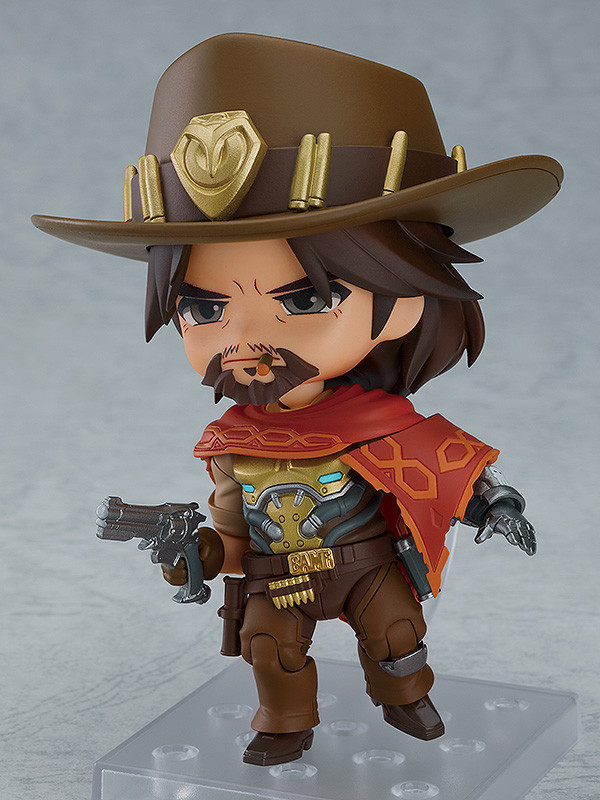 The pistol-wielding cowboy is ready to take names and dispense justice. The Overwatch champion comes with a standard version as well as a spinning version of his Peacekeeper revolver,two face plates, a flashbang grenade, Deadeye effect parts, and the tumbleweed that rolls on by when he uses his Deadeye. A clear effect sheet based on his "Rolling Into Action" highlight intro is also included.
Retail Price: US$49.99
Publisher: Good Smile Company
Shopping Link: Tokyo Otaku Mode
Strelizia Robot Spirits (DARLING in the FRANXX)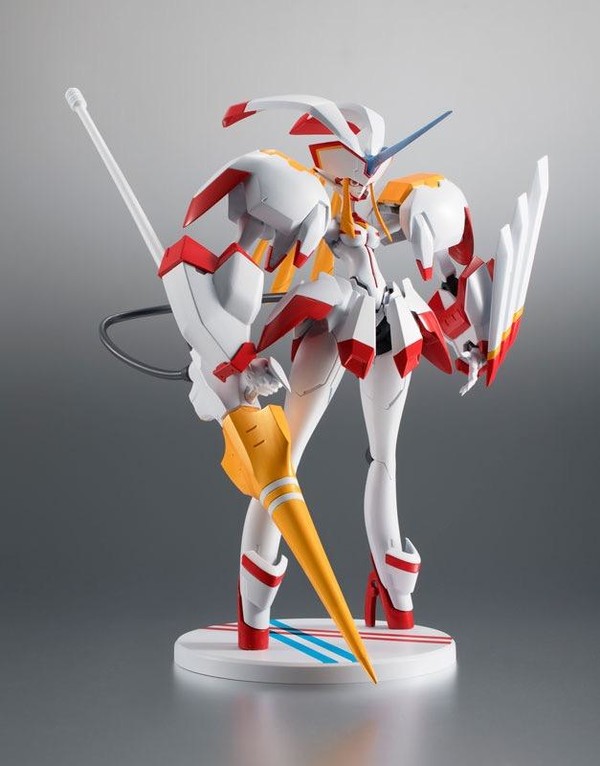 Zero Two and Hiro's giant robot Strelizia comes to life in this customizable mecha figure. She's ready to head off into space with her Queen Pike. Two extra face plates means Strelizia can look both menacing and elated when she isn't yelling out her battle cry.
Retail Price: US$49.50
Publisher: Bandai
Shopping Link: J-List

---
Disclosure: Bandai Namco Rights Marketing, Inc., a wholly owned subsidiary of Bandai Namco Holdings Inc., is a non-controlling, minority shareholder in Anime News Network Inc.
---
discuss this in the forum (28 posts)
|
back to Holiday Gift Guide 2018
Feature homepage / archives