×
remind me tomorrow
remind me next week
never remind me
Subscribe to the ANN Newsletter • Wake up every Sunday to a curated list of ANN's most interesting posts of the week.
read more
Our Most Anticipated Anime of Spring 2019
Don't look now, but Spring has arrived and with it, a fresh crop of new anime! Anime News Network's Spring 2019 Anime Preview Guide begins on April 1st, so it's time to talk about the shows we're looking forward to the most. Once you've perused our staff picks, head on over to the forums and make sure you tell us yours!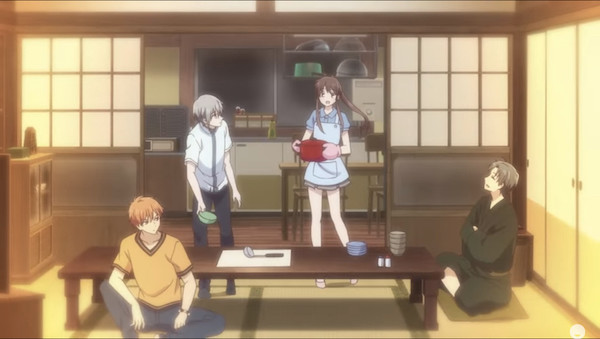 Amy McNulty
Most Anticipated: Fruits Basket
I'm far from the only one who might pick Fruits Basket as their most anticipated anime of the spring season, but like a lot of anime fans my age, I'm a fan of the original anime and read the manga in my young adult years. The original anime adaptation was great, but it proved to be just a taste of the full scope of the story, and it's going to be amazing to finally see it on the screen—and with even sleeker art and animation than it had the original go-around. Its amusing Chinese-zodiac-based concept is rife for comedy but is nonetheless just the surface of an emotional story that goes much deeper than the jokes. Fruits Basket is full of humor and heart, and it deserves this chance to become a favorite of a new generation.
Runner-up: We Never Learn
Based on the concept alone, I wouldn't have expected to be that interested in We Never Learn, but I had the chance to review the first volume of the manga for a manga preview guide and found it to be one of my favorites of that batch. I like the idea of the girls in need of tutoring being geniuses in their own right—but only in one specific subject each. To make matters more intriguing, the two main girls both have career paths in mind that will require them to earn degrees in their weakest subjects. The drive to succeed is there, but their knowledge is not. The main character is no next-level genius but is intelligent equally in all subjects and has the ability to teach others what he knows. He has the task of trying to get through to these flighty geniuses so he can help them in the subjects with which they struggle, and he's genuinely rooting for them to succeed. When the group is joined by a genius in athletics who struggles with academia, the proceedings get especially wacky. Although there's a romantic element to the girls' interactions with their tutor, it doesn't immediately jump to that plot point, letting the romance(s) unfold more naturally.

Nick Creamer
Most Anticipated: Carole and Tuesday
I'm guessing you'll be seeing a whole lot of overlap in this list, and for good reason - Shinichiro Watanabe and Kunihiko Ikuhara are two of the best directors in anime history, any new production by either of them is a cause for celebration, and this season, we're lucky enough to get new shows by both of them at the same time.
I'm sorry to say I won't be bucking that trend, as my own most anticipated show is definitely Carole & Tuesday, a new anime-original by the director of Kids on the Slope and Cowboy Bebop. Carole & Tuesday seems like one more synthesis of Watanabe's main interests - music and scifi - and the material we've seen so far indicates this will be just as special as his last coming-of-age drama. Watanabe uses his love of Hollywood cinema to give his productions a unique and striking visual aesthetic, while his passion for music means that not only do his shows feature uniformly terrific soundtracks, but also that the musical score often facilitates his narrative drama. Set in an oppressive Martian future and defined by the musical chemistry between two girls, I have every reason to expect Carole & Tuesday to be a real stunner. You definitely don't want to miss this one.
After that, I am equally predictably looking forward to Sarazanmai. Like Watanabe, Ikuhara is a creator who needs no introduction - Revolutionary Girl Utena is one of the best and most influential anime of all time, and his works since have carried on Utena's sense of visual invention, delirious plotting, and savage social consciousness. Based on everything we've seen so far, Sarazanmai seems like a worthy inheritor of this legacy, with its previews seeming to fall somewhere between the real-world drama of Penguindrum and the fanciful segmented society of Yuri Kuma Arashi. It also looks quite nice, and I assume teaming up with a studio like MAPPA means this won't suffer animation-wise like Yurikuma did. Ikuhara's works are always creative, thoughtful, and politically searing, and I can't wait to see what he's on about this time.
Simply highlighting the shows everyone else will also be highlighting feels a little unsatisfying, though, so I'll also throw out Mix as my own personal choice. Though the adaptation team looks a little questionable, Mix was originally a manga by Mitsuru Adachi, and Adachi might well be the best sports mangaka there is. His similar Cross Game counts as one of my all-time favorite manga, so I'll be keeping a close eye on Mix, and if you're looking for a new sports show, it's undoubtedly worth a try.

Lynzee Loveridge
Most Anticipated: Sarazanmai
Kunihiko Ikuhara is back with what's sure to be another deep-dive of symbolism and raw human emotion. Sarazanmai is looking at three middle school boys that are transformed into kappa, two suspicious police officers, and some weird-looking zombies. I'm 100% here (with notebook in hand) to unwrap what's sure to be a crazy trip in a kappa-infested swamp. No one quite blends trauma, emotional connections, and cute creatures like Ikuhara, and I'm first and foremost excited to see what the director has next for all of us.
Honestly, this season has quite a few shows I can't wait to see, and a few I'm curious about. Cowboy Bebop director Shinichiro Watanabe is back with a musical series set on Mars of all places. It already looks different enough than most ensemble idol shows by putting an acoustic take on the whole thing (plus aliens). I also can't ignore the Fruits Basket reboot. Like quite a few anime fans from my generation, Fruits Basket has a special place in my shojo heart. I never did follow through with the manga after the original show's run, so I'm hoping to get quite a few surprises with Tohru and the gang. There's also three Shonen Jump series premiering this season but I'm holding out for ufotable's take on Demon Slayer. Gotta get my demons and feudal-era action in! Rounding out my tentative must-watch list is season three of Book Boys, P.A. Works' folklore-inspired Fairy gone, and tentatively One Punch Man season two, barring a complete misfire from J.C. Staff.
It's going to be a busy season for me!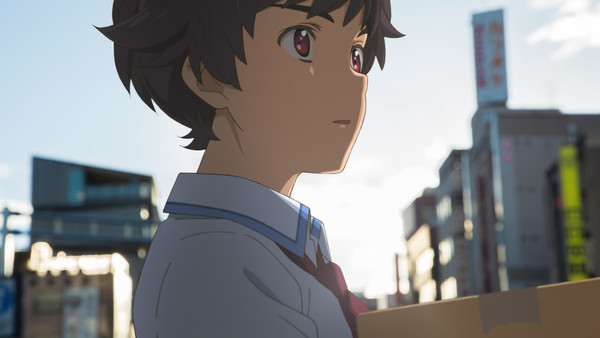 Rose Bridges
Most Anticipated: Sarazanmai
This spring season is absolutely stacked, and that meant I left off several series that would have easily made my "most anticipated" in any other season—from the Fruits Basket reboot to new seasons of Attack on Titan and One Punch Man. But the most exciting type of new anime for me is always an original story by a beloved auteur creator, and that's what both my picks ended up being, to the point that it was difficult to choose who got the crown and who the honorable mention. Kunihiko Ikuhara triumphs by a hair here, partly because of how just what surreal and thoughtful masterpieces all his works have been thus far. He's had fewer original series than a lot of anime auteurs, of course, but every single one of those three so far has found a different way to destroy me and make me reexamine the world around me, and particularly the media that taught me how to feel about it. Sarazanmai though is different, in its focus on male characters and relationships between them, likely of the at least homoerotic variety, if not outright gay given Ikuhara's pedigree. The last time a director I beloved for their treatment of female characters and their relationships took on a male-centric story with the help of Studio MAPPA, we got Yuri!!! on Ice…managing to revolutionize the queer anime world and capture my heart all at once. So I can't wait to see Ikuhara, a guy who's managed multiple such revolutions several times over, blow my mind even further with his latest. And I'm particularly curious to see what he'll do with them transforming into kappa, and wearing police outfits straight out of Rin in Free!'s second ending theme. I'm sure it will all be deeply metaphorical and still silly fanservice at the same time, like Ikuhara does like no one else.
Runner-up: Carole and Tuesday
If there's a director I come into with bigger expectations and hype as I do for Ikuhara, it might be Shinichiro Watanabe. And like Ikuhara with stories of queerness, gender and sexuality, there are few subjects Watanabe does better than music. Likewise, there are shades of this that are different from Watanabe's usual output, like it being a female-centric story, while others are deeply familiar, from the music focus to the futuristic space setting. Production-wise, Watanabe also appears to be stepping out of his usual comfort zone, hosting a much-publicized international talent search for young aspiring singers to play the title roles, rather than mining his familiar pool of known talent. And still, the actual details on the plot and characters so far remain fairly thin, giving more hope that this will be full of surprises. All in all, I just love that this is a season where I have to choose between new anime-original works by two of my favorite anime directors. The only frustration will be Carole & Tuesday's Netflix distribution, as someone who firmly prefers consuming my anime in weekly chunks as opposed to binge watching. But maybe that will give Watanabe some room to stretch with the episodic format he's mastered in so many of his previous ventures, and really flex his creative muscles on this project.

Theron Martin
Most Anticipated: Fruits Basket
With few new titles instantly grabbing my attention and my most-anticipated titles for the year coming up in later seasons, I'm falling back on established titles. The second season of One Punch Man and the second half of the third season of Attack on Titan could just as well be in the top spot for me, since both are continuations that I've been looking forward to, but I'm going instead with the most potentially intriguing remake to come along in many a year. I am apparently one of a small minority of fans who not only still love the 2001 version of Fruits Basket but also actually preferred it to its equivalent manga content, so I am very curious to see how much different this version is with a creator-mandated entirely new staff and supposedly greater faithfulness to the manga. My one quibble about the original was its rather limited animation, so I am hoping that gets improved upon, but otherwise I see it facing a stiff contest to better the original on equivalent content. Others I am interested in to some degree include the cross-franchise probable-short Isekai Quartet and the dark-looking fantasy series Fairy gone, but I am fully expecting a few others to impress me.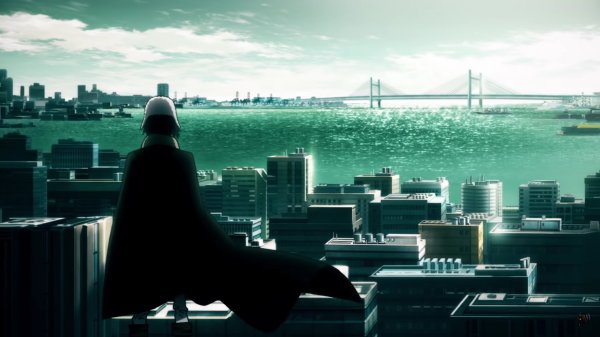 Rebecca Silverman
Most Anticipated: Bungo Stray Dogs Season 3
I've loved Bungo Stray Dogs since I learned its concept – great authors of various nations with superpowers (one per author) fighting or causing crime. That seasons one and two brought in a fun variety of some of my favorites, while also allowing me to discover new authors I hadn't read before, made it even more fun, a good show with a bonus for bibliophiles. While not every author's power necessarily worked for me – Lucy Maud Montgomery felt strangely out-of-touch with her actual works – for the most part original creator Kafka Asagiri's research shines through, and part of the joy of watching and reading the source manga is in finding all of the small references to the various authors and their bibliographies. While season one stuck mostly to Japanese authors, season two branched out into American and Canadian writers, with a bonus André Gide for good measure, and that's set to continue in season three with the introduction of Fyodor Dostoyevsky as the new villain. His group may force the three warring factions from season two to redefine their allegiances, especially since we already know that Nathaniel Hawthorne has shifted from the Guild to Dostoyevsky's Rats in the House of the Dead. (Fine by me, I'm still mad about his 1855 statement that "America has been given over to a damned mob of scribbling women.") It will be interesting to see how things continue to be shaken up, as well as who else will be part of the Rats – other Russian novelists? Crime writers? Authors jailed as dissidents? There are a lot of possibilities, and they all seem worth anticipating.
Runner-up: Ao-chan Can't Study!
I'm also looking forward, albeit more tentatively, to Ao-chan Can't Study!. The manga is good mix of humor and sweet-but-misguided romance, and while at times it can feel like poor Ao is just letting herself in for one humiliation after another, I haven't found it mean. How the anime adaptation handles things could change that, especially if it places the emphasis more on Ao's erotica-author dad's deliberate messing with Ao's worldview than on Ao coming to understand that love and porn aren't the same thing. (Or heck, even sex and porn.) That does make me nervous, because he's my least favorite part of the manga, but I could see someone deciding that he's much funnier than I find him and playing up his role. I'm always up for seeing a story I enjoy take new life in a different format, though, so even if it's not done as I'd wish, I'm at least looking forward to finding out.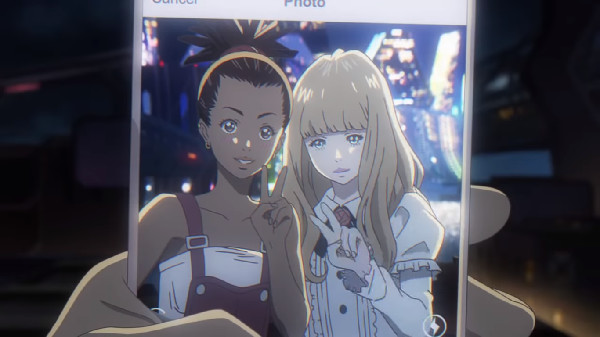 James Beckett
Most Anticipated: Carole and Tuesday
I'm definitely excited for some of the bigger action and adventure seasons that will be launching this Spring, not to mention the return of Attack on Titan, but in making this list, I found craving something just a little more outside of the box. Enter Carole and Tuesday, which seems to check all of the boxes on the List of Things That Will Automatically Get James Excited About A New Series: Shinichiro Watanabe (of Cowboy Bebop fame) is chief director; it's a science-fiction premise rooted in a seemingly grounded tone and cast of characters; and the two female leads seem interesting and likable. More to the point, I am a complete sucker for any story where the protagonists' relationships are forged in their shared passion for music – setting the whole thing on a recently colonized Mars is just an extra layer of invention that makes an already promising premise even more intriguing. Given that Carole and Tuesday is being created as a celebration of sorts for the studio's 20th anniversary, I'm expecting them to be pulling out all of the stops to make this a gorgeous, stylish production. While this looks to be director Motonobu Hori's first stab at helming a full series, he's been staffed on a number of excellent titles (including BECK, one of my personal favorites). Besides, with Watanabe's guiding vision holding the whole thing together, I'm optimistic that Carole and Tuesday will be one of the must watch programs of the season.
Runner-Up: Sarazanmai
I arrived to the Kunihiko Ikuhara woefully late in my life as an anime fan. I am still working on Yuri Kuma Arashi and Penguindrum, but I was floored by Magical Girl Utena, and in my view, anyone that produces something that good ought to get a blank check to do whatever they wish. The basic premise seems on the surface to be a kind of gender-bent riff on some of the ideas and visual motifs present in previous Ikuhara joints: A pair of middle school students are changed into kappas through some magical means or another, and in order to change back they are forced to become intimately close with one another. For years, Ikuhara has been exploring the effects of society's oppressive views on gender and sexual identity from a mostly female perspective, so I am especially eager to see how the show tackles a story with such overtly gay themes. From my experience, the kind of coding and subtextual pathways anime has used to explore homosexual male romances have been very different than how same-sex relationships between women ae handled, and arguably a lot more limiting. I am curious to know which of these tropes Ikuhara will embrace, and which he will subvert or shatter completely. More than anything, though, I'm in love with Ikuhara's willingness to play with anime's strength's and limits as a medium. Any season with more wild and unabashed creativity on that level is going to be an exciting one.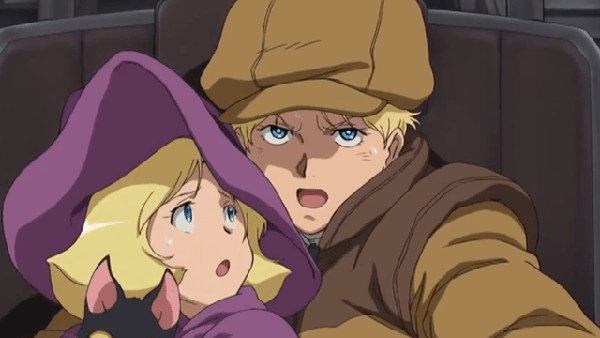 Lauren Orsini
Most Anticipated: Gundam: The Origin - Zenya Akai Suisei
Gundam: The Origin was a groundbreaking twist in perspective on the original Gundam story, and it's about to become more accessible than ever. Introduced as a stunning watercolor manga from Mobile Suit Gundam's original character designer Yoshikazu Yasuhiko, and transformed into a series of film releases over four years, it's now finding a new incarnation as a TV show. This echoes the franchise's treatment of Mobile Suit Gundam Unicorn, a novel turned DVD turned, finally, 26-episode TV series. However, in that case, the transfer from OVA to TV show went pretty badly. The minor cosmetic improvements hardly enhanced the animation, while awkward cuts and pacing made it clear that the story was intended as a series of movies and it floundered on TV. However, I think the franchise can learn from this earlier failure. At a more manageable 13-episode run, I believe Origin will be able to successfully bring the electrifying, emotional stories of Gundam icons Char Aznable and Sayla Mass to the small screen. Given how good the content already is, they won't have to work too hard.
Runner-up: Sarazanmai
A Kunihiko Ikuhara anime always promises to be a trip—but will it be a good or bad one? The creator of Revolutionary Girl Utena, Yuri Kuma Arashi, and Mawaru Penguindrum has never been one to stick to tradition, and his newest show is no exception. Anyone would be curious after the three cryptic promo ads we've gotten so far, which consist of little more than some vague quotes about love and desire and some simplistic visual aids. None of it fully lines up with what we've heard about the central theme of the story: kappa, the mischievous water imps from Japanese folklore, and the… balls they steal from people's buttholes? After a slew of stories about women and the romances they experience together, this show has a nearly all-male cast, centering around a trio of eighth-graders and a pair of policemen. I have no doubt that this story, with its fixation on buttholes, will explore some themes of love and no doubt sex, plus Ikuhara's recurring foci on human connection and isolation as opposite sides of the same coin. Ikuhara's trademark off-the-walls weirdness is going to be at the heart of this thing if it has one, but even if it's a mess it's going to be the kind of trainwreck I want to see for myself.

Paul Jensen
Most Anticipated: Carole and Tuesday
If someone tells me that Shinichiro Watanabe is working on a new anime series with music as a central theme, I'm automatically going to be interested, so Carole & Tuesday is at the top of my list for this season. I still count Cowboy Bebop and Samurai Champloo as having some of the most memorable soundtracks I've ever encountered, and Kids on the Slope did an excellent job of capturing the look and sound of a particular time period and style of music. Original productions also tend to catch my eye, as they're naturally in a better position to tell a complete story than an adaptation that's beholden to its source material. It sounds like this new series will be mixing a bit of science fiction into its tale of two musicians trying to make it big, which could make for an intriguing twist on the old "let's start a band" formula. Between its premise and its pedigree, Carole & Tuesday should be worth keeping an eye (and an ear) on.
Runner-up: Fruits Basket
The other big title on my radar is the new remake of Fruits Basket. I remember hearing a lot about the old Fruits Basket anime from friends who were really into it back in the day, but for one reason or another I never got around to watching it myself. This new remake should be a perfect excuse to finally give the series a try, and the fact that it's adapting the original manga in its entirety seems like a pretty big deal. Revisiting popular titles from past decades is always fascinating, and I'll be curious to see how Fruits Basket holds up from a narrative standpoint after all these years. I'm not fully on board the hype train with this one, but I'll at least be paying attention to where it goes.
---
discuss this in the forum (39 posts)
|