Interest

DJ Hello Kitty Stars in Ayumi Hamasaki's Music Video Shot in L.A.

posted on
"Feel the love,"
Ayumi Hamasaki
's 1st single in 3 years, arrives on Christmas
---
Believe it or not, Ayumi Hamasaki and DJ Hello Kitty co-star in a music video together for Hamasaki's new song "Feel the Love." The video was shot on location all over Los Angeles, and it follows a lovelorn girl who goes all out to win a boy's affections.
The song and video mark a series of firsts: It's Hamasaki's first single in about three years. It's the first time that Ayumi Hamasaki and DJ Hello Kitty have co-starred in a video. It's the world's first song "produced" by Hello Kitty under her club DJ persona. It's also the first time that DJ Hello Kitty is starring in a music video for a Japanese artist.
The "Feel Love"/"Merry-go-round" single will go on sale on December 25. There will be a CD+DVD bundle with the music videos for both songs, as well as a limited edition with a video interview exclusively for Hamasaki's fan club members.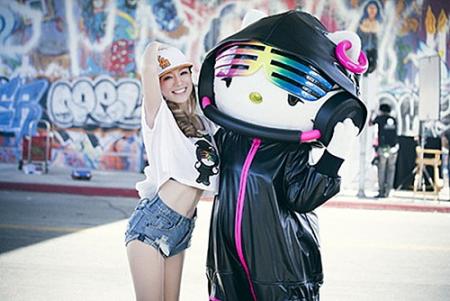 Hamansake is also writing and singing the "Pray" theme song for Buddha 2: Tezuka Osamu no Buddha ~Owarinaki Tabi~, the second film in the planned trilogy based on the late Osamu Tezuka's Buddha manga. It will be Hamasaki's first theme song for an anime film since her "No More Words" song for Inuyasha the Movie: Affections Touching Across Time in 2001, and only her seventh theme song for any film, live-action or anime.
Hamasaki also contributed theme songs to the Inuyasha television anime series, the live-action film SHINOBI - Heart Under Blade, and the live-action Dragonball: Evolution film. She played Yuri Sakazaki in the original anime video Art of Fighting (Battle Spirits Ryuko no Ken), and her "Connected" song inspired an animated music video.
Source: Model Press
---