Interest

2nd Version of SKE48 Idol's Kill la Kill General Election Poster Revealed

posted on by Bamboo Dong
While SKE48 member Rena Matsui has garnered a lot of attention for her Kill la Kill-inspired General Election poster, it appears that two versions were actually made. And, it seems like the one that didn't make the cut is just as cool as the one that did.

Matsui had the full support of Trigger, with character designer Sushio doing the outlines and drawing, and series composer Kazuki Nakajima penning the catch phrase ("I'm tired of looking up."). Design company ANSWR was responsible for photography and poster design.
Matsui apparently waffled until the last minute on which poster to choose, and it's easy to see why, as both are pretty amazing. Here's the one she ended up choosing: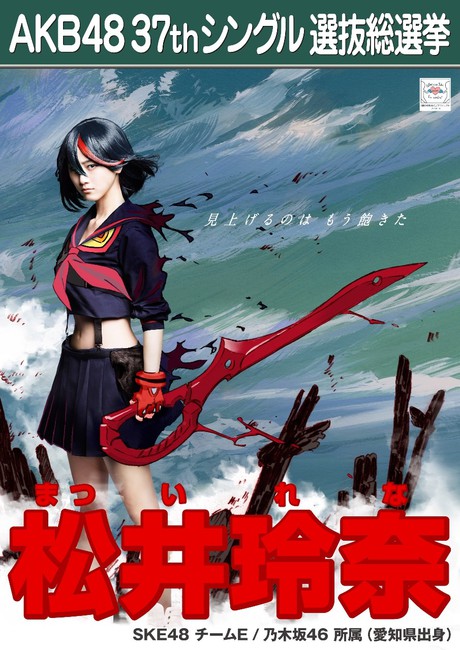 The 6th AKB48 Senbatsu General Election will be held June 7 at Ajinomoto Stadium in Tokyo. All members from AKB48, SKE48, NMB48, and HKT48 are eligible for the general election, with the exception of those who've already announced their graduation. Matsui ranked seventh in last year's General Election.
[Via Oricon News, Kai-You]
---
follow-up of
SKE48 Idol Members Recreate Anime Scenes in Their General Election Posters
RightStuf - Anime, Manga and More