Interest

Nana Mizuki Responds to Potato Chip Dumping Debacle

posted on by Chris Nishijima
Says she is "deeply saddened by the event," asks that it never happens again
---
This week, word hit the news that a 25-year old male fan of voice actress and singer Nana Mizuki (Elemental Gelade's Cisqua, Senki Zessho Symphogear G's Tsubasa) dumped almost 500 pounds of Calbee brand potato chips. Application stamps were available on specially marked packages, and by submitting a certain number of stamps, the sender would be entered in the contest for a variety of prizes, including a ticket and backstage passes to Mizuki's upcoming concert. It took nine application stamps to apply for the tickets, with one stamp attached to each bag of chips.
Little did the fan know, but his actions greatly upset the actress he so adored.

Nana Mizuki released her official statement on the issue on Tuesday, saying that she was "deeply saddened by the event" and the waste that had resulted from it. She then used the opportunity to promote her stance on keeping littering to a minimum and preserving the Earth, by talking about Japan's Marugomi project.
Marugomi is based on the idea of all the people of Japan uniting together at the same time on the same day to help pick up trash around them. Mizuki, who spoke fondly of the concept, called it a fun way to clean up and protect the Earth. Mizuki added that she did not want to see this kind of incident happen again.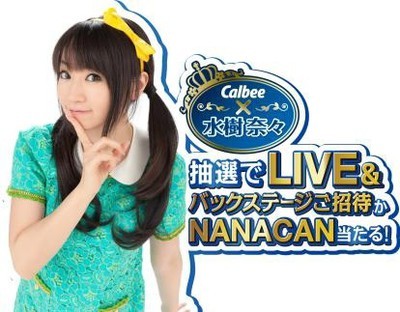 The man involved in the dumping allegedly threw out 89 boxes containing 1,000 bags of potato chips each between May 4 and 23. The total weight of the food dumped was approximately 208 kilograms, or nearly 500 pounds. The contest ended at the end of May, and the concert itself will occur on August 3, with 10 people winning tickets and backstage passes.
Source: Yahoo! Japan News
---
follow-up of
Man Dumps 500lbs of Potato Chips For Nana Mizuki Concert Tickets