Interest

Rumiko Takahashi, Naoki Urasawa, and Others Help Celebrate Godzilla's 60th Birthday

posted on by Bamboo Dong
21 names in the manga business, including Naoki Urasawa (Monster) and Rumiko Takahashi (Ranma 1/2) came together to celebrate Godzilla's 60th birthday with a special Big Comic Original tribute. The magazine itself is turning 40 this year, so this special edition marks the cumulative 100th anniversary of both properties.

The authors contributing include: Kazuichi Hanawa
Nobuyuki Hori + Yukio Miyama
Yasushi Hoshino
Mochiru Hoshisato
Shinpei Itou
Ippatsu
Nawoki Karasawa
Masahiko Kikuni
Kenichi Kitami
Kouichi Masahara
Daijiro Morohoshi
Tobira Oda
Yasuo Ohtagaki
Akira Sasou
Keigo Shinzo
Rumiko Takahashi
Yasuhiko Takata
Yamamoto Terry
Naoki Urasawa
Sensha Yoshida
The cutesy Godzilla drawing on the cover is a spoof on previous Big Comic Original covers, which typically feature a dog or a cat, as well as a haiku.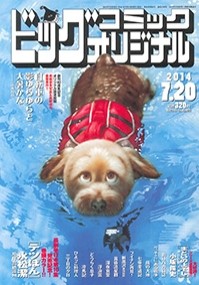 Last month's cover
[Via Comic Natalie]
---