Interest

Today in History: Kiki's Delivery Service

posted on by Christopher Macdonald
---
Twenty five years ago, July 29, 1989, Kiki's Delivery Service premiered in theatres in Japan. Kiki's Delivery Service, based on the eponymous novel by Eiko Kadono, was Hayao Miyazaki's third feature film for Studio Ghibli, but Miyazaki wasn't originally slated be the director at all.
In 1987 Miyazaki, when the Kiki project was first planned, Miyazaki was working on My Neighbor Totoro and his Studio Ghibli co-founder Isao Takahata was working on Grave of the Fireflies. So instead of having one of them direct the movie, Studio Ghibli sought out another screen writer and director for the movie. Sunao Katabuchi and Nobuyuki Isshiki were hired to direct and write respectively, however Miyazaki was displeased with Isshiki's first treatment and eventually decided to helm the project himself.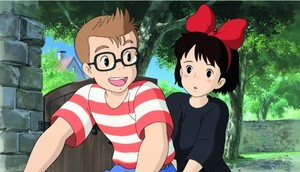 Kadono's original novel is actually a series of short stories that take place during Kiki's deliveries. In order to adapt the story into a feature film, Miyazaki added many elements to the story to create more challenge for Kiki. Kiki's loss of her magical powers and the airship accident, major elements in the movie, did not occur in the original novel. Kadono was very unhappy with the changes to the script, and the project was almost cancelled. Fortunately, Toshio Suzuki and Miyazaki convinced Kadono to allow production of the movie to continue.
Since it's initial release in 1989, Kiki's Delivery Service has been dubbed into English twice. The first dub was created by Streamline Pictures for use on Japan Airlines flights. The second was created by Walt Disney in 1997 and features Kirsten Dunst as the voice of Kiki. For the 2010 DVD release, Disney went back and re-edited their 1997 English dub, creating a third English language version of Kiki's Delivery Service.
In addition to the original Japanese, Kiki's Delivery Service has been dubbed into English, Mandarin Chinese, Cantonese Chinese, French, Spanish, Korean, Dutch, German, Spanish, Hungarian, Italian and Portuguese, and likely more.
A live action adaptation of the original novel, and the sequel novel (which was release after the anime) was released in Japan on March 1, 2014. Unfortunately the live-action movie was panned by critics in Japan and America alike.
The original novel is available in English from Annick Press.
Thanks to Catsuka for reminding us.
---