×
remind me tomorrow
remind me next week
never remind me
Subscribe to the ANN Newsletter • Wake up every Sunday to a curated list of ANN's most interesting posts of the week.
read more
Interest

Mangetsu Man Reminds Tokyoites to Pick Up Their Trash

posted on by Eric Stimson
Disguised superhero maintains historic Tokyo bridge
---
Look! In the sky! It's a bird! It's a plane! It's... a full moon?

Mangetsu ("Full Moon") Man is the latest superhero to hit Tokyo's streets, but he's not here to fight crime. No, he fights grime. Armed with only a trusty broom, a dust pan and some trash bags, he sweeps away rubbish and campaigns against littering on his website. He seems particularly interested in Nihonbashi (listed as his "base" on his website), a historic bridge in the center of Tokyo that's been eclipsed ever since a highway overpass was constructed over it as part of Tokyo's preparations for the Olympics in the 1960s. Now that the Olympic Games are returning to Tokyo, he supports demolishing the overpass to return the bridge to its former glory.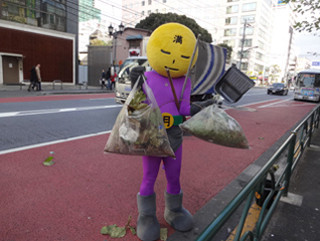 That's not all, though: although Mangetsu Man focuses on cleaning, his other hobbies are "repaying kindness and filial piety" while his occupation involves "praying, supporting world peace, social reforms, preserving Japanese culture, and spreading peace and happiness." His signature pose is clasping his hands in prayer, and his travel schedule (he aims to clean all of Japan) includes visits to Japan's famous religious sites, with multiple visits to Ise Shrine, the holiest site of Shinto, Japan's native religion.


In addition to his public activity, Mangetsu Man maintains an online presence via a blog, Facebook account and Twitter feed. So far his example seems to be working: he has inspired a few volunteers to join him in sweeping.

As can be seen from his photo gallery, Mangetsu Man also seems to enjoy ordinary sightseeing activities, photobombing, and hanging out with other guys in costume.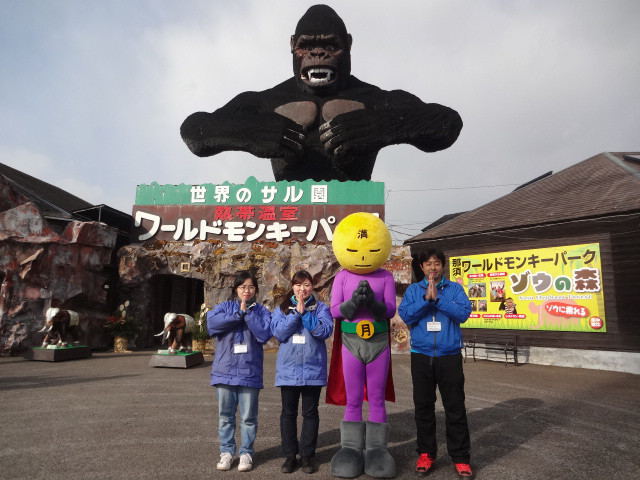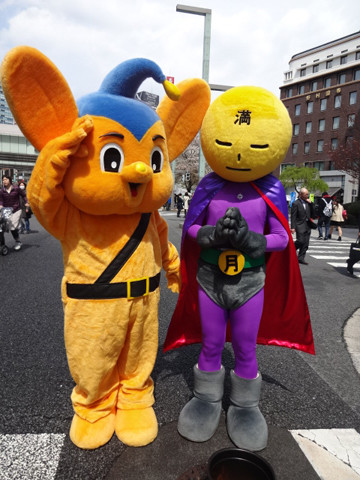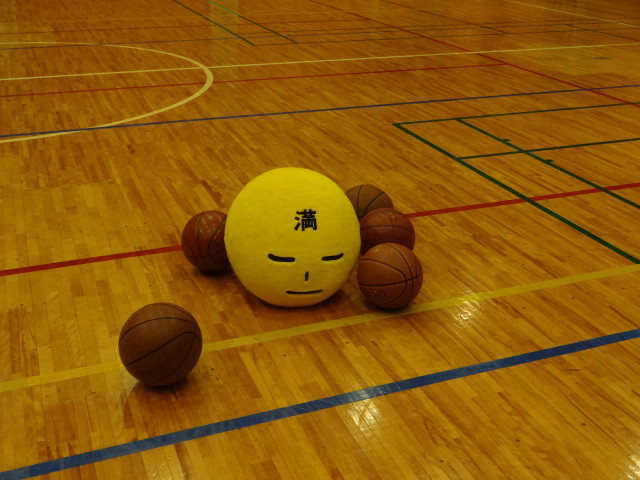 And Mangetsu Man's real identity?... No one really knows. He made his first appearance in October 2013 and always remains in costume. To disguise his voice, he communicates with a digital voice smartphone app.
Other superheroes have dedicated themselves to making the world a better place while dressed in costumes: Kamen Rider has recently begun touring Bangkok's slums to distribute toys to needy kids.
[Via Mangetsu Man, Oddity Central and NTD.tv; Image from Economic Times]
---