Interest

Kikuko Inoue Celebrates Her 17th Birthday Again

posted on by Eric Stimson
Oi, oi!
---
Kikuko Inoue (Belldandy in Oh My Goddess!, Kasumi in Ranma 1/2, Lust in Fullmetal Alchemist: Brotherhood) turned 17 on September 25. For the 34th time.
... In actuality, it's her 50th birthday, but Inoue has established a reputation for claiming to be 17 anyway. It's gotten to the point that she is considered the founder of her own religion, 17-saikyou ("age 17ism"), with fellow voice actresses Yukari Tamura, Sakura Nogawa, Rina Satou and Yui Horie. It is also customary to respond to her claims with "Oi, oi!", a Japanese way of showing skepticism.

To celebrate the occasion, Inoue held a special Nico Nico livestream on the 25th on her channel, the Onee-channel ("Big Sister Channel," referring to her common nickname).
Her management agency celebrated by giving her a panda-shaped birthday cake; other actresses at the agency also offered their congratulations.
昨日は、記念すべき井上喜久子お誕生日スペシャルニコニコ生放送にたくさんのお祝いコメントをいただきまして本当〜にありがとうございました!これからも元気で頑張りますので、どうぞよろしくお願い申し上げます☆ pic.twitter.com/qtGCkTeiQC

— 弥生お姉さん (@anemoneeze) September 26, 2014
井上喜久子17才おいおい半世紀の時空(とき)を超えて〜ふんわりのんびりお誕生日スペシャル生放送〜 #nicoch2599200 #井上喜久子 http://t.co/oDsxw8WW8M

お誕生日ケーキはパンダでした♫ pic.twitter.com/WlXcpip1Ds

— 石黒千尋 (@chihiro_ishi) September 25, 2014
Inoue's fans on Twitter also expressed their congratulations with "Happy Birthday" messages and fanart of her characters; notably, the pizzeria Belcorno showed off their skills with Inoue-themed latte art. (The lattes below feature Electra from Nadia - The Secret of Blue Water, Belldandy, and Inoue herself.)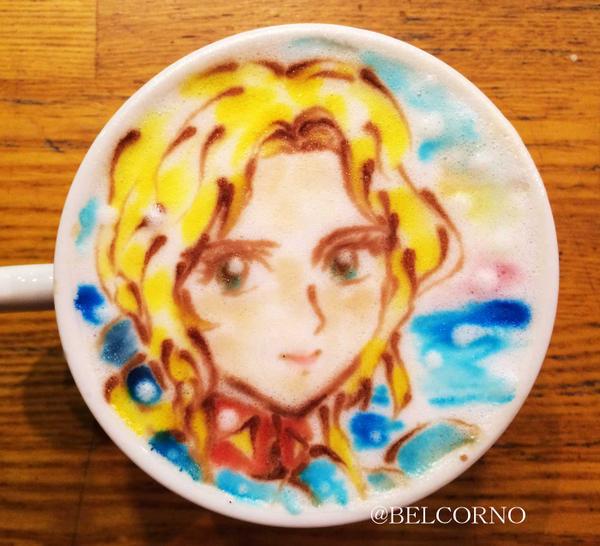 Belcorno has earned something of a reputation for its creative anime fan art.
[Via Nico Nico Pedia, Otasuke, Twitter and Manbow; Image from Animen]
---