Interest

This Week's Doraemon Takes On Politics

posted on by Eric Stimson
Latest gadget: "Portable Diet"
---
Once upon a time, American kids would learn about the nuances of the legislative process through the animated musical series Schoolhouse Rock. Japanese kids learned about the subject this week through the perennially popular anime Doraemon.
When Nobita's aunt cancels a trip due to the consumption tax increase, Nobita rages against the Diet (Japan's parliament). Luckily, Doraemon has an answer, as always: a "Portable Diet" that will pass any bill slipped into a slot on its roof. These bills then go into law instantaneously and nationwide.

Of course, Nobita soon realizes that the power of the Diet goes beyond lowering his aunt's expenses. He starts passing all kinds of laws: increasing kids' allowances to 10,000 yen (or $94), switching the meanings of Chinese characters to save his pride after an embarrassing mistake, and outlawing homework to entice Shizuka to come play with him.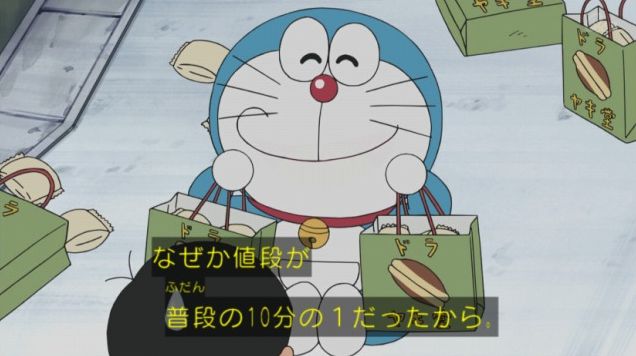 Doraemon takes advantage of the price slash to binge on dorayaki
Eventually, Nobita goes too far by lowering prices by 90%, putting all the local stores out of business. Furious that no one left any goods for him, he decides to only pass laws that benefit himself. The result: he writes legislation like "Nobita will win every game," "Those who make a fool of Nobita will be punched a hundred times," and "Nobita's birthday will be a national holiday." Then he tries to ram the whole stack into the slot at once, over Doraemon's protests. The Diet starts shouting "Forced vote!" and blows up to the sound of "Dissolution!" (In parliamentary systems, parliaments can dissolve themselves if they lose confidence in the prime minister.)

The episode caused a stir among the audience on Twitter. Some considered it a gratuitous political message inappropriate for kids; others assumed it was an attack on Shinzō Abe, Japan's prime minister, who sometimes forces laws through the Diet. It's worth noting that the episode's story is essentially the same as a 1980 episode in the previous Doraemon series, although the reason for the aunt's trip cancellation that time was a rise in train fare.
[Via Yaraon!]
---