×
remind me tomorrow
remind me next week
never remind me
Subscribe to the ANN Newsletter • Wake up every Sunday to a curated list of ANN's most interesting posts of the week.
read more
Interest

Domino's Japan Offers Pizza Coupons for 'Kabe Don' Fans

posted on by Lynzee Loveridge

There's one thing readers need to understand before we get into the strangeness that is Domino's Japan's latest coupon promotion. Domino's Japan's image is vastly different than its U.S. counterpart. Domino's Japan is weird but in a completely harmless, off-the-wall sort of way. The company comes up with strange ad campaigns and jokes, like discounts for customers who own parakeets or wear twin-tails.
The pizza company's latest gag claimed they were closing their online ordering site, only to turn around and say they're reopening it the following day. That doesn't make it any less tragic though! So the company launched a promotional campaign asking customers to show their sadness over the site's closure in order to score some cheap pizza.
Each coupon's requirement gets progressively sillier, including a reference to the current "kabe don" trend.

To start, Domino's Japan will let customers get a side order of French fries for 39 yen instead of the usual 300 yen. This is because if you pronounce 3-9 (san-kyu) it sounds similar to "sankyuu" or "Thank You."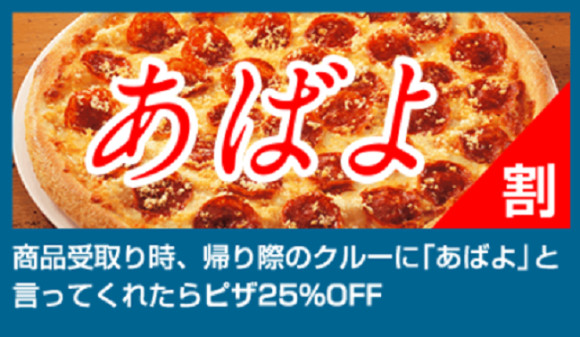 The next coupon gets customers 25% off their pizza if they tell the deliveryman "abayo," or "farewell," as a sign of the seriousness of the site closing down.

Customers overwhelmed with sadness can take 25% off their pizza if they use "kabe don" on the wall before taking their pizza from the delivery driver. Customers should just pound on the wall, since we doubt the delivery person would be happy to be trapped in a stranger's home holding the pizza.
Customers can also get discounts if they still have the button of their high school paramour's uniform jacket. Domino's Japan is even throwing in a free second pizza under its "Snatch and Grab Thief Discount" if you skip the delivery guy and just pick the pizza up yourself.
[Via Rocket News 24]
---