Interest

First New Artbook from Kino's Journey's Kouhaku Kuroboshi in 12 Years

posted on by Eric Stimson
Art exhibitions also planned
---
It's been 15 years since the publication of the first volume in Keiichi's Sigsawa's light novel series Kino's Journey. To commemorate the occasion, Dengeki Bunko will publish two new artbooks by Kino's Journey illustrator Kouhaku Kuroboshi, Kuroboshi Kouhaku Gashuu noir and Kuroboshi Kouhaku Gashuu rouge. The artbooks will be published on April 10 and June 10, respectively, and will be collections of Kuroboshi's "all-time best" work. They are the first Kuroboshi artbooks to be published in 12 years and will include his work since then, such as Gakuen Kino, Allison and Lillia and Treize.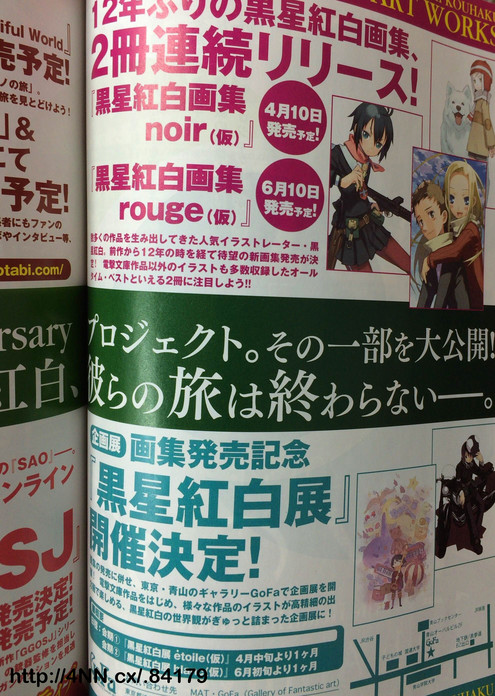 The anniversary project will also include exhibitions of Kuroboshi's artwork at GoFa (the Gallery of Fantastic Art) in Shibuya, Tokyo. The first, "Étoile," will be held in mid-April, while the second, "Blanc," will be held in mid-June. Both will last for a month. Additionally, the 19th installment of Kino's Journey will be published in the fall, and further plans to celebrate Kino's 15th anniversary will be unveiled later.

Keiichi Sigsawa and Kuroboshi have recently collaborated on a novel in the Sword Art Online series, Sword Art Online Alternative Gun Gale Online I: Squad Jam.
[Image from Naver Matome]
---