Interest

New Statue Lets Hachiko Reunite with His Owner At Last

posted on by Bamboo Dong
After 80 years, Hachiko has reunited with his owner, thanks to a statue placed at the University of Tokyo where Hachiko's owner taught and ultimately passed away.
忠犬ハチ公死後80年となる3月8日、東大農学部キャンパス内に新ハチ公像が完成する。飼い主の故上野英三郎博士に飛び付く姿が銅像でよみがえる。日本に農業土木学を創設した博士の没後九十年にもあたる。よかったな、ハチ公。博士にやっと逢えて。 pic.twitter.com/R8rd94OYMc

— ひでらっくす@吟遊呑助 (@hide_luxe) February 8, 2015
The story is likely familiar to many. Hachiko greeted his owner, Hidesaburo Ueno, at the train station every evening so that the two could walk home together. One day, Ueno collapsed during a lecture and never returned home. It's said that for the next nine years, Hachiko returned to the train station every evening to wait for his owner, not knowing he would never return. The touching story was even adapted into two films: Seijirō Kōyama's 1987 Hachikō Monogatari, and a 2009 Hollywood film, Hachi: A Dog's Tale, starring Richard Gere as the dog's owner.

To this day, Hachiko stands guard outside Shibuya Station in the form of a statue, waiting faithfully for his master to return... and taxidermied at the National Museum of Nature and Science in Ueno.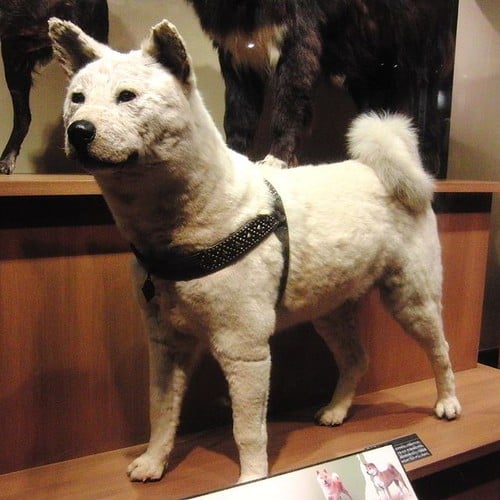 Now Hachiko has a new statue, proudly displayed at the University of Tokyo. It shows Hachiko and Ueno joyously reuniting 80 years later—and 90 years after Ueno's passing. The statue was commissioned by the university's Department of Agriculture, where Ueno was a noted scholar in agricultural engineering.
[Via RocketNews24; additional image from Wikipedia]
---