Interest

More Home Electronic Girls Introduced in Game's Latest Video

posted on by Lynzee Loveridge
The official YouTube channel for Bancho Works' Kaden Shojo (lit. Home Appliance Girl) game began streaming the first promotional video and introduced more "appliances-turned-cute-girls."
The newly announced characters include:

Shizuru, a vertical-loading washer and dryer voiced by Saori Ōnishi


Arisu, a juicer voiced by Shizuka Ishigami



Himari, an oven voiced by Kaori Ishihara. She goes about things at her own pace but tends to burn her food.



Maiko, a micro-computer rice cooker voiced by Ari Ozawa. She's a country bumpkin who gets nervous when talking to people. She seems sheepish but is a very hard-worker. Speaks with a Tohoku accent and dialect.



Shizuka, a refrigerator voiced by Miku Ito



Honami (left), a radio voiced by Moemi Otaka.
Fuka (right), an electric fan voiced by Nichika Omori

This free-to-play mobile game is set in the distant future of 20XX where a mysterious portal has released colorful chips that attached themselves to daily appliances and brought them to life. The purpose of the game is to match same-colored chips and create combinations that will ward off the evil factory manager and disposable appliances. Additionally, certain combinations can upgrade the appliance girls, making them energy efficient.
Other designs circling the internet include: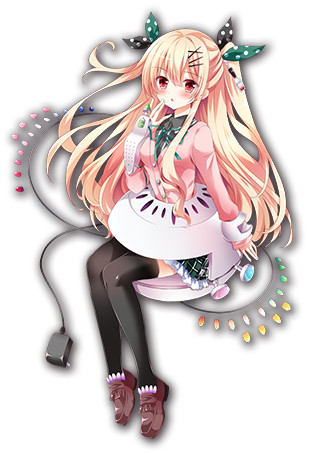 Misty, a facial mist steamer


Kaoru, an espresso machine


Akane, a rounded vibration shaver


Kurumi, an electric shaver


Miho, a scale


Naomi, a curling iron


Non, a mirror-less single-lens reflex camera


Asuka, a florescent light


Caffy, a coffee-maker


Leona, a robotic vacuum cleaner


Unnamed PC tower


Unnamed electronic notebook


Unnamed console controller


Unnamed wireless LAN router


An unnamed coffee-maker.
The game hasn't officially launched yet, but is accepting pre-registration entries.
Other games about anthropomorphic objects include DMM and Kadokawa Games' Kantai Collection. It has an anime adaptation currently airing in Japan. DMM launched more games in the same genre including Oshiro Collection (castles as girls), Ore Tower ~Over Legend Endless Tower~ (construction tools as girls), and Tōken Ranbu (Japanese weapons as boys).
Source: Inside 4 All Gamers via Hachima Kikou
---