Interest

Someone Made a Dominator from Psycho-Pass Entirely from Discount Store Materials

posted on by Eric Stimson
Total cost of materials comes to $71
---
Cosplay and modeling are often seen as dauntingly expensive pursuits, and for the more elaborate costumes and props, they often are. But a cosplay enthusiast from Kansai, Japan, with the Twitter name @biscotti716 shows that with some ingenuity and shrewd shopping, they don't have to devour your allowance.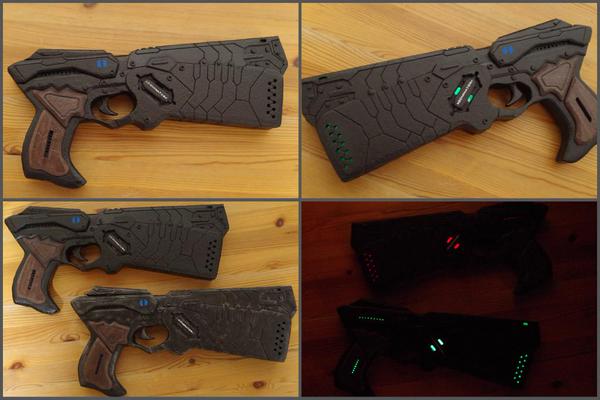 Characters: "Old" and "New"
This is a model Dominator gun from Psycho-Pass, and it's made entirely out of materials found at Daiso, a widespread Japanese discount chain (with stores in the Seattle, San Francisco and Los Angeles areas). @biscotti716 breaks down the shopping list and the price for each item.
Color board, 5x2 mm..... 300 yen ($2.49)
Koyo Soft board, 5 mm..... 500 yen ($4.15)
Koyo Soft board, 2 mm..... 300 yen
Styrofoam glue..... 200 yen ($1.66)
Glue gun and stick..... 200 yen
Retractable razor blade..... 500 to 1,200 yen ($9.95)
Gesso (a type of paint)..... 1,500 yen ($12.44)
Brush..... 100 yen (83¢)
Aqueous Hobby Color (a paint set), black and mahogany..... 200 yen
Black spray paint..... 800 yen ($6.64)
Acryllic paint, blue and white..... 200 yen
Sponge..... 100 yen
Clamp..... 300 yen
Toothpicks..... 100 yen
Punch..... 300 yen
Optional items that improve the gun's appearance:
Glowstick..... 100 yen
Glowing shoestring..... 600 yen ($4.98)
Reflective aluminum sheeting..... 100 yen
Clear file..... 100 yen
Handy router..... 2,000 yen ($16.59)
The final tally comes to 8,500 yen to 9,200 yen (or $71 to $76). Omitting the handy router, the most expensive item, brings the price down to 6,500 yen (or $54). If you don't care about making the gun light up, the cost drops even further to 5,600 yen (or $46).



Intrigued hobbyists can explore other impressive crafts made on the cheap using the hashtag #100円ショップの材料で作ってみた ("Made with 100-Yen Shop Materials").
[Via Global Otaku News]
---