×
remind me tomorrow
remind me next week
never remind me
Subscribe to the ANN Newsletter • Wake up every Sunday to a curated list of ANN's most interesting posts of the week.
read more
Interest

The Joke's On You — Anime Does April Fool's Day - Part 1

posted on by Lynzee Lamb & Bamboo Dong
It's April Fool's Day, which means that plenty of anime companies are having a good chuckle with fake announcements, quirky crossovers, and more. Here's Part 1 of our round-up; check back later for more!
Dog Ace Attorney, complete with a product intro page and special cameo. Released April 1 for the Wantendo 1DOGS.
[
Link
]
Couples.jp hotel booking website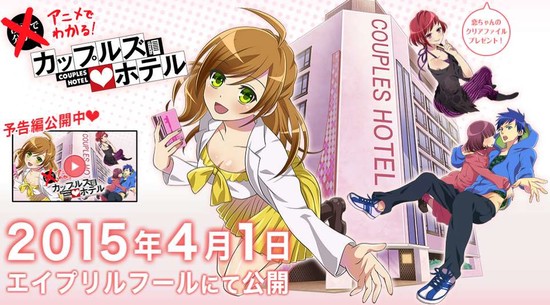 "Anime de Wakaru! Couples Hotel," an anime that explains couples hotels.
[
Link
]
"Eva Mask" will face off against the "Angel Mask" in a special, April 1 wrestling match.
[
Link
]
Manga creator Kousuke Fujishima announced two new series, "Oni Momotaro" and "Hime Senshi Cinderella."
[
Link
]

A live-action adaptation of the mobile game Girl Friend BETA was announced. The announcement claimed that 100 actresses would appear in the film. [
Link
]


The company announced fundoshi add-ons for its Nendoroid figure line, with lots of example images. [
Link
]
Google Maps

Google Maps added a "
Pac-Man
" mode. Find an area with plenty of streets, click the Pac-Man button in the bottom, left corner, and eat your way through the neighborhood
[
Link
]

A fake newspaper announces that 33-year-old bachelor Masaru Ōfuna joined the yosakoi club.
[
Link
]

The official
[email protected]
Twitter account announced 765 Production (the fictional production company from the franchise) and 346 Production (the fictional production company from Cinderella Girls) merged to become 1111 Production. [
Link
]

The website hosting a Kirarin Dash! mini-game. [
Link
]

The website was changed to "Gochuumon wa Mahou Shoujo desu ka" (Is the order a magical girl?) [
Link
]
Lord of Vermillion x Tekken

Square Enix
promises a cross-over game between
Lord of Vermillion
and
Tekken
with 765 playable characters.
[
Link
]

Milky Holmes collaborates with
Peeping Life
. [
Link
]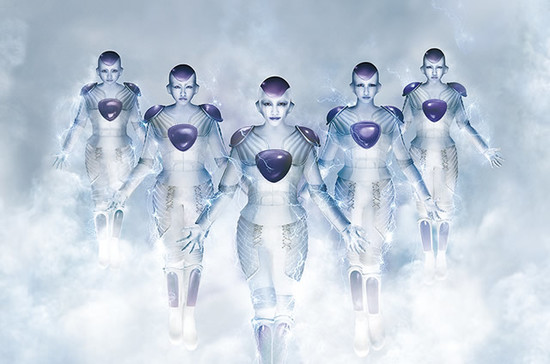 The girl group got a Frieza make-over. [
Link
]

The company announced its newest idol unit, "Jii★Shock" comprised of the elderly idols KEY-G & SHOW-G & YU-G. Their profiles include "recent problems" like "lower back pain from farm work," waking up at 4:00 a.m.," and "not being able to remember what he ate yesterday."[
Link
]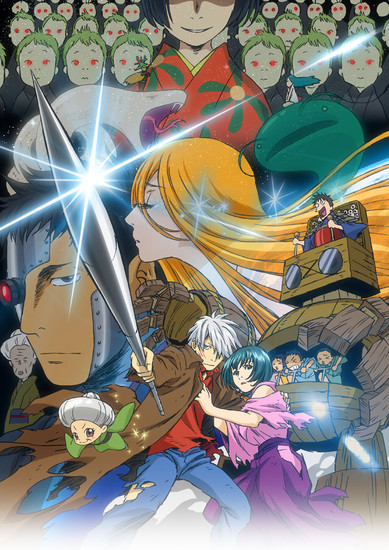 The website announced the new movie: Mushi-Shi Perfect Love.
Thanks to Dennis R. for the video embed
[
Link
]

The video game company posted 24-hour poll results where voters could, allegedly, pick one of their titles to be added to the PS Archives. The game Honō no Ryōrijin Cooking Fighter Hao won by a landslide with 80,000,000,006,139 votes.
[
Link
]
Nisekoimonogatari
Aniplex
combined its two franchises, Nisekoi: and
Koimonogatari
to create "Nisekoimonogatari." The shows share the same director,
Akiyuki Simbo
and production studio.
The staff over at Shaft even made a fake poster.
Thanks to Dennis R. for the video embed
[
Link
]

An announcement for the live-action
Great Man
, Renge's favorite tokusatsu show.
[
Link
]
Animation studio Ordet is hosting a mini-game and a "music video" for a Wake-Up Girls single that only shows one of the singers eating sandwiches.
[
Link
]
Piapro

The company announced its CEO Vocaloid Series. CEO Hiroyuki Itoh got his own Vocaloid page over at
Crypton Media
, too. [
Link
]

Get your hands on a real Giftia android! But watch out, they expire after just 8,120 hours.
[
Link
]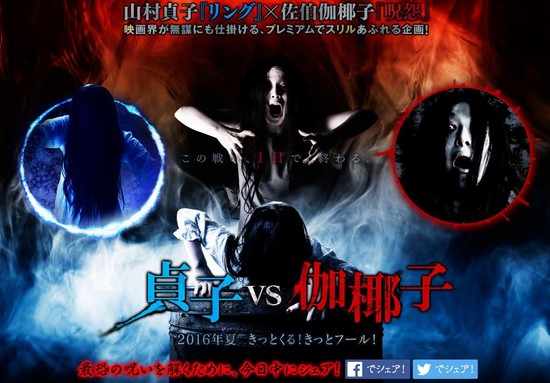 The upcoming Ju-On film opened a fake website announcing another film in 2016 where
The Ring's
Sadako and
Ju-On's
Kayako face-off in an Alien vs. Predator style film.[
Link
]
Rumbling Hearts

For the 15th anniversary project, the tentatively titled
Kimi ga Nozomu Eien
NextGeneration anime series was announced for August 2017 and an
OVA
titled Hakuryō Hiiragi Futsūka Kōkō no Rettōsei (The Irregular at Hakuryō Hiiragi Futsūka High School) was also announced. Age's publicity agent Riene is cast as the lead.[
Link
]
Takara Tomy
announced a live-action version of the anime-card game hybrid. The website is also offering "Real Selector booster cards featuring mundane animals like cats and sparrows, a one-day (April 1) summer
camp
where players wear their swimsuits and battle to win earplugs.
[
Link
]

For a limited time, the game is adding Ikaruga's brother-in-law as a playable character.
[
Link
]

King says, "Today's my birthday, but no one's here..." [
Link
]
The Twitter account for fictional character Takezou Nogami announced an anime adaptation of the in-series work The Third Girls Aerial Squad with director (and other Shirobako character) Seiichi Kinoshita. He also announced his Sailor Uniform and F3 series are ending.
The
Shonen Jump+
app staff announced Freiza will serve as Editor in Chief for the first time.

The upcoming anime's characters were replaced by
Sanrio
's egg mascot
Gudetama
[
Link
]
Super Sonico

"Kodoku no Pochako," a parody of the manga,
Kodoku no Gourmet
. [
Link
]

The company announced a
Mazinger Z
theme park. [
Link
]
The company has three different April Fools jokes. The
Capsule Servant
mini-game announced a new character, Saber-nyan. [
Link
]
A Capsule Servant "Dark World" tournament was announced. [
Link
]
A talent agency, "Imperial Roma" was launched to promote idol activities for the franchise's characters. All the characters also created modern Twitter
accounts
. For instance, Kirei Kotomine is now a prosecuting attorney with a very familiar cravat. [
Link
]
Working!!
The Working!! anime announced it'll launch a character-raising game as part of its 10th anniversary, with 100 million ways to raise the characters.
Thanks to Dennis R. for the video embed
[
Link
]
---
This article has a follow-up:
The Joke's On You — Anime Does April Fool's Day - Part 2
(2015-04-01 03:03)