Interest

Adult Pokémon Fans Get Their Own Magazine

posted on by Carlos Cadorniga
Older fans of the world-renowned video game franchise Pokémon should go get a Life!

Of course, that's referring to a copy the new upcoming Japanese magazine Pokemon Life, going on sale on July 30. Pokémon Life is the September issue of the irregular magazine series Shogakukan Special. The series normally publishes the magazine Pokémon Fan.

The magazine will share anything and everything Pokémon, including information pertaining to games,Pokémon-related goods, and upcoming movies. The introductory page of this first issue will include a thorough comparison between the Pokémon Ruby/Sapphire games and the Pokémon Omega Ruby/Alpha Sapphire remakes with game director Shigeru Ohmori and will feature storyboards from the games.
This issue will also include a poem written by J-pop star Shoko Nakagawa about the fairy-type Eevee-lution, Sylveon, a piece on nostalgic Pokémon goods, Pokémon lifestyle tips for any fan of the games, coverage of the "Pokémon with You" campaign that helps support disaster relief for the 2011 Tohoku earthquake, and a reader submission section. Popular Japanese models like Louis Kurihara and Tomoko Murata will unveil Pokémon-inspired attire and share their own experiences with the franchise.
The magazine will come with a special Pikachu card case that can hold up to 16 cards.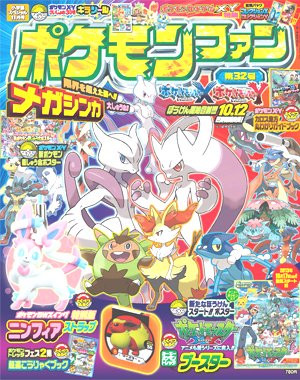 The retail price is for 1,200 yen. (US$9.70).
[Via Kai-You]
---