Interest

Dance with Devils Cast, Staff Pray for Anime's Success

posted on by Eric Stimson
"Devil" Sōma Saitō reportedly uncomfortable at shrine
---
The cast and crew of the upcoming anime Dance with Devils — including Ai Yoshimura (the director), Tomoko Konparu (series composition), Nozomi Isowa (the producer), Sōma Saitō (Rem), and Wataru Hatano (Lind) — visited the Tokyo Daijin Shrine in Shinjuku, Tokyo to pray for their anime's success. Isowa explained that, as the anime revolves around devils, "[the directors and I] wanted to go perform a purification so that devils wouldn't interfere with the production," and that discussion eventually turned into a request for success.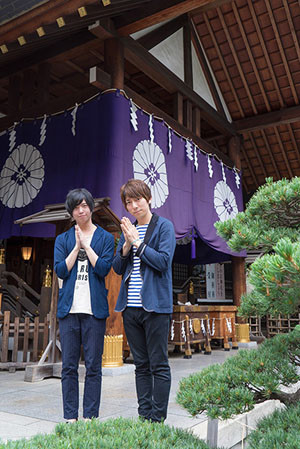 The purification ritual was very solemn, and involved waving a wooden wand with paper tassels (the ōnusa), reading a prayer for Dance with Devils' success, a theatrical dance (kagura) performed by two shrine maidens, and the presentation of a sacred tree branch (tamagushi) bearing the prayer. Finally, over 20 ema (wooden prayer tablets) bearing messages and drawings from the staff and crew were offered. Saitō, who plays a devil, claimed to be nervous entering the shrine, especially since the priest referred to "devils" several times in the prayer. Hatano admits that he also felt nervous and tense, and that his hands shook when offering the tamagushi.



Dance with Devils tells the story of Rikka Tachibana, a female second-year high school student, and her experiences with devils and an exorcist. It is scheduled to air sometime this year.
[Via Otasuke]
---