Interest

Hi Score Girl Lives on With New Nendoriod

posted on by Lynzee Loveridge
Rensuke Oshikiri's Hi Score Girl and its publisher Square Enix got in legal trouble last year after game developers SNK Playmore allegedly discovered over 100 instances of characters from The King of Fighters, Samurai Spirits (Samurai Shodown), and other fighting games in Oshikiri's manga. According to SNK, it was not aware of the instances until the company was contacted about a planned anime adaptation and the involved production company contacted SNK for permission to use the characters.
Hi Score Girl went on hiatus and Oshikiri started two new series, Guranba and HaHa, albeit with publishers Kodansha and Gentosha. His "'90s arcade romantic comedy" and its planned adaptation seem long gone amidst the controversy but apparently its merchandising is not.

The eponymous Akira Oono lives on in a new Nendoroid by Good Smile Company. She comes bundled with a mini-arcade cabinet, candy, and grilled squid props. If customers reserve the figure online it will also come with a taiyaki prop. Like most Nendoroids, she also comes with interchangable faces.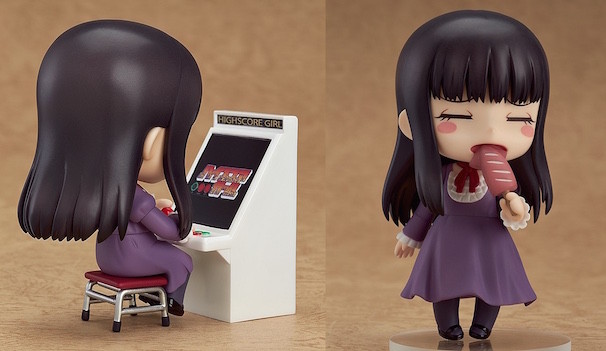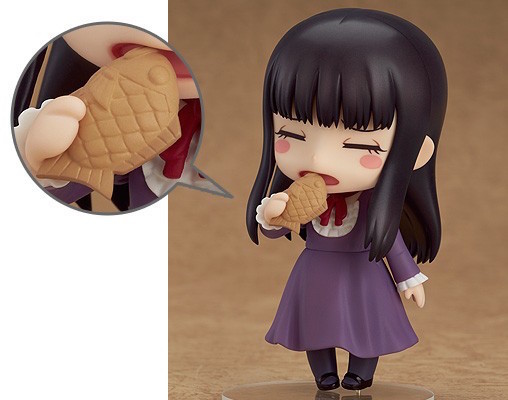 Good Smile Company will ship the Akira Oono figure in November.
[Via Kai-You]
---