Interest

Mugi-chan's Keyboard Being Sold Online for K-ON! 5th Anniversary

posted on by Carlos Cadorniga
Fans of K-ON can now rock out like Mugi-chan with her own trademark instrument.

Celebrating both the five-year anniversary of K-ON and Tsumugi Kotobuki's belated birthday on July 1, Japanese online store Animaru is currently selling 300 Korg RK-100S, the spiritual successor to Mugi-chan's instrument—the Korg RK 100. Being marketed as the RK-100S K-ON Special, the keytar sports the same shade of white as the instrument used by Mugi-chan in the anime. The back of the keytar even features a special design of Mugi-chan.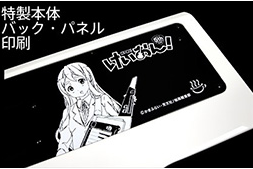 Keytar back panel
Though fans of the show will appreciate this collectible, it is still very much a fully functional keytar with mic/audio input and MIDI audio output and even USB compatibility that any musician is free to enjoy and utilize. It even comes with a "favorite button" that allows you to record performances. It also includes pre-recorded K-ON songs built into the keytar itself.


The keytar set also comes with a K-ON style carrying case and shoulder strap.
While keytars in other markets sell for more than US$700, the K-ON Special is being sold for 64,800 yen (about US$524).
K-ON last celebrated its anniversary with Banpresto Lottery goods sold at LAWSON stores.
[Via Animaru]
---