Interest

Cerevo Inc's Psycho-Pass Dominator Replica Expands, Talks

posted on by Carlos Cadorniga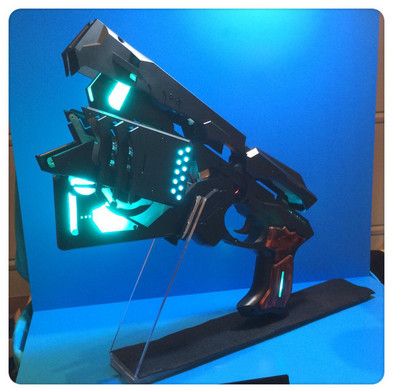 Image from Cerevo Inc. Official Twitter
Psycho-Pass cosplayers may have a better option than making their own Dominator.
Innovative technology company Cerevo Inc. is currently promoting its latest product, a moving Dominator from the popular sci-fi anime Psycho-Pass. Dubbted the Dominator Maxi, it obviously won't let you shoot live charges, but it does come complete with lights and sounds, specifically voice prompts heard in the show. While similar to the Bandai Proplica version released back in January, the Dominator Maxi will even open up into its Eliminator mode and light up as soon as it is gripped via touch sensor. This type of functionality also beats out its Kuji raffle predecessor, containing only sounds and the Eliminator function. The Cerevo version, however, goes above and beyond its previous versions with a camera viewer and wireless LAN capabilities, allowing users to view Crime Coefficients with their smartphone, as well as a special app to view a Public Safety Bureau's Criminal Investigation Division user interface.
先ほど発表した新製品「DOMINATOR MAXI(開発コードネーム、読み:ドミネーター・マキシ)」と弊社代表・岩佐です。 pic.twitter.com/a9wyIUSSaG

— Cerevo Inc. Official (@cerevo) July 18, 2015
The Cerevo Twitter has been abuzz with demonstration images tagged with "dominatormaxi". Here, a Cerevo representative shows off the Eliminator mode in stylish cosplay pictures.
本日、恵比寿ザ・ガーデンホールで電動フル稼働モデルのドミネーターを展示中! 物販コーナーはチケットがない方でも自由にご覧いただけますので、実物を見たい方はぜひお越しください #dominatormaxi pic.twitter.com/1Q2eOekLn5

— Cerevo Inc. Official (@cerevo) July 19, 2015
Recently, the Dominator Maxi was shown off at a special exhibition at Ebisu Garden Hall by an Akane Tsunemori cosplayer.
The Dominator Maxi is expected to be released this year with no confirmed price as of yet.
[Via Nijimen]
---