Interest

Attack on Titan Beauty Campaign Cuts Down Unwanted Body Hair

posted on by Carlos Cadorniga
On that day, humanity received a grim reminder. We lived in fear of unwanted body hair.

Poster caption: "This is just a theory, but...I think the best way to get rid of unwanted body hair is with TBC."
The live-action film adaptation of Attack on Titan is collaborating with beauty treatment company Aesthetic TBC in the new "Attack on Beauty" campaign. They, along with Japanese make-up company épiler are now offering a body hair loss service at special prices. Furthermore, anyone who signs up for the service becomes eligible to win one of five pairs of tickets to tour Gunkanjima (Battleship Island), the on-set location for the films. Participants may also have the chance to win specialty goods from any TBC salon.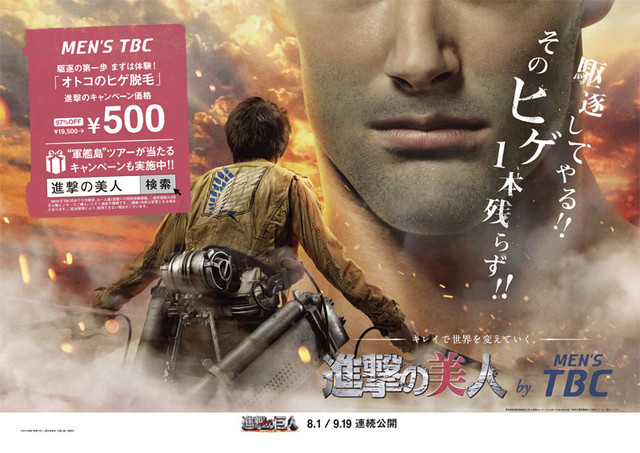 Poster caption: "Those hairs...I'll shave every last one of them!!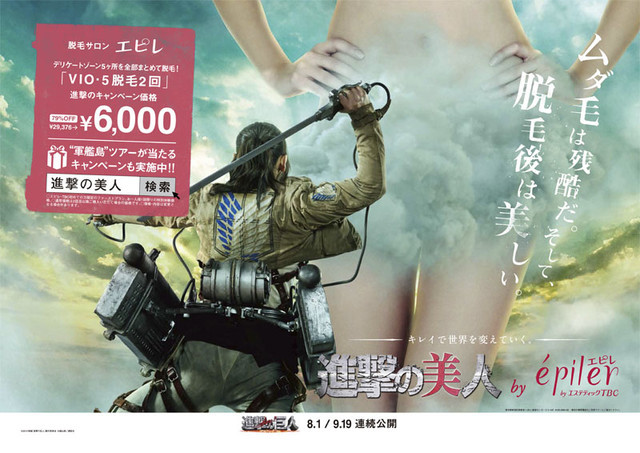 Poster caption: "Unwanted hair is cruel. Getting rid of it is beautiful."
Ads for the campaign have since appeared all over the web depicting Survey Corps troops facing off against unwanted body hair on titan-sized people. The campaign will last until September 4.
[Via Comic Natalie]
---