×
remind me tomorrow
remind me next week
never remind me
Subscribe to the ANN Newsletter • Wake up every Sunday to a curated list of ANN's most interesting posts of the week.
read more
Interest

The Obscure Egyptian God Medjed and His Bizarre Afterlife on the Japanese Internet

posted on by Eric Stimson
The Book of the Dead is an ancient Egyptian text describing the passage of departed souls into the afterlife and listing the spells they must recite to proceed through Duat (the Realm of the Dead). In Spell 17, the god Medjed is mentioned: "I know the name of that Smiter among them, who belongs to the House of Osiris, who shoots with his eye, yet is unseen." He is not referred to in any other context.


Medjed remained buried in obscurity until 2012, when the British Museum held an exhibit on ancient Egypt at the Mori Arts Center Gallery in Tokyo. Visitors were surprised by the god due to his unusual appearance and a certain similarity to the character Obake no Q-Taro (seen below).

Japanese netizens quickly found Medjed to be cute, and began creating fan art of him.





By 2013, Medjed had become a full-fledged meme, and took on a life of his own, as memes often do. His fearsome role as Osiris's guardian (he is said to be able to fly and eats human hearts) and cute, simple appearance allow for a versatile range of depictions. He is even called "the oldest yuru-chara" (regional mascots like Funassyi and Kumamon).



The boy is creeped out by Medjed's gaze.




Medjed zaps a cockroach to protect Osiris. Osiris draws a mustache on him to make him look scarier.



In this comic, Medjed is an ordinary salaryman who transforms like a magical girl into his true form when Osiris is in danger.



"Medjed's Bubble Gum"



Medjed as an admiral with Nagato of Kantai Collection. No one is sure how she can understand him.
Medjed now has not one, but two different Japanese Twitter accounts, @Medjed_tweet and @medjed_god, with a total of 6,915 followers.


@Medjed_tweet provides his followers with a "fanservice shot."
Suzuri, an online market for handmade goods, sells Medjed merchandise.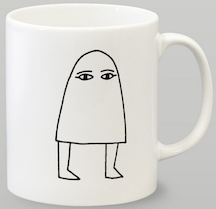 Online stickers are also available of Medjed.



Medjed's moe form
The Japanese news and entertainment site Netlab also hosts a manga, "Joyful Medjed," portraying Medjed, a pharaoh, and other Egyptian gods as salarymen.



Medjed explains how he rides the train. (He ends all his sentences with "je.")
Medjed also stars in a free smartphone game, Soratobu Medjed-niisan ("Big Brother Flying Medjed"), where players navigate him through an obstacle-ridden pyramid.

In 2014, the popular online puzzle game Puzzle & Dragons introduced a character named Medjedra as Osiris's guardian, proving how well-known Medjed has now become.

Medjed also made an appearance in Good Smile Company's Good Smile Cup, an internal figure craft competition.
[Via Tech in Asia and Entermeus; Images from ArtAfterFive.com, Prigazō, Naver Matome, Netlab, LINE Store and Puzdlife]
---