Interest

Baby & Me Tops Best of Hana to Yume Poll

posted on by Lynzee Loveridge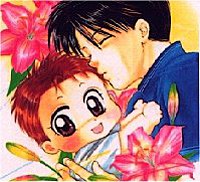 My Navi's Woman section published the results of its recent poll asking what is the best manga series ever published in Hana to Yume magazine. The magazine, which began serialization in 1974, focuses on manga series targeting female readers. The poll ran in August and garnered 170 valid responses from women aged 22-34.
Marimo Ragawa's early 1990s series Baby & Me topped the poll. Fans cited its "brotherly love" and emotional power. "I cried every time I read it, but the baby's cuteness saved me," one reader chipped in. Hana-Kimi by Hisaya Nakajo was also a popular choice and came in second, buoyed by the success of its live-action adaptation. Voters fondly remembered its big cast of good-looking boys and the tension in Mizuki and Izumi's relationship. The top three are rounded out by Suzue Miuchi's theatrical drama Glass no Kamen, which began running in 1976 and hasn't concluded yet. Readers have been drawn in by the complex story and Maya's quest to play the Crimson Goddess for almost four decades.
Baby & Me by Marimo Ragawa - 18.2%
Hana-Kimi by Hisaya Nakajo - 15.3%
Glass Mask by Suzue Miuchi - 10.0%
Fruits Basket by Natsuki Takaya - 8.8%
Dōbutsu no Oishasan by Noriko Sasaki - 5.3%
Please Save My Earth by Saki Hiwatari - 2.9%
Arabesque by Ryōko Yamagishi - 1.8%
Gakuen Alice by Tachibana Higuchi - 1.8%
Kōcha Ōji by Nanpei Yamada - 1.8%
Shanimuni GO by Marimo Ragawa - 1.8%
W Juliet by Emura - 1.8%
Angel Sanctuary by Kaori Yuki - 1.8%
Patalliro by Mineo Maya - 1.8%
[Via My Navi Woman]
---