×
remind me tomorrow
remind me next week
never remind me
Subscribe to the ANN Newsletter • Wake up every Sunday to a curated list of ANN's most interesting posts of the week.
read more
Interest

Cabbage Meme Returns in Monster Musume & 2nd Season Revealed?

posted on by Carlos Cadorniga
A classic meme rears its perfectly spherical head in the final episode of summer sensation Monster Musume.
The "Quality Cabbage" is seen being held by protagonist Kimihito moments before being torn to shreds. The meme originated from the 2006 sci-fi romance anime, Yoake Mae yori Ruriiro na, which showed off a spherical cabbage being sliced up by one of the characters.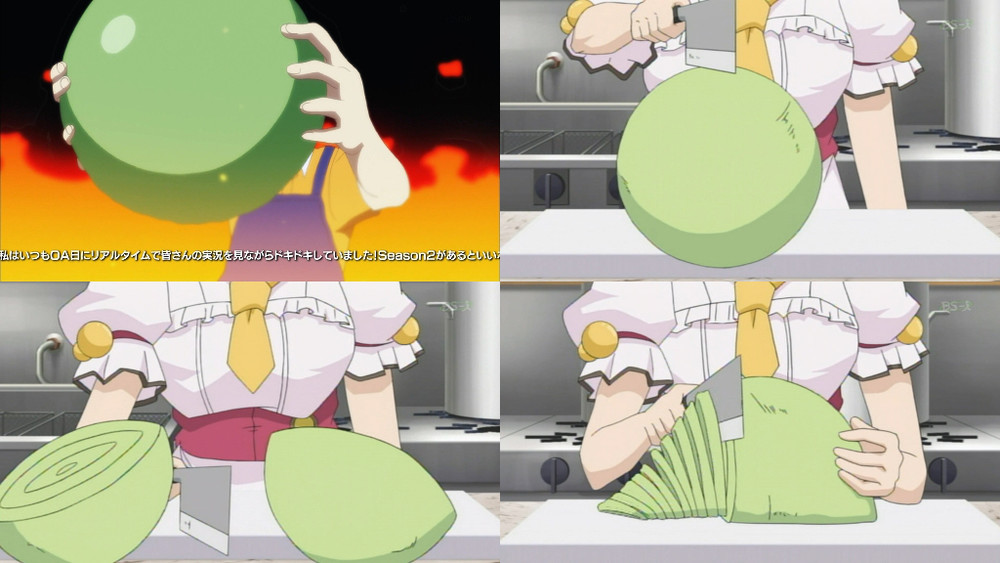 Top left: Monster Musume screencap. Onward: Yoake Mae yori Ruriiro na screencaps
Key animator Takahito Sakazume later tweeted about the cabbage once the episode aired, perhaps hinting at the director's knowledge of this meme.
キャベツはしっかり描かれてたものを吉原さんが球体に修正してました

— と かげ (@to__kage) September 22, 2015
The tweet states: "Director Yoshihara had us specifically draw this cabbage spherically."
The Quality Cabbage stems from the QUALITY meme, which acts as a sarcastic remark traditionally aimed screenshots or entire scenes from anime that depict poor production quality and animation.
The cabbage meme wasn't the only thing hidden in the final episode. It may have included a little teaser about the future of the series .


To the right of the scene shown above is a little sign that says the words "Niki Kettei." This may act as the romanization of the Japanese phrase "二期決定" which would translate to "Season 2 confirmed." There has yet to be an official announcement to corroborate this theory.
---