Interest

Fans Are Already Picking Love Live Sunshine's Best Girl

posted on by Lynzee Loveridge
Perhaps in preparation for their upcoming single release on October 7, stores in Japan put up character ranking posters for the nine-girl idol group Aquors from Love Live! Sunshine!!
Introductory character information and some animation from the single's music video is all anticipating fans have to go on. Still, the winning character pulled ahead by almost double the votes of some of her peers.

The timid Ruby Kurosawa (voiced by Ai Furihata) was a clear winner at one store with 82 votes.

Ruby Kurosawa: A first year who's prone to crying, and has a phobia of men. Dia's younger sister. Sewing is her sole forte.

Second place went to Yō Watanabe (Shuka Saitō): A second-year student and high diver skilled enough to be on the national team. Likes business attire. Dreams of captaining her own ferry.

Third place went to Hanamaru Kunikida (Kanako Takatsuki): A first-year student and daughter of a family that has taken care of a local shrine for generations. Good at singing, and a member of a local choir. Loves to read, and gets dizzy easily.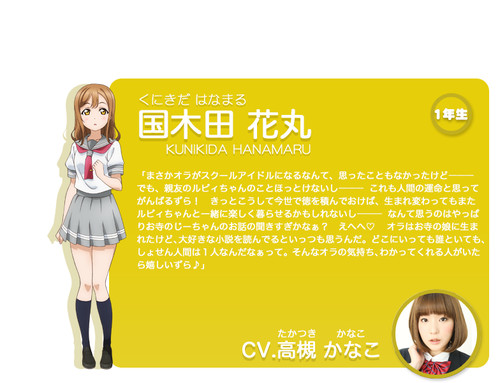 The rest placed in the following order:
4. Yoshiko Tsushima
5. Dia Kurosawa
6. Riko Sakurauchi
7. Mari Ohara (tie)
7. Chika Takami (tie)
9. Kanan Matsūra
[Via Yara-On!]
---