Interest

Thailand, Indonesia Take Top Prizes in 2015 Gunpla Builders World Cup

posted on

2015-12-24

17:45 EST by Lynzee Loveridge
The winners of this year's GunPla Builders World Cup were announced at Gundam Front Tokyo on December 20. A total of 13 countries were represented in the 24 finalist entries.
The 3rd place winners for the Open Course (ages 15+) and Junior Course (under 15) were Ho Yick Yin from Malaysia with the entry "The Angel" and Natcha Waiphimai from Thailand with "Operation Desert Storm."
The 2nd place winners were Ng Siu Wai from Hong Kong with "NIGHTINGALE (Long Distance Support Type)" (Open Course) and May Hata with "The Last Shooting" (Junior Course). May was junior finalist from Japan for her fifth consecutive year.
The champions were Vichayuth Eiam-Ong from Thailand with "ANOTHER LATE NIGHT" (Open Course) and Cornelius Caesar Widjaja from Indonesia with "Build FIghters Season 3" (Junior Course).
Eiam-Ong's entry shows the scene of a woodcarver looking over his finished work in his workshop.
Two special awards were also given out based on the event's sponsors. Ng Siu Wai's NIGHTINGALE also won the Char Exclusive Auris II Award. Italy's Riccardo Forni's entry "RX 93 Gesshoku ‐Lunar Eclipse" won the Gundam VISA Card Award.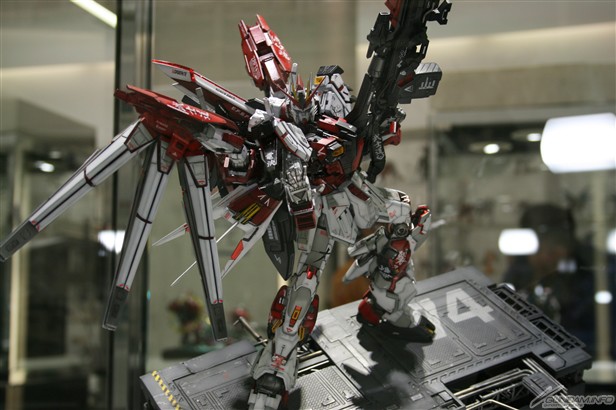 The ceremony was hosted by fashion model, Gundam otaku, and anime fan Saya Ichikawa and Bandai hobby division's Katsumi Kawaguchi (a.k.a. Master Kawaguchi). The hosts briefly talk about Gundam's enduring popular and the latest anime, Mobile Suit Gundam: Iron-Blooded Orphans. Ichikawa admits to being addicted to the show and bought the recent Gundam Barbatos model from the show. Kawaguchi comments that he likes the Master Grade figure line the best and he'd like to release a Master Grade Barbatos in the future.
After discussing the Gundam Senjō no Kizuna arcade game, the ceremony finally kicks off. Kawaguchi and Ichikawa were joined by voice actress Haruna Ikezawa.
---