Interest

Asuka Nishi Wins 2015 Best Fundoshist Award

posted on

2016-01-30

17:45 EST by Eric Stimson
Award honors those who have done most to popularize Japanese loincloths
---
Forget about elaborate kimono or ornate samurai armor: The traditional Japanese clothing that the Japan Fundoshi Association wants you to care about is the fundoshi, or loincloth. Every year the association honors the "fundoshist" that does the most to popularize the traditional underwear with the Best Fundoshist Awards. This year's honorees were announced on January 29.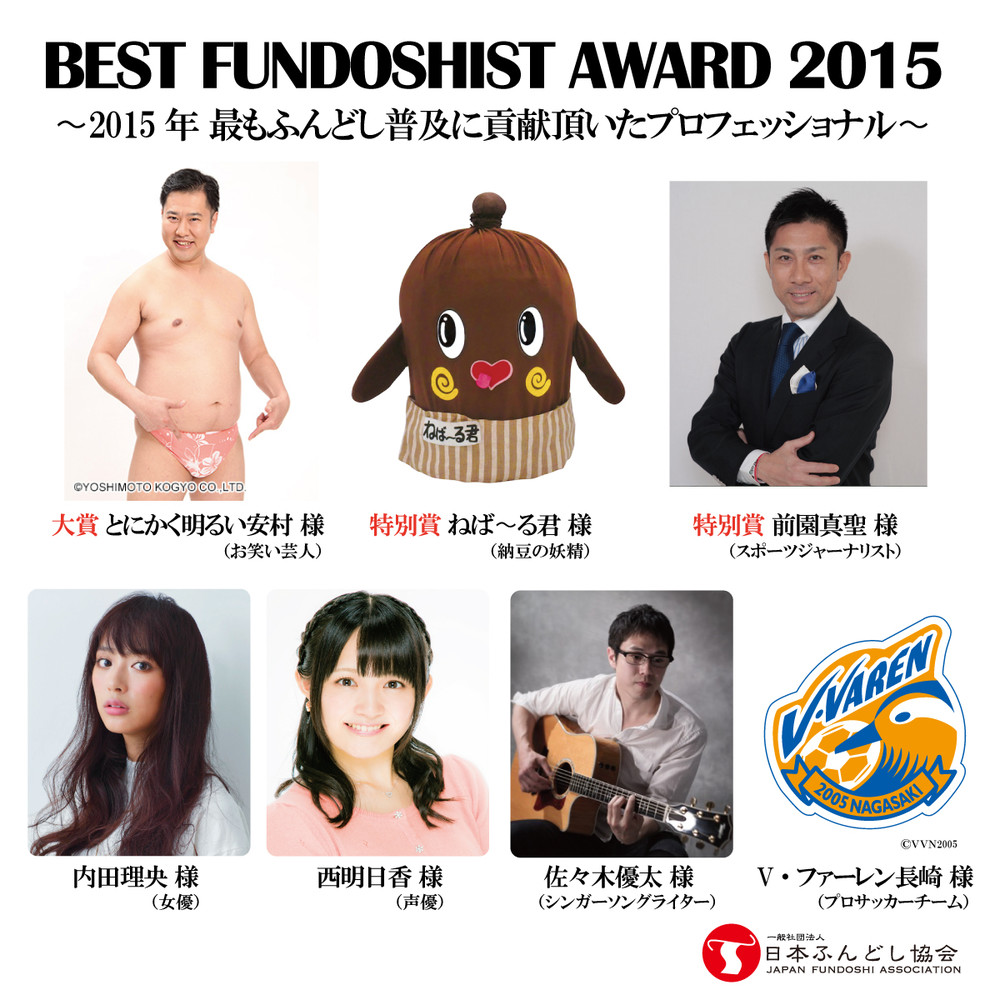 Among these is voice actress Asuka Nishi (Shinobu in Kinmoza! Kiniro + Mosaic, Rika in The Devil is a Part-Timer!, Ursula in Bodacious Space Pirates). Nishi has gained a reputation as a fundoshi enthusiast after she received one as a birthday gift from fellow voice actress Mikako Komatsu on a Gourmet Graffiti-related web video in February 2015. On Nishi's joint radio show with Aya Suzaki, Suzakinishi, Suzaki saw a picture of Nishi wearing it, and commented on how sexy Nishi's rear is, much to Nishi's embarrassment. There are no visuals, but the reactions are still funny.
Suzaki later received a pink fundoshi from Nishi and posted this picture of herself wearing it — albeit modestly.
The Grand Prize, meanwhile, goes to Tonikaku Akarui ("Bright Anyway") Yasumura, a comedian who frequently uses fundoshi in his routines. The nattō (fermented soybean) mascot Nebaru-kun ("Sticky") and sports journalist and former soccer player Masakiyo Maezono took the Special Prizes. The other winners are gravure idol Rio Uchida, who sports a fundoshi in her upcoming movie, Chimamire Sukeban Chainsaw, singer-songwriter Yūta Sasaki, and the V-Varen Nagasaki soccer team.

The Best Fundoshist Awards ceremony will be held on February 2 somewhere in Tokyo. No word on what the winners will be wearing. The Japan Fundoshi Association has previously tried to harness the power of Tōken Ranbu to spread the wearing of fundoshi, and the Good Smile Company has gone ahead with an April Fool's joke and made a fundoshi accessory for its Nendoroids.
[Via Hachima Kikō, Japan Fundoshi Association, and Cupo; Images from Eiga Natalie and Naver Matome]
---