Interest

Isetan Shinjuku Will Sell Limited Lupin the Third Ukiyo-e Prints

posted on by Lynzee Loveridge
Custom Italian suits, kimono, trench coats also for sale
---
Anime News Network's merchandise coverage sponsored by
Tokyo Otaku Mode
.

---
The Isetan Shinjuku Store's Fashion Museum will hold a Lupin the Third themed event from February 3-8. "LUPINISSIMO IN ISETAN 2016" will sell Ukiyo-e prints of the famous thief and his crew. Six different designs will be available, including a print signed by creator Monkey Punch.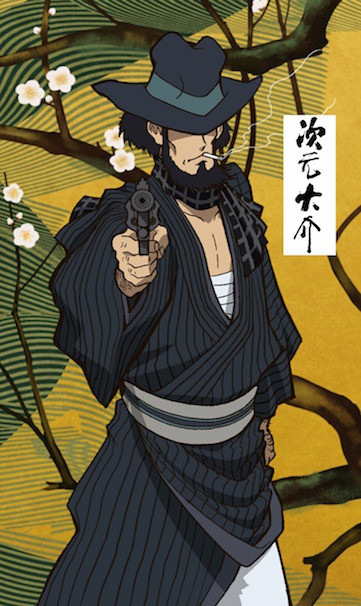 The prints were created using the Takezasa-Do woodblocking technique of Kyoto. Each character's name is printed in calligraphy by Japanese calligrapher Tansetsu Ogino. Living Japanese national treasure Ichibei Iwano created the paper for the prints, as he previously did for the Ghost in the Shell ukiyo-e prints.
Each print will cost 64,800 yen (US$535) or a set of five signed by Monkey Punch can be purchased for 540,000 yen (US$4,460). A separate design depicting the cast in gondolas in Venice costs 162,000 yen (US$1,338). Shipping is scheduled for early April.



The event will also host a talk with Lupin III: Part IV chief director Kazuhide Tomonaga and producer Yu Kiyozono, sell original goods such as limited label wine, and serve a special menu based on Lupin III: The Castle of Cagliostro. Visitors can also tour and purchase blue Italian suit jackets by Tagliatore (91,800 yen/US$758) or black tailored Jigen suits TAILOR CAID (suits start at 205,200 yen/US$1,695). Trench coats inspired by Zenigata, kimono modeled after Goemon, Fujiko's biker jacket, and a wedding dress inspired by Rebecca are also up for sale. Framed keyart and figures are available, too.
[Via Kai-You]
---