Interest

New Manga Looks Behind the Scenes of Prison School Anime

posted on

2016-03-12

13:45 EST by Eric Stimson
---
Anime fans who love finding out what goes on behind the scenes of their favorite shows should get a kick out of a new manga about the making of the anime version of Prison School. It's called Anime Prison School wo Tsukutta Otoko-tachi ("The Men Who Made the Prison School Anime") and is drawn by Hanamura.

There was uncertainty over how to depict the Prison School manga in anime form, given the manga's controversial content. Hanamura's manga charts how the anime came together under the helm of director "Crazy Boy" Tsutomu Mizushima, and shows the production committee's raucous discussions over important details like the color of Meiko's panties or the sound effects in Gakuto's defecation scene. The anime's main voice actors — Hiroshi Kamiya, Katsuyuki Konishi, Kenichi Suzumura, Daisuke Namikawa, and Kazuyuki Okitsu — also play supporting roles. While it's based on fact, it's labeled a work of fiction, leading Kamiya to declare that he and the other voice actors are ready to sue.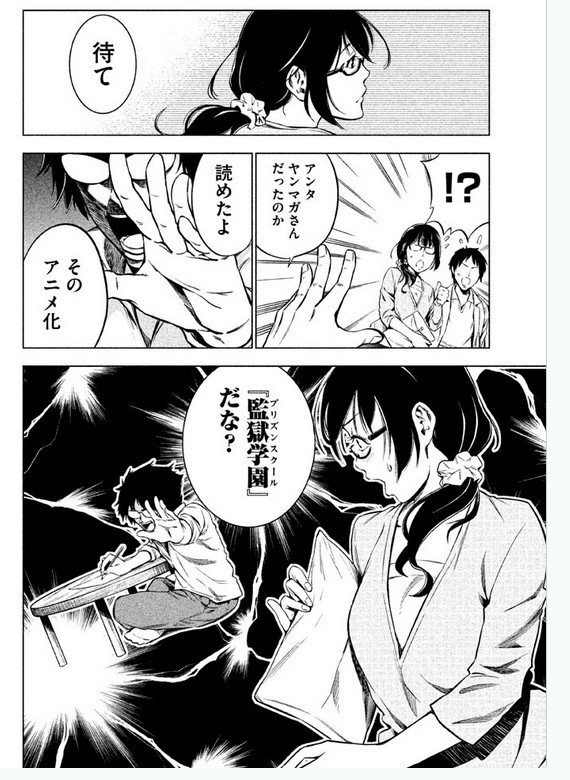 Mizushima freaks out a representative from Young Magazine.
The Men Who Made the Prison School Anime is available now from Kodansha. Prison School's volume 20 is also out, along with an original anime DVD of the manga's Mad Wax arc.
[Via Comic Natalie; Image from Amazon.co.jp]
---