Interest

Virtual Reality Ear-Cleaning App Gets English Release

posted on by Lynzee Loveridge
The world of virtual reality has opened new doors to simulated intimacy, from dating, kissing, to full-on pornography.
One act of intimacy that is particularly unique to Japan is mimi-kaki (ear-cleaning) which can be a bonding exercise between two people, not unlike a massage.

Eisys Inc. has released its own virtual reality simulator of ear-cleaning and it's now available in English for iOS and Android devices.
The app stars Nagomi, a girl in a traditional kimono who happens to be the player's cousin. The setting matches her attire as the player puts their head in Nagomi's lap and gazes out of the tatami-floored room towards a bamboo garden. She's voiced by Eriko Yamana in English and Yui Asami in Japanese.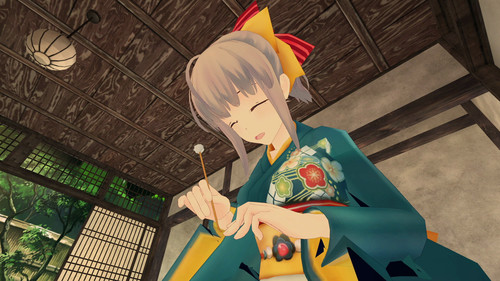 The simulation is short, only covers the act the ear-cleaning, and is meant to be a relaxing simulation. To get the full VR experience, players need to download the app on their phone, plug in a pair of headphones, and use VR goggles.
A demo will be available at the DLsite.com / ImagineVR booth #4421 at Anime Expo.
Update: Android link fixed. Thanks, Peter!
---