Interest

Patlabor's Masami Yuuki Draws Gundam Thunderbolt Parody Manga

posted on by Eric Stimson
One-shot manga is a callback to Yuuki's 36-year-old debut manga
---
In 1980, manga artist Masami Yuuki (Mobile Police Patlabor, Birdy the Mighty) launched his career with "The Rival," a parody of the then-recent Mobile Suit Gundam. With the compilation film of the Mobile Suit Gundam Thunderbolt net animation series, Mobile Suit Gundam Thunderbolt December Sky, premiering on June 25, Yuuki returns to its roots with a parody of Gundam Thunderbolt named "The Rival Thunderbolt."


Big Comic Superior no. 14
"The Rival Thunderbolt" one-shot manga appears in the latest edition of Big Comic Superior (pictured above) alongside the manga version of Gundam Thunderbolt it is referencing. Both tales focus on the rivalry between Federation soldier Io Flemming and Zeon sniper Daryl Lorenz. As a bonus, readers of the digital version of Big Comic Superior will also get to read Yuuki's original "The Rival."


"The Rival"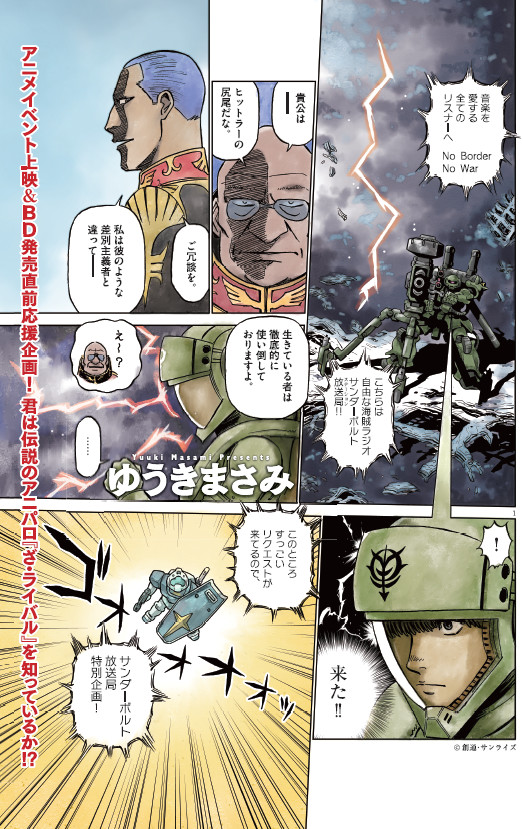 "The Rival Thunderbolt"
Yuuki is also currently drawing the mystery manga Hakubo no Chronicle. He earlier participated in a Twitter discussion on fan scanlations.
Sources: Comic Natalie and @Press: Hajime Kikuchi
---