Interest

Image of Spice & Wolf Leads' Daughter Revealed

posted on by Lynzee Loveridge
The official character design for Myuri, the daughter of Holo and Lawrence from Isuna Hasekura's Spice & Wolf light novel series was revealed in the 51st issue of Dengeki Bunko Magazine on Tuesday. The young girl takes her hair color from her father but appears to have inherited her mother's wolf traits.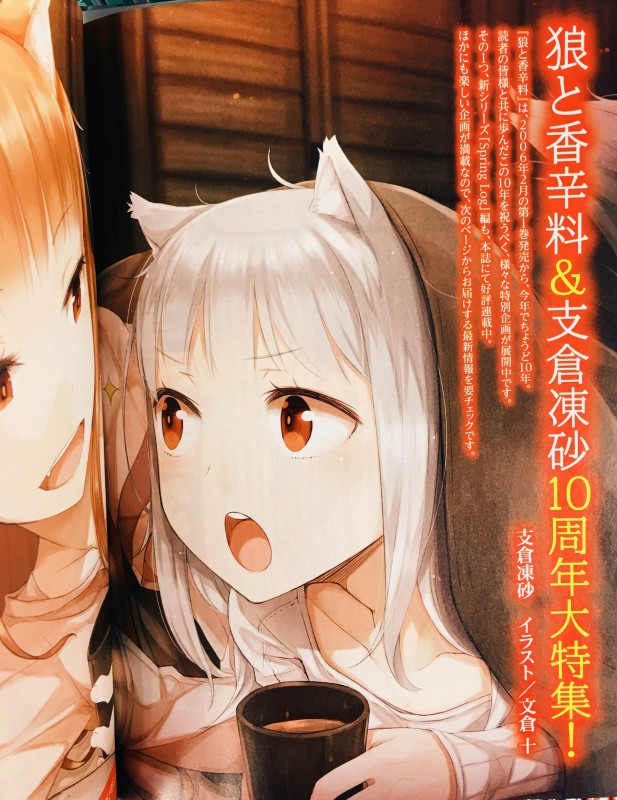 Myuri is the main character in Hasekura's sequel light novels Shinsetsu Ōkami to Kōshinryō Ōkami to Yōhishi (New Theory Spice & Wolf: Wolf & Parchment). In the story, Tote Col encounters Myuri when, while on his journey to become a clergyman, he comes to a bathhouse where Lawrence is currently residing.
Shinsetsu Ōkami to Kōshinryō Ōkami to Yōhishi goes on sale in Japan on September 10.
Hasekura published 17 volumes for the novel series from 2006 to 2011. Yen Press published the light novels in North America, and it published the 17th volume in April. The novels were adapted into two television anime series, as well as an ongoing manga by Keito Koume in Kadokawa's Comic Dengeki Maoh magazine. The first 13-episode anime series premiered in 2008, while the second 12-episode series premiered in 2009. Funimation released the first series on DVD in 2009, and on Blu-ray in 2011, and it released the second series on Blu-ray and DVD in 2011. Funimation re-released both series together in one package in a DVD/Blu-ray Disc pack in 2012. Yen Press is publishing the manga in English, and it shipped the 11th volume last September.
[Via Yara-On!]
---