×
remind me tomorrow
remind me next week
never remind me
Subscribe to the ANN Newsletter • Wake up every Sunday to a curated list of ANN's most interesting posts of the week.
read more
Interest

Buzzfeed Japan: International Recognition Kept Pokémon Out Of Olympics Closing Ceremony

posted on by Amanda Ellard

As Captain Tsubasa, Pac-Man, Doraemon, Hello Kitty, and Mario made their appearances in Japan's show during the Rio Olympics' closing ceremony on Sunday night, many wondered where the Pokémon were, especially after rumors of their inclusion and a report from U.K. website The Telegraph which stated that the show may feature the Pokémon Go smartphone game and that one insider said a reference to Pokémon was "inevitable."

However, according to Buzzfeed Japan, there are distinct reasons why we did not catch a glimpse of our unique monster companions. An unidentified Tokyo Olympic/Paralympic Committee member said that the team behind the ceremony show began preparations in January, before Pokémon Go hit it big. In addition, Mario games have outsold Pokemon games (320 million vs. 200 million), and Pokémon was not as well known comparatively worldwide.

The purpose of the closing ceremony's show, which occurred after the traditional passing of the Olympic flag to Tokyo's newly elected governor Yuriko Koike since the next summer Olympics will take place in Tokyo in 2020, was to provide a glimpse of Tokyo and Japan's culture, which in part is heavily influenced by its animation and games. Tsubasa Oozora is a character from the influential sports manga and anime Captain Tsubasa and Doraemon is a famous long-running children's anime since 1973 which has been translated into almost 20 languages. Sanrio's Hello Kitty is a globally recognizable character, Pac-Man is a game loved around the world since its launch in 1980 and Nintendo's Mario games are nothing short of iconic as well. While Pokémon Go has helped raised awareness of the Pokémon franchise in many more countries in such a short time, the timing for including Pokémon in the show was still considered not right.

Nikkan Sports also reported that the obvious pun of "Mario" and "Rio" from "Rio de Janeiro" was too much for the Japanese Olympic Organizing Committee to pass up. Committee president and former Prime Minister Yoshiro Mori came up with the idea.
The opening ceremony show for the Tokyo 2020 summer Olympics has not been determined yet and the team will assemble and begin research in 2017-2018. The Rio closing ceremony show also showed off the "cutting edge science and technology" that the Tokyo 2020 Olympics will display and Japan's Prime Minister Shinzo Abe made an appearance dressed as Mario.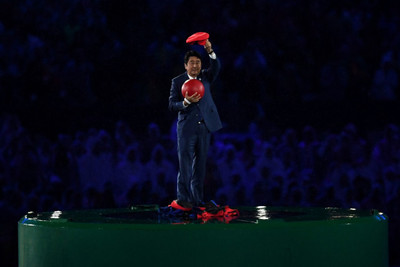 Source: Yahoo! Japan via Esutero Blog Hachima Kikō, The Japan Times
---