Interest

Japanese Fans Vote for Ghibli Film They Most Want to See in Theaters Again

posted on by Amanda Whalen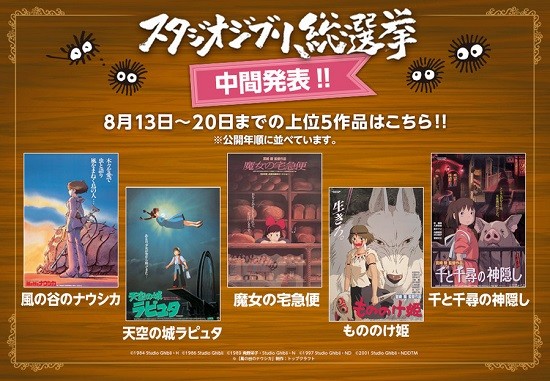 Interim results were announced for the first "Studio Ghibli General Election" poll, in which Japanese fans were asked to vote for which Studio Ghibli film they most wanted to see in theaters again.
The preliminary poll ran from August 13-20 and the top five results, given in no particular order, were Nausicaä of the Valley of the Wind, Castle in the Sky, Kiki's Delivery Service, Princess Mononoke, and Spirited Away.
Voters were able to choose from 21 Studio Ghibli films, beginning with the 1984 Nausicaä of the Valley of the Wind and ending with When Marnie Was There, which was released in Japan in 2014.
Fans also voted for their favorite among the five finalists until August 28, and the winner will be re-run in select theaters in Japan. The final results will be announced on September 6, and the winning film will be screened from September 10-16.
The poll was created as part of the campaign for the newest Studio Ghibli collaboration film, Red Turtle, which will be hitting Japanese theaters on September 17.

Red Turtle, which was awarded a special jury prize at the Cannes Film Festival in May and opened the 40th Annecy International Animation Film Festival in June, is licensed by Sony Pictures Classics and will have a theatrical release in the U.S. beginning on January 20, 2017.
Source: Yahoo News JP via Otakumu
---