×
remind me tomorrow
remind me next week
never remind me
Subscribe to the ANN Newsletter • Wake up every Sunday to a curated list of ANN's most interesting posts of the week.
read more
Interest

Donald Trump Already Makes an Appearance in Baki-Dou Manga

posted on by Eric Stimson
Pledges allegiance to Yujiro
---
Yujiro Hanma of Baki The Grappler is truly a fearsome man. Stronger than any missile, faster than any bullet, more muscled than any bodybuilder, he strikes terror into all who behold him. He's so powerful, he forced America to withdraw from Vietnam at age 16.

Faced with this kind of overwhelming strength, it's become something of a tradition for American presidents to make appearances in Baki. Yujiro humiliated George W. Bosh by making him his limousine driver. Barack Ozuma tried to head off any trouble by pledging not to mess with him shortly after taking office. And even though President-Elect Donald Trump hasn't even taken office yet, Baki-Dou, the series' latest installment, lost no time in working him into the manga in the November 24 issue of Weekly Shōnen Champion "to honor the upset of the century."


Trump (written Toramupu instead of the usual Toranpu) seems dumbfounded at the top-secret information Ozuma shares with him. Ozuma offers to repeat himself.



Trump gets caught up in a vainglorious frenzy about all the boasting he plans to write in his memoirs. And then he appears...



After wetting himself at the mere sight of Yujiro, Trump repeats the oath he's memorized "word-for-word, at the top of my lungs."
In the previous week's issue of Weekly Shōnen Champion, Baki-Dou artist Keisuke Itagaki expressed his anger at the American election result (it's the figure in the center). Not for any political reason, though: he's frustrated by the "enigmatic structure" of Trump's hair.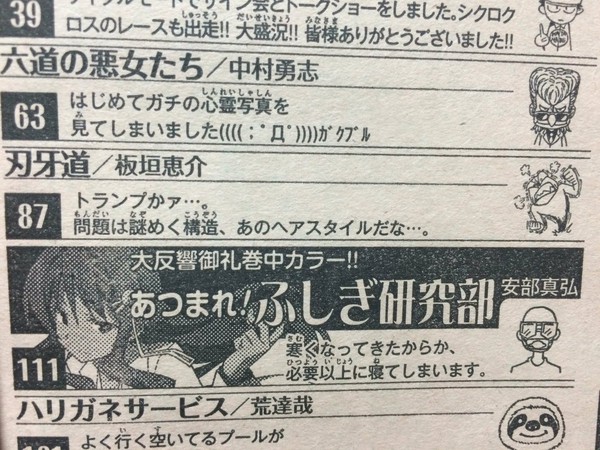 Barack Obama has occasionally made cameo appearances in manga — sometimes in NSFW contexts.
Sources: Crunchyroll: Scott Green, Hachima Kikō and Netlab Enter
---