Interest

Celebrate New Cardcaptor Sakura Manga with Wand, Cards, Clow Book and More

posted on by Eric Stimson
The Cardcaptor Sakura manga, which debuted 20 years ago, is returning to store shelves with a new story arc, the Clear Card arc. To celebrate the occasion, toymaker Takara Tomy is unveiling a bevy of Cardcaptor Sakura goods to rekindle those childhood memories and hopefully attract some new fans.

Sakura's iconic Sealing Wand has been recreated 52 cm (20 inches) long. It comes with five Sakura Cards that activate 65 different voice clips from the wand when touched by it; shaking the wand will produce eight more voice clips (like "Release!"). It will cost 8,500 yen ($75).

As any Cardcaptor Sakura fan knows, when the mighty Clow Book was opened, the cards were set free. Now you can "bring the power home" with this Clow Book-shaped case designed to hold the cards; three come with the case. It will somehow also be able to produce more Sakura voice clips explaining the cards and providing fortunes and 30 different "compatibility checks." The case costs 6,500 yen ($57).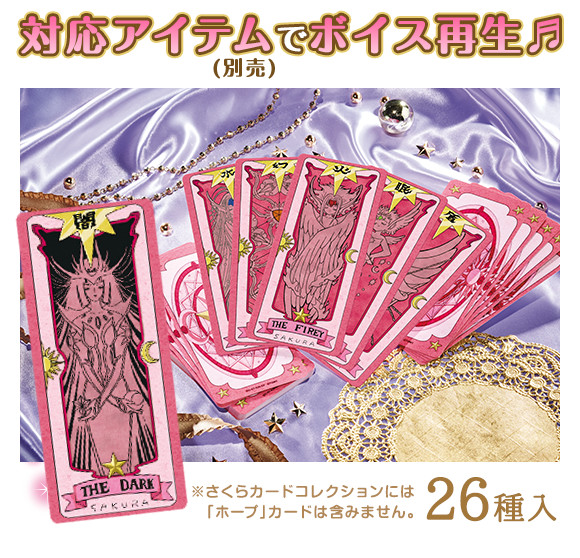 The Sakura Cards will be sold separately. They are divided into two sets of 26 cards each: the "light" set and the "dark" set. Each set costs 6,000 yen ($53).

Fans who prefer something more portable can opt for the key form of the wand, which can light up; it will cost 2,200 yen ($19).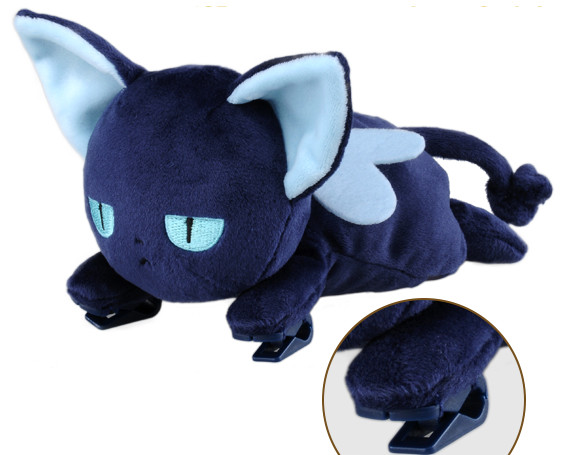 Suppy is also making a comeback in plushy form, complete with clips on his paws to help him ride on your shoulders more easily. This will cost 2,000 yen ($17.50). All of the above goods will be sold in early April.

The first book in the manga revival, which went on sale on December 2, has a special edition that comes with an art set. The set includes colored pencils, a Clow Card-shaped tracing pad, Clow Card sheets, a pen resembling the Sealing Wand in its original form, original screentones, manga pages for tracing, and stencils of Kero-chan. The idea is to create your own Clow Cards; a contest centered around this will be held on Twitter and Instagram soon. The set costs 2,462 yen ($21.62).


Finally, fans of Sakura and Li might be interested in the Official Guidebook Tsubasa CARACTere CHRoNiCLE, which contains interviews with and character analyses by CLAMP, and Tsubasa ILLuSTRaTION CHRoNiCLE, an art book. CLAMP's series Tsubasa, RESERVoir CHRoNiCLE includes these characters. They cost 950 and 734 yen ($8.34 and $6.45), respectively.
This merchandise launch is part of a general revival of Cardcaptor Sakura. The Clear Card arc will be adapted into an anime, set to premiere in January 2018. Cardcaptor Sakura: The Movie will also return to theaters in Japan in January 2017. The Clow Card arc is airing on NHK BS Premium on Wednesdays in Japan.
Source: Comic Natalie (2)
---