Interest

Upcoming Light Novel Ties Record for Title Length

posted on

2017-03-02

22:45 EST by Eric Stimson
They just keep getting longer, and longer, and longer.......
---
Japanese light novels have a reputation for unusually long titles. Many of them are so long, bookstore browsers can get a fair idea of what the story is without having to read the plot summary. The list of light novels published in the last two months should give you some idea of how these look. Among the list is a novel slated for publication on March 10 that broke the record for title length: Sew It Up! Take It Off? Change!! My Girlfriend Failed Her High School Debut and Became a Hikikomori, So I Decided to Coordinate Her Youth (Fashion). This title uses 69 Japanese characters including punctuation but excluding spaces.
However, an upcoming title slated for publication by MF Bunko on March 25 will tie this record by also using 69 characters:
(Kono Sekai wa Mō Ore ga Sukutte Tomi to Kenryoku wo Te ni Ireta shi, Onna Kishi ya Onna Maō to Shirode Tanoshiku Kurashiteru Kara, Ore Igai no Yūsha wa) Mō Isekai ni Konai de Kudasai.
This translates to:
(I've Already Saved This World and Taken Its Wealth and Power and I Live Happily in a Castle with a Female Knight and Demon Queen, So To All Other Heroes) Stay Out of This Fantasy World.
It includes the somewhat contradictory subtitle "NEETs, Cheats, Jobless, Soldiers: Come at Me All Together!" The novel is written by Hiro Itō and illustrated by Ogipote, although MF Bunko hasn't revealed the cover yet.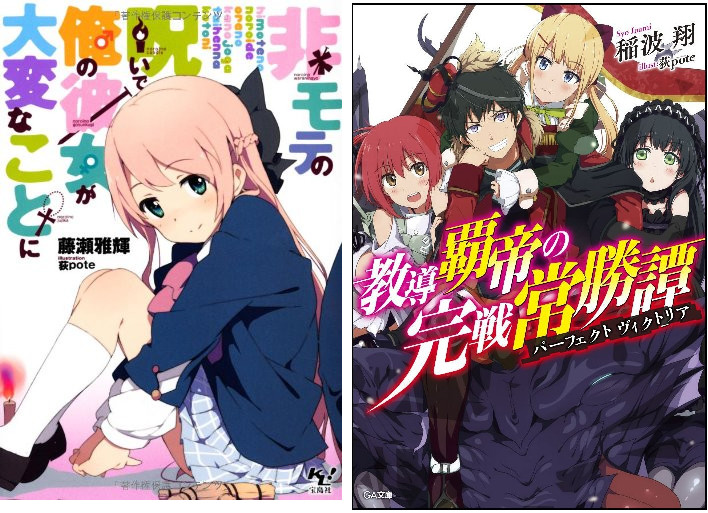 Other light novels illustrated by Ogipote
For an earlier list of long light novel titles, see this roundup from 2014.
Sources: MF Bunko and One Call Sokuhō; Images from Amazon.co.jp (2)
---