Interest

Ufotable Reveals Fate, Tales White Day Campaign

posted on by Jennifer Sherman
Anime studio ufotable is repaying fans for their support with a White Day campaign from March 14 to March 26. In Japan, women traditionally give chocolate to the men in their lives on Valentine's Day, and the men return the favor on White Day, March 14. ufotable collected chocolate for male characters from the Fate and Tales franchises for Valentine's Day, and the characters that received the most chocolates won the annual popularity contest. The company unveiled the Fate White Day art to thank fans on Thursday.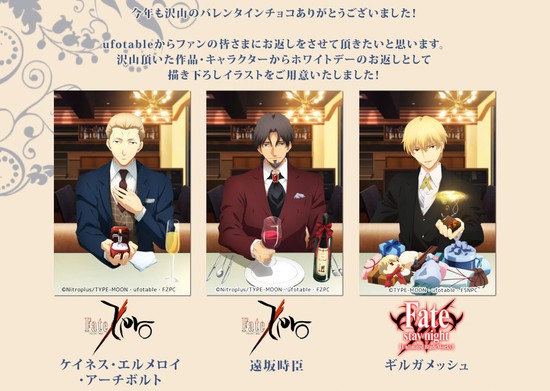 The White Day illustrations feature Tokiomi Tohsaka and Kayneth El-Melloi Archibald from Fate/Zero and Gilgamesh from Fate/stay night. Tokiomi ranked #1 in this year's Valentine's Day chocolate campaign, and Kayneth and Gilgamesh came in at #2. Fate/Zero fans may remember the characters' wine drinking in the series, which comes up again in the White Day illustrations. Gilgamesh's illustration features a small plush version of himself amongst other presents.
Tales of Zestiria the X's Sorey and Mikleo and Tales of Xillia 2's Ludger Will Kresnik won the Tales portion of the chocolate campaign, but ufotable has yet to unveil their White Day art.
Merchandise featuring the White Day character illustrations will be available at ufotable-related shops and through the studio's online store during the campaign. The items will include:
Heart-shaped tin badges (500 yen, about US$4)
Mini pop standies (500 yen, US$4)
Cushion covers (2,800 yen, US$24)
B1-size tapestries (5,000 yen, US$44)
ufotable Cafe locations in Tokyo, Nagoya, and Tokushima will offer a special themed menu during the campaign. The limited menu's White Calpis drink will cost 500 yen (US$4). People who order from the White Day menu will receive exclusive postcards.
ufotable also thanked fans with special Fate/stay night: Unlimited Blade Works goods for White Day last year.
[Via Nijimen]
---