×
remind me tomorrow
remind me next week
never remind me
Subscribe to the ANN Newsletter • Wake up every Sunday to a curated list of ANN's most interesting posts of the week.
read more
Interest

Sanrio Boys Multimedia Project Adds Badtz-Maru, Keroppi Fans

posted on by Lynzee Loveridge
The mascot-loving ikemen of the Sanrio Boys multimedia project debuted in 2015 with its five original characters. Each of the high school boys had a corresponding mascot that he adores: Hello Kitty, My Melody, Little Twin Stars, Cinnamoroll, and Pom Pom Purin. While these five mascots are some of Sanrio's most popular, the company has hundreds to its name. Enough to run a popularity poll every year that takes months to tally.
The project is understandably expanding its cast to include two new mascot fans. The official Twitter account introduced Subaru Amagaya on April 4.The dark-haired, dangerous looking boy is a fan of Badtz-Maru, Sanrio's penguin with attitude. His short description reveals little about him other than his desire to be like his favorite mascot and a desire to "find a map to freedom."
雨ケ谷昴(あまがやすばる)。なんかうぜー奴らがわーわー言うから仕方なく。…ばつ丸みたいになりたい。自由を探す地図が欲しい。そんだけ。 pic.twitter.com/tv6OLQLKMk

— サンリオ男子【公式】 (@Sdan_sanrio) April 5, 2017
The next day the Twitter account introduced the project's second new character Naoki Sugami. Naoki is a teacher in charge of animals. He wasn't able to talk about his love for Keroppi, Sanrio's frog mascot, because he's an adult.
初めまして。生物を担当している教員の菅見直樹(すがみなおき)です。けろっぴが好き、なんて昔は言えなかったな。大人なんかね、使いたい時にだけ使いなさい。大人はそれを分かってるから大人なんだよ。 pic.twitter.com/60Ps0BWLXm

— サンリオ男子【公式】 (@Sdan_sanrio) April 6, 2017
Both characters were mentioned on the official project's Twitter account in the past but weren't shown.
The Sanrio Boys project will get an anime adaptation in winter 2018. The anime's main cast members are:
Takuya Eguchi (Haikyu!!'s Yūji Terushima, My Love Story!!'s Takeo Gōda) as Kōta Hasegawa, a high school boy that loves Pom Pom Purin.


The project's premise follows Kōta Hasegawa, a high school boy that loves the yellow Pom Pom Purin dog. By mere coincidence, he ends up attending the same school as Yū Mizuno, a boy who likes the bunny My Melody. Yū tells Kōta that there's nothing to be ashamed of for liking Sanrio's cute characters. Together, Kōta, Yū, Shunsuke Yoshino, Ryō Nishimiya, and Seiichiro Minamoto learn to accept their love of the characters instead of feeling embarrassed.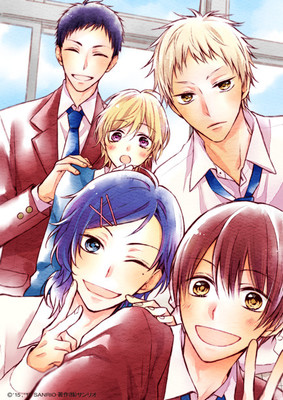 The project launched in 2015, and Sanrio launched a merchandise line for the project last April. Mai Andō is handling two different manga adaptations of the project, with a manga in the Manga ONE app that launched last April, and one in Sho-Comi that launched last June. The first follows the everyday lives of the boys, while the second depicts the romance between a heroine and the boys. The first compiled book volume, which collects the story from both manga, shipped last June.
Sanrio also released a smartphone game adaptation in September, and the voice actors released a song single titled "Fun! Fantastic girl!" in November. The song is the theme song to the game.
---