×
remind me tomorrow
remind me next week
never remind me
Subscribe to the ANN Newsletter • Wake up every Sunday to a curated list of ANN's most interesting posts of the week.
read more
Interest

Katsuhiro Otomo Unveils Cutaway Painting Inspired by Bruegel's Tower of Babel

posted on by Eric Stimson
Katsuhiro Otomo (Akira, Steamboy, Memories) is a big fan of Dutch Renaissance painter Pieter Bruegel the Elder. This interest became clear on April 13, when he unveiled the project he's been working on lately, a recreation of Bruegel's painting The (Little) Tower of Babel with a portion cut away to reveal the interior, at an event at Tokyo's DNP Ginza Building.

Bruegel's painting (one of two of the same subject) depicts the Tower of Babel, a massive tower built, according to the Bible, to reach the sky. God was disturbed at the prospect of humans encroaching on Heaven, so He derailed the project by introducing different languages among its builders, confusing them. Otomo explained that he envisioned the interior as hollow because otherwise the tower would have collapsed, and "there is merit to making use of the few materials you have."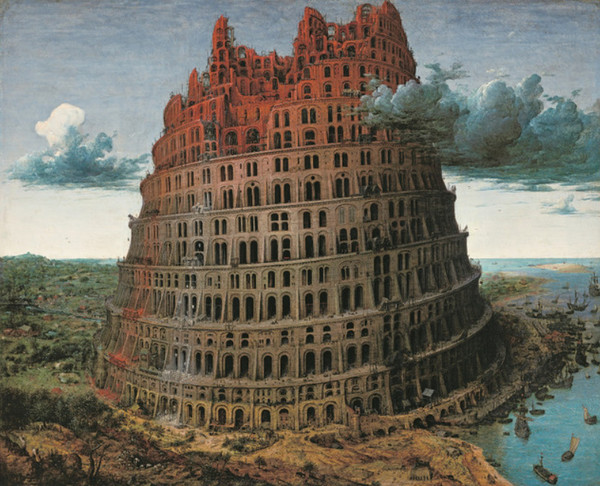 Otomo was assisted by collage artist Kōsuke Kawamura, who colored the painting to closely match the original. Kawamura says that he used over 25,000 layers in his editing software, "the most I've ever done in my life." He also had to carefully set the correct perspective for each brick. In the end, he doesn't even recognize his own work.


One of Otomo's studies
Otomo visited the original painting in Rotterdam's Museum Boijmans Van Beuningen so he could study it carefully in detail. He even stumped the resident curators with his questions. For instance, they weren't sure where the tower's entrance was, but Otomo thinks he found it. He also noticed a river flowing into the tower and in the background, so he included it in his cutaway.

He also included "monsters" inside the cutaway as a playful reference to Bruegel's The Fall of the Rebel Angels, which contains grotesque creatures.



A walking fish, a reference to a Bruegel drawing, can be seen in the center.
Fortunately, Japanese people won't need to travel to the Netherlands to view The (Little) Tower of Babel: it will be on display at the Tokyo Art Museum beginning on April 18. Otomo and Kawamura's work, Inside Babel, will also be on display.
Otomo has also put his artistic skills to good use on a mural at Sendai Airport. Other well-known Japanese illustrators have also tried to imitate classic Western works of art.
Source: Comic Natalie
---