Interest

We Went to the Yuri!!! on Ice Celebration in Namja Town

posted on by Jacob Chapman
From March to May of 2017, Namco's Namja Town (an indoor amusement park in Ikebukuro) has been a little frostier than usual (in a good way!) We went to check out the special Yuri!!! on Ice celebration and found a ton of character goods, tasty sweets, and photo spots waiting for us.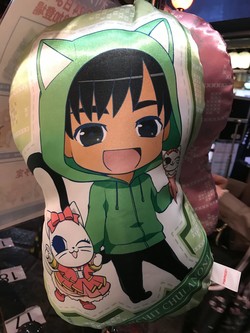 Since Namja Town is a cat-themed attraction, all the exclusive character goods on sale (like that Phichit pillow) featured the skater boys in kitty hoodies, although the gift shop wasn't nearly as crowded as the raffle, which featured mostly overlapping items but you could get more for less if you got lucky. The gold prize was a tote bag with your choice of Victor, Yuuri, or Yurio on the front. I ended up with one D prize and two E prizes for three tickets, and I'd imagine big Yuri!!! on Ice fans come back to the raffle periodically over the weeks, given how long the line was at all times. The Yuri!!! on Ice-themed treats on offer change depending on the day, but there's plenty to choose from no matter when you go. They were promoting the more generic ice skate crepe pictured above when we went, but we lucked out and got the Makkachin crepe instead, which you can see me savagely consuming in the video above.

This is a banner for you to hold up dramatically just like Minako in the anime! I saw several girls valiantly posing with it one after the other, begging for their friends to take the picture quick before they toppled over from the cartoonish pose. I preferred to take my photo opportunity with the big fluffy Makkachin to the left of the raffle.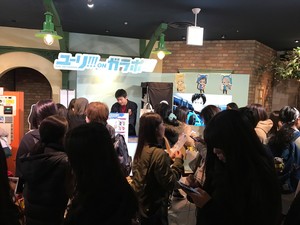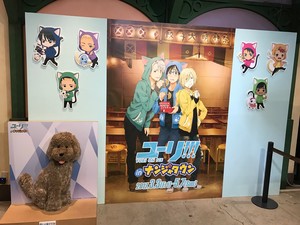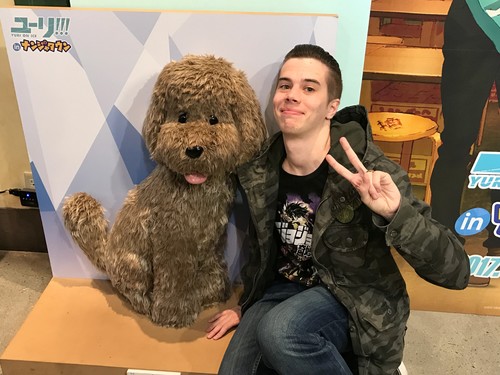 There was also a good-sized line for the purikura booth here, and we realized at the last second when we got to the front that we didn't have the right change for a photo, but a couple fellow fans were happy to help us exchange for a couple more 100 yen coins. As you can see, the result was totally worth the wait!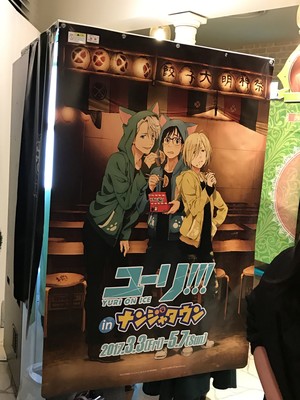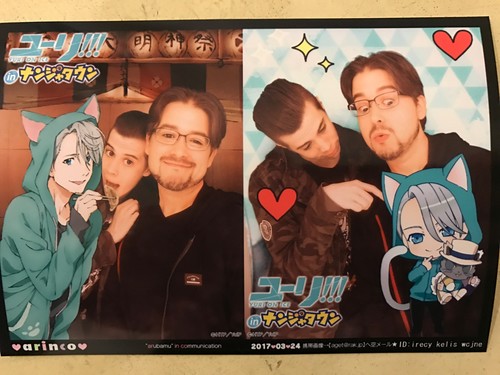 Overall, I definitely recommend making it out to this charming little exhibition if you're in the area. Yuri!!! on Ice fandom is at a fever pitch in Japan right now, so you'll be in good company!

---