Interest

New Racing Manga Portrays Bond Between Jockey and Centaur

posted on by Eric Stimson
As any jockey will tell you, the bond between jockey and horse is one of the crucial dynamics of racing. Longtime horse-and-jockey pairs come to know each other, respect each other, and get a sense for each other's moods just as if they were good friends. The manga Our Derby (Futari no Derby) by Masahito Sasaki explores this further, since the horse in this case is actually a centaur.

In a world where centaurs coexist peacefully with humans, Takeru Sakisaka is passionate about its most popular sport: centaur racing. It's just like horse racing, but the jockeys ride in a standing position on the backs of centaurs instead. That means that the bond between jockey and mount is even more important; the two have to be buddies. Takeru, a human, dreams of riding a centaur himself, and when he enters high school he's eager to join the centaur racing club. There's one problem, though: he's really short for his age. It's been a problem for him all his life, leading to relentless bullying (even his teacher teases him during roll call). And to join the centaur racing club, you need a centaur to race with. Nobody seems to want to be his partner.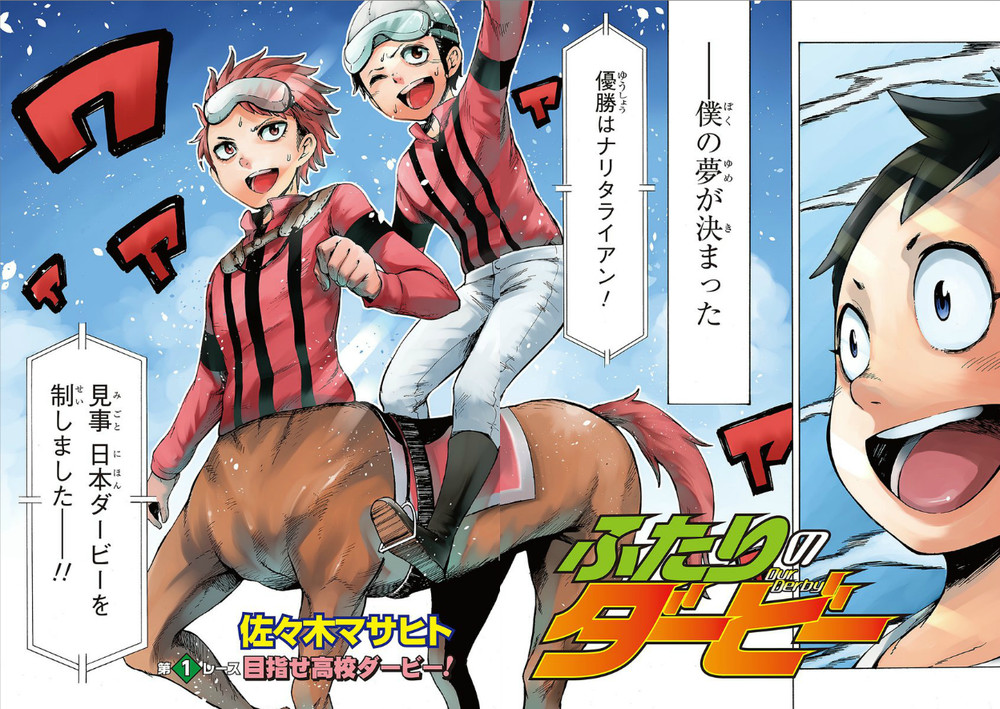 In desperation, Takeru pleads with Ken, a centaur he's known since elementary school. The two are much like Deku and Bakugō from My Hero Academia: Ken bullies Takeru for his physical deficiencies, but Takeru looks up to him nonetheless. Ken makes Takeru bring him lunch, only to throw it on the ground when it turns out to be a homemade box lunch. (Centaurs prefer carrot bread.) But after Takeru remembers the time his hero, the short jockey Naritalion, said "No matter how small your body is, when you head out there with a buddy, you become larger and cooler than anyone else," Ken reluctantly agrees to give him a chance. Will the pipsqueak and the bully make a good racing pair, or get laughed out of the stables?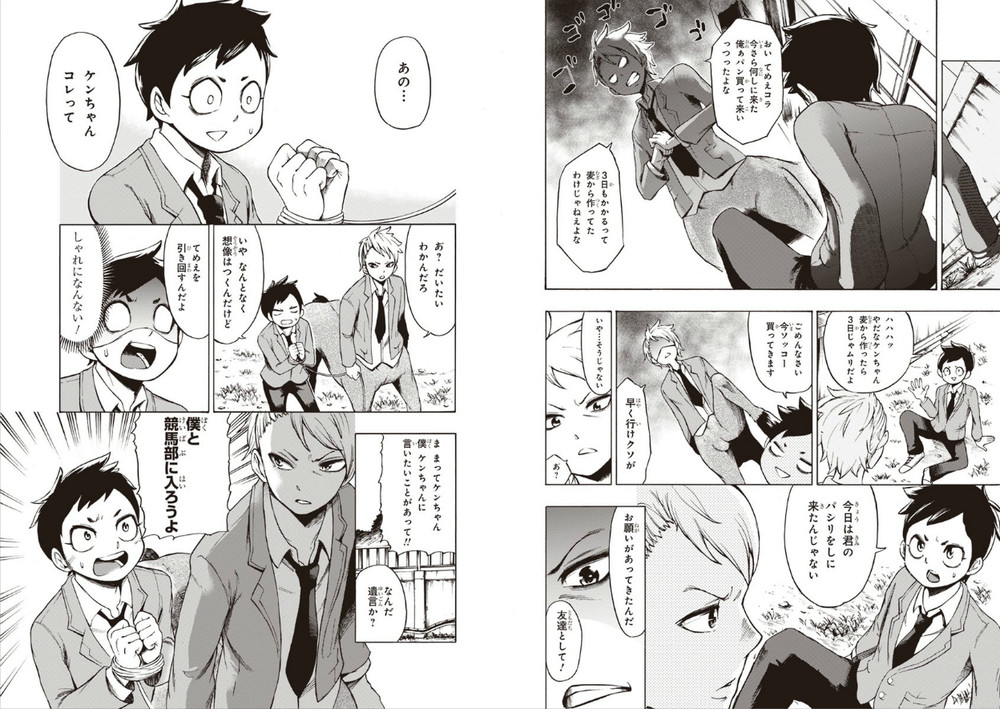 Takeru learns what it feels like to be paraded around on a rope.
Our Derby runs in Monthly Shonen Ace and was published in book form by Kadokawa on April 26. Its first chapter (summarized above) can be read on Book☆Walker. While centaurs often feature in "monster" anime and manga, A Centaur's Life and its anime adaptation, Centaur's Worries, features one as the main character.
Sources : Comic Natalie and Book☆Walker
---